Something about summer makes me want to run. It's kind of funny because it's the warmest season, and if you want to get in a distance run it usually has to be early in the morning or late and night. I LOVE the warm sun, smell of sunscreen, and knowing where every water fountain is located on the route. 🙂 Now that I can finally truly move again, it feels so freeing to run. Running gives me a measurable goal -it's much easier to track mileage and speed instead of how hard I shimmied in Zumba- and I love that it's something we can enjoy as a family.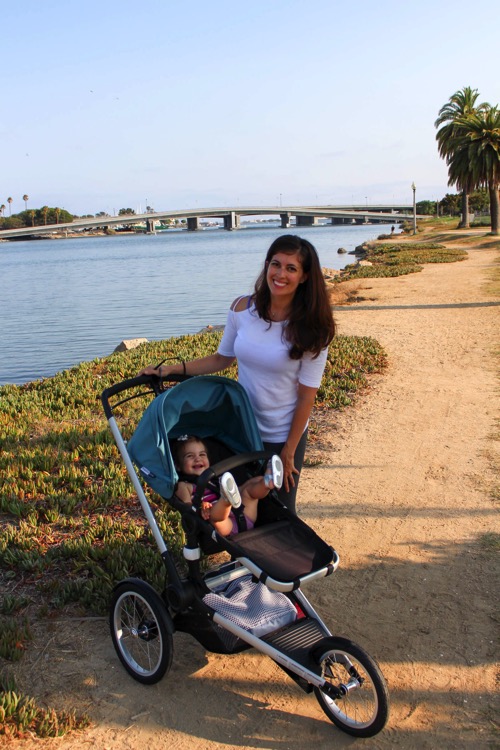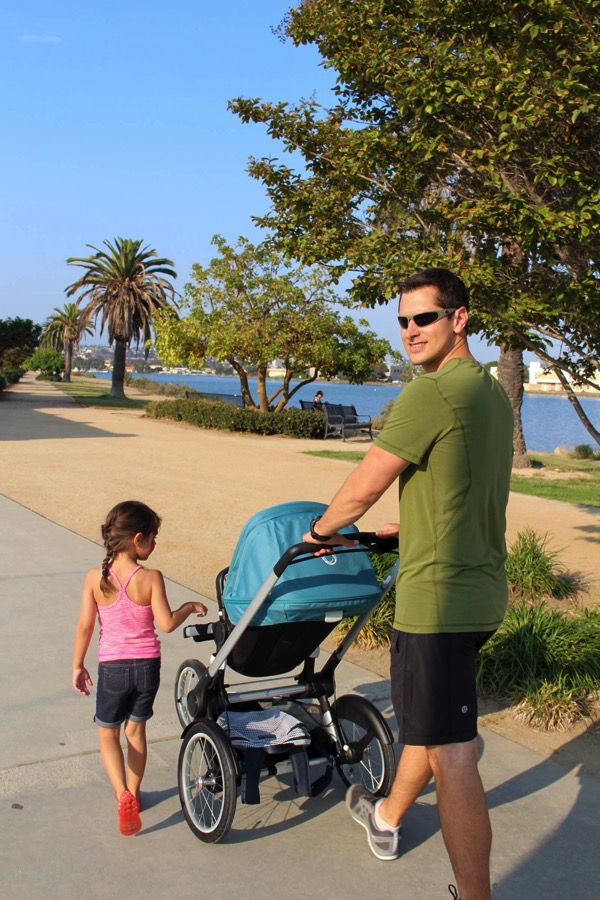 I usually stick to longer runs by myself -it's almost like a meditation since I'll go without music and just enjoy the quiet and scenery- but I love getting in walks or short runs with the fam. P is absolutely LOVING our new Bugaboo Runner stroller.
We weren't sure how she'd react to the running, especially since we've had to hold her still for so long to manage the reflux, but the first time I started to jog with her in the stroller, she started giggling. Then she clapped and signed for "more." Looks like I officially have another running buddy.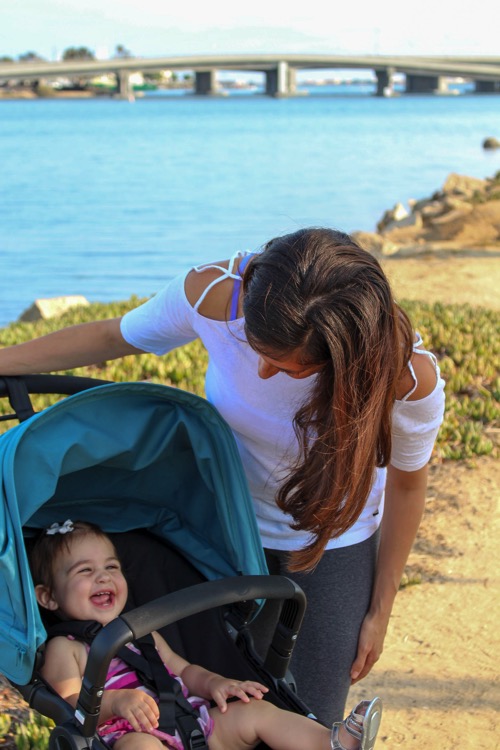 Our friends at Bugaboo kindly sent us one of their new strollers to try out, and we've all been enjoying the new wheels.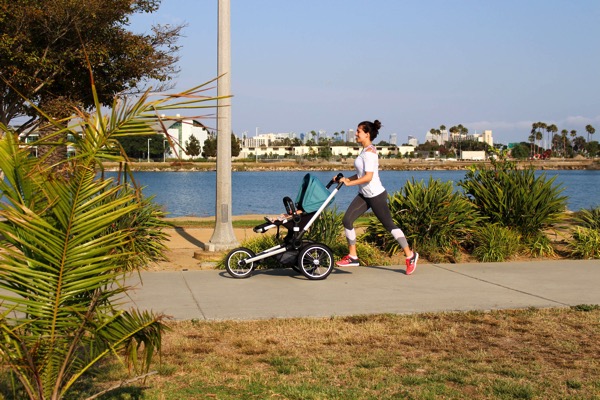 (wearing: ? Fabletics top, Lorna Jane sports bra, Lorna Jane tights and New Balance sneakers)
Here are some of our favorite things about it:
-It's extremely light. Some of the other jogging strollers I've tried are bulky and heavy to lug around. The lightweight seat simply detaches and the base collapses into a compact piece. It's very easy and quick to set up.
-The fabric is also breathable and lightweight. It doesn't seem super heavy/sweaty and P doesn't seem to get too hot in there. There's lots of room for the breeze to hit her and a very generous sun shade
–The Runner is compatible with any Bugaboo seats (here is the seat we've been using)
-It glides easily -it's a dream to push- and the fixed front wheel means we're in constant control of the stroller's direction.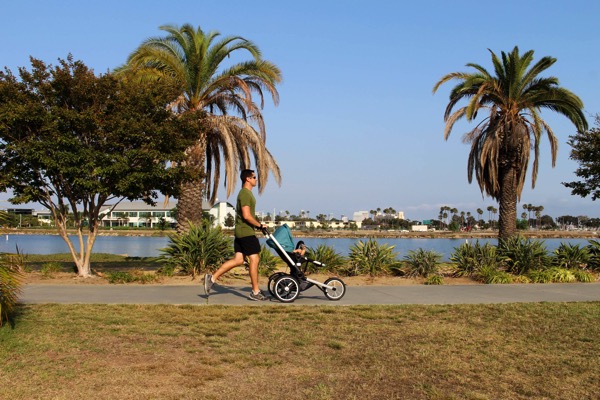 While I love the Bugaboo Runner for errands, runs, and walks with the fam, it's also convenient to put down the brake for some of my favorite stroller strength exercises:
-Supported lunges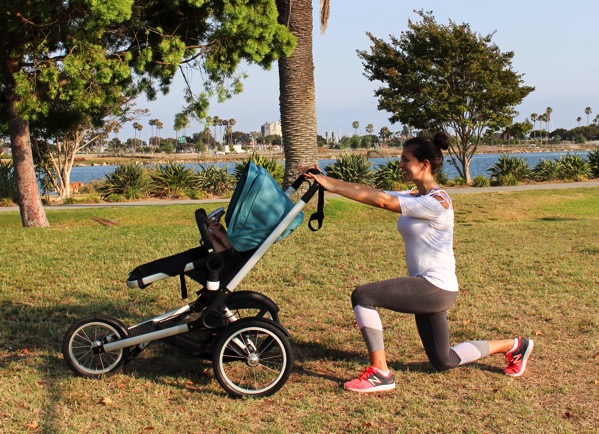 -Barre squats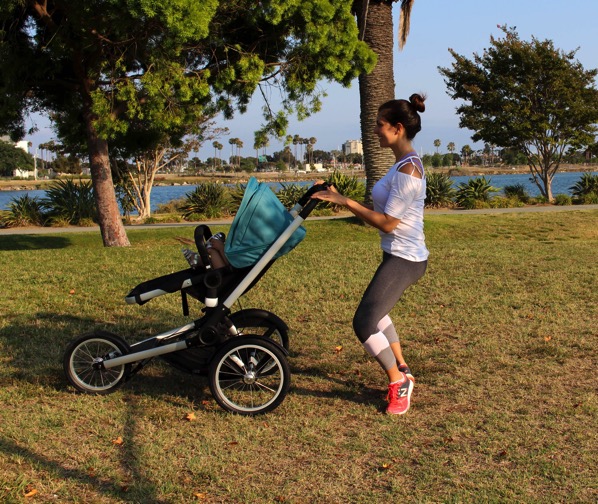 -Leg lifts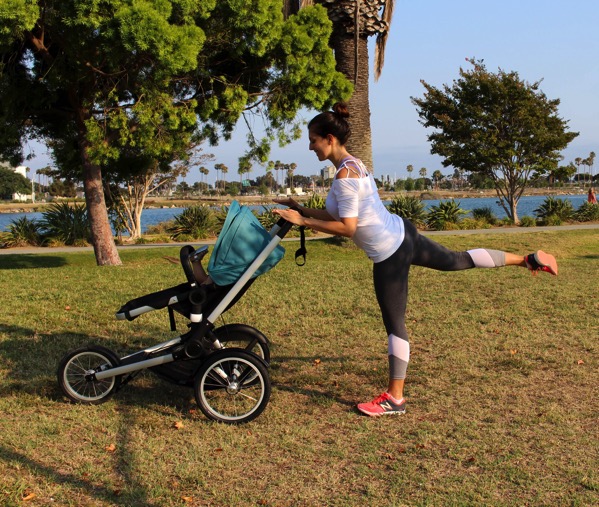 and heel presses.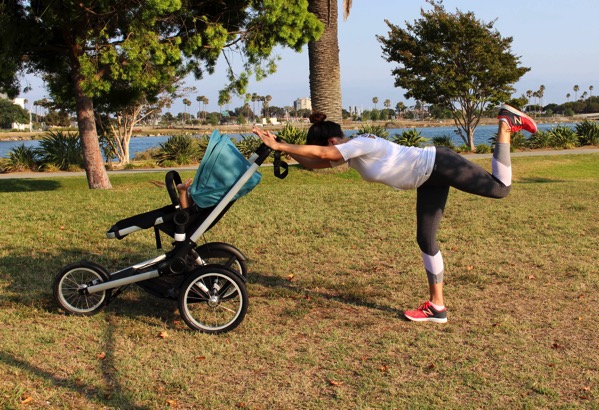 Some of my goals for running for the upcoming year:
-Make it a consistent part of my routine. Since I teach some cardio-heavy classes, my body responds well to one interval day (OrangeTheory) and one longer run day. This way I can build up my speed and endurance without overdoing the cardio with my teaching classes.
-Find a smaller fall race (like a 5k or 10k) and work up to a winter or even spring half marathon. I would love to do the Tucson Half since it's an awesome course and we'll be there this winter. It's a flat, fast course with exquisite desert scenery.
-Continue to get in daily movement and small running blitzes with the fam. It makes it easy because we're out exploring so often, and Liv is a huge fan of "red light, green light."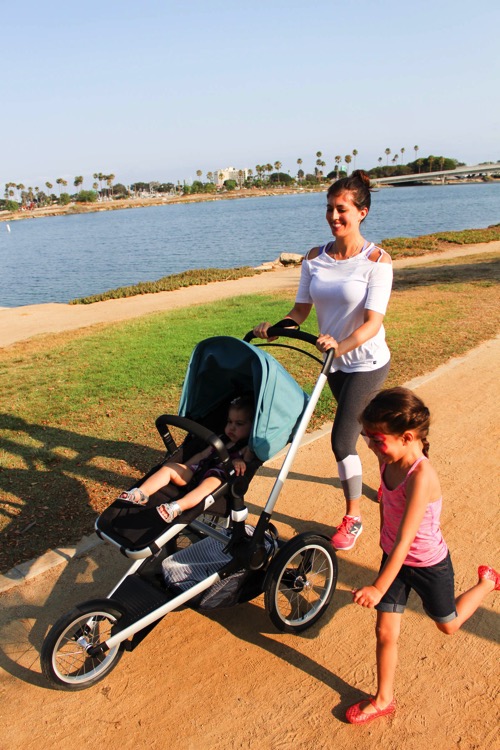 (Liv had a butterfly painted on her face from camp)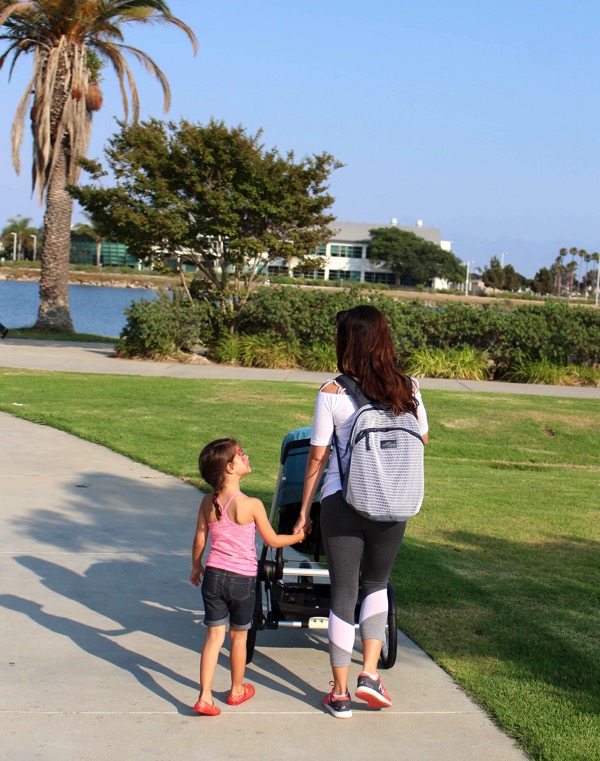 Any of my friends out there getting back in the swing of running? Fellow mama friends: any stroller strength exercises you love?
xoxo
Gina
Special thanks to Bugaboo for sending us the Bugaboo Complete system. We love it so much. <3