[thank you lovely Katie for the post title!]
You see that white stuff in the background?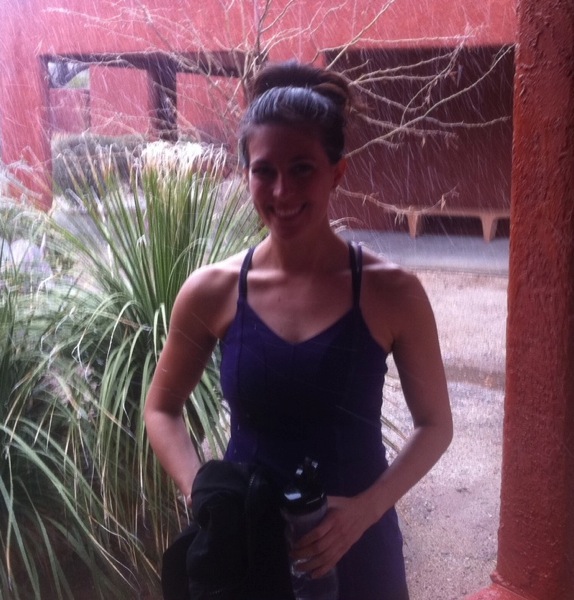 It's SNOW!
In typical Tucson kids' fashion, we all ran outside in between our classes to take pictures of each other with snow in the background. Rookies, I tell ya. Snow is an extreme rarity here!
My absolute favorite part of the day was bundling Liv up to take her outside with my mom when I got home from work. She was clapping for the snow. She kept saying, "Agua! Agua!" until we told her that it was snow.. and then it turned into, "Oooh! Snow! Snow!" My heart couldn't even take it.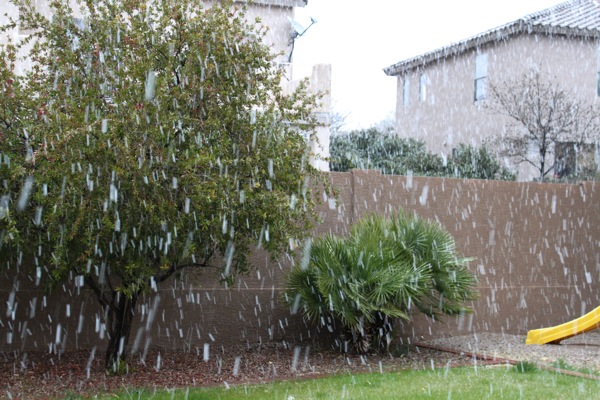 Another every blue moon kinda thing? What I Ate Wednesday 🙂 These aren't in the usual blog rotation because
#1: I think it would get redundant (boring) since I eat a lot of the same things and
#2: it's challenging to actually photograph everything that goes into my face.
For previous WIAW posts, I've showcased what a normal day of eats looks like for me with one active teaching class (Zumba). Today, I thought it would be fun to show my eats for a more intense  teaching day with a higher energy requirement.
I taught 5 classes today. At first, you might think "Omg, you worked out for 5 hours!" but not all of them are extremely active classes. For most, I'll show a few of the moves, any modifications and get the class going, and then I'll walk around, coach the heck out of it and correct form. The classes are for the guests, not for me. Of course, there are definitely some in there that require me to do the full class with the participants (like Zumba!) and slightly more active ones (like ball or glide vs. something like stretch), but all in all, I use my brain and my voice more than anything. I always have to have my next move ready to go, along with the transition and any modifications.
Here's what I taught today:
-Ball (Ballast)
-Barre
-Latin dance
-Stretch
The sweatiest was Zumba, then Latin dance (fairly low-key), Barre and ball were fairly equal (more coaching than anything) and stretch was a lot of walking around/assisting. For days like today, I try to keep a ballpark idea of extra calorie burn in my head, so I can be mindful of the extra fuel I need. It can be tricky since I don't like to teach with a giant food baby, but I've found that frequent snacks and smaller meals throughout the day help me keep my energy up without feeling lethargic. Because of this, I'll often eat a little something every hour in between each class.
Here are the eats:
Breakfast:
2 eggs, 1 tortilla, Cholula from my gym bag, coffee, eaten after ball while sitting on the floor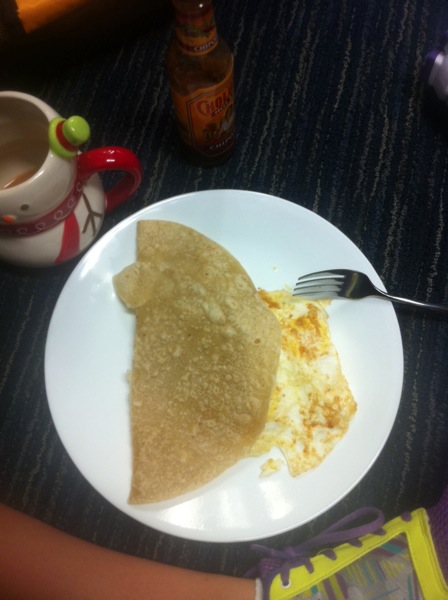 Lunch:
A friend from work, who is also a personal chef, took orders in advance to bring us lunch today. On the menu: jerk chicken-stuffed sweet potato with mango salsa. I'll ask her for the recipe to share with you, because it was INCREDIBLE. The serving was hefty and perfect, too.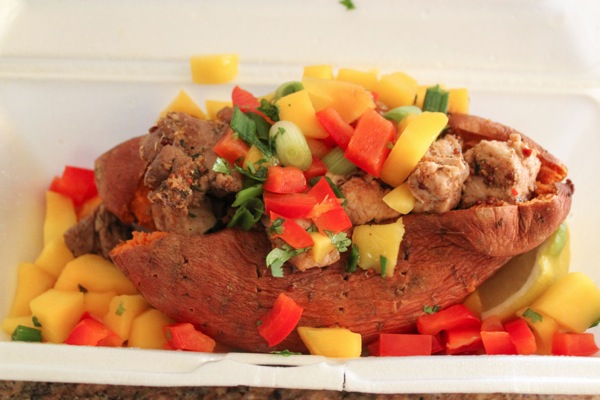 Snacks:
2 sweet potato brownies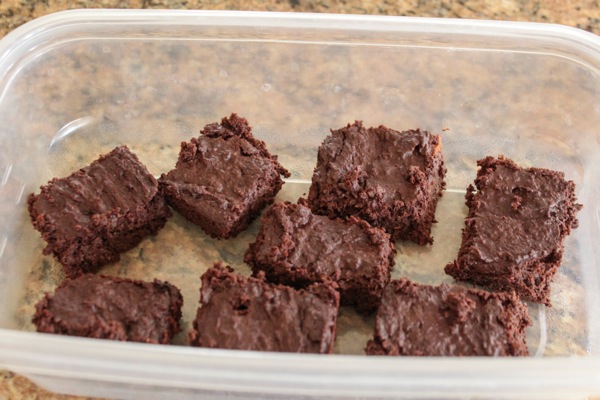 Sunflower seed butter and jelly sandwich
2 kiwis
Coffee #2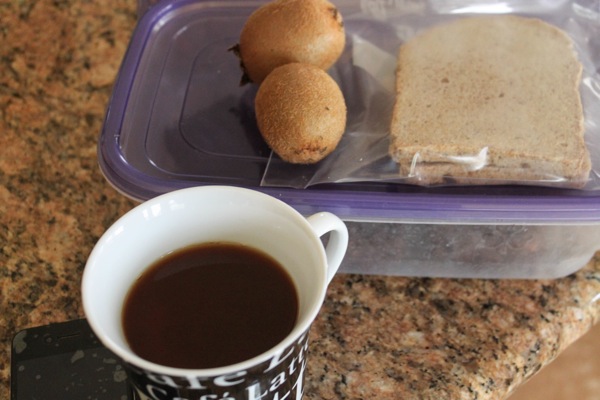 Chicken, black bean, 2 egg and salsa scramble (4 whole eggs today, which is a little much for me, but it's what I was feeling) on salad greens, with tea
I made the shredded chicken this weekend to have on hand for snacks/tacos/salads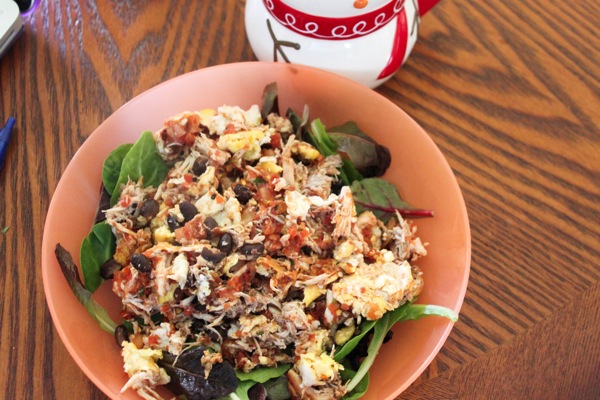 Dinner:
2 spinach enchiladas, using an adapted version of this recipe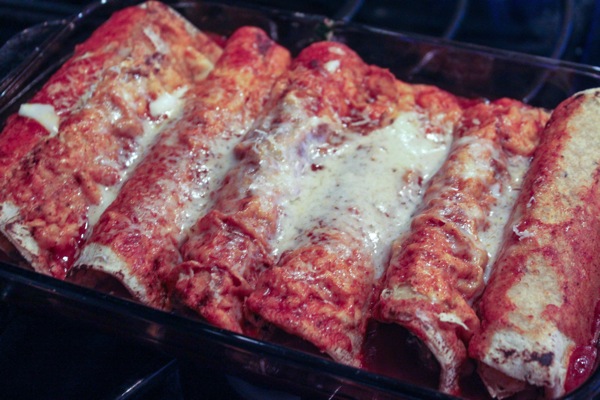 They were amazing- so creamy and delicious. As you guys know, I'm not a huge dairy fan, but sometimes I'll crave a little and eat it. Today was one of those days.
Wine-thirty:
A glass of Malbec and some chocolate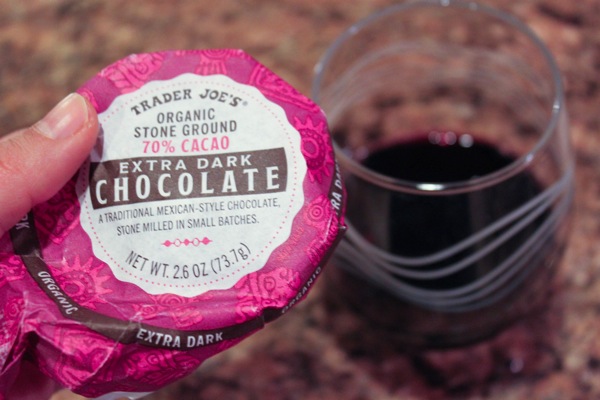 So there ya go: a full day of teaching eats!
I may have a coffee cup of cereal with almond milk if I'm hungry before bed, but for now, I'm feeling pretty good 🙂
Your turn! What was on the menu today? Did you try any new recipes??
See ya in the morning with the BodyMedia winner! <3
xoxo
Gina