Try saying that 10 times fast 😉
Hey guys! How's your morning going?? Hope it's off to a great start 🙂
Last night, I couldn't get my mind off fried rice.
So healthified fried rice it was 😀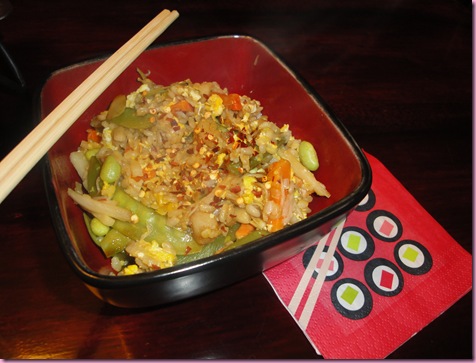 It was so fly 😉
All I did was add some cooked brown rice –cooked earlier in the day so it was ready to go when I got home from Zumba- to 1/2 package Whole Foods stir fry mix in the skillet.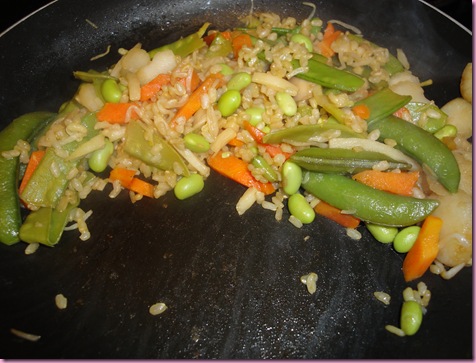 After everything was heated through, I cleared the way for an egg, cracked in an egg from the farm and scrambled it all together.
Seasoned with nama shoyu, rice vinegar, a lil EVOO, and red chili flakes.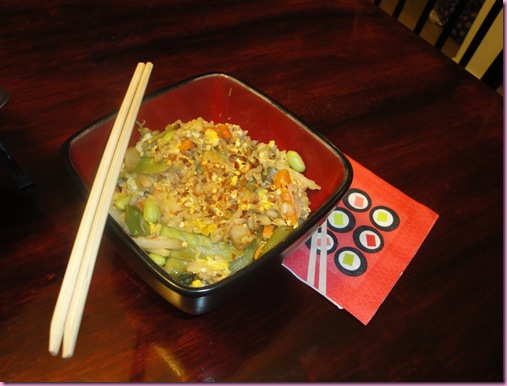 Face <—– Rocked
I spent the evening watching Dancing with the Stars and wearing my Moji Knee.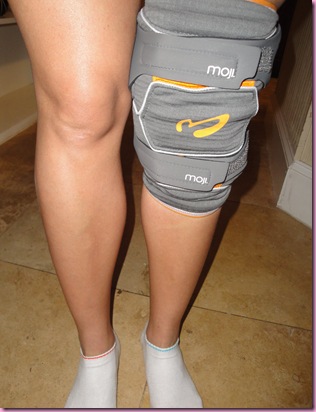 (Matching socks are for suckas)
I can't believe that I haven't told ya'll about the Moji Knee yet. The company sent it to me after I hurt my knee during the half marathon, and I've used it quite a bit in the past few weeks. You can read my full review *here*. My knee feels a thousand times better, but I'm still icing it regularly to keep it safe 🙂
This morning, Ashley came over for our AM Insanity workout.
It was… well, insane. In a good way though! Today we did cardio plyometrics and it was a killer workout. The awesome thing is that it proves that quality trumps quantity. In a little over 40 minutes, I got a wayyyy better workout than I would have gotten dilly dallying on the elliptical.
I made Ash a chocolate cherry bomb, and had a little "taster" 😀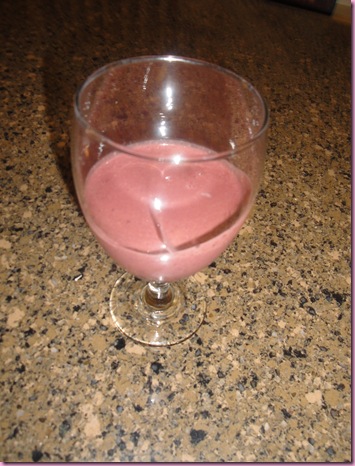 As well as a Fitnessista bfast cookie: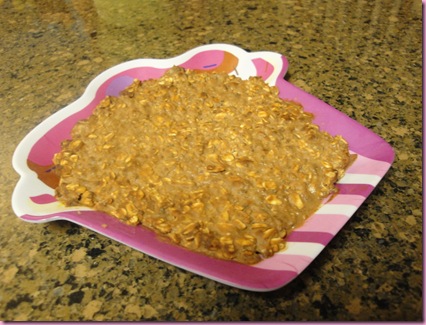 I'm off to SHOWER, run errands, then walk the puppers before heading to work. See ya this afternoon with that reader's request post 😀
xoxo,
Gina
Something to talk about: After my jaunt to Orlando and recent pool time, my hair has gotten SO much lighter. I'm thinking about dyeing it this week…. I haven't colored my hair in over a year, but usually like to when it gets brassy (it's usually a chocolate brown color). Do you color your hair or leave it natural? I will never forget when we dyed my friend Becca's hair in high school… she had brown hair and wanted to go blond, so we bought blond hair color and dyed it during a sleepover. My mom is a stylist, so I have no clue how I forgot this crucial step, but you have to bleach the hair before taking it to a lighter color. We just put the blond hair dye on her, and the only part that took the color was the roots of her hair. It looked like she was wearing a bald cap with hair sticking out of it. Disaster!! She got it fixed the next day, but we all felt horrible. I'm always extra careful when I dye my hair at home now…
Something to do: If you've been needing a yoga mat, they're on promo this week in my OpenSky store: $25! Coupon: 5ForYoga