The Healing Properties of Kitchari
Hey hey hey! How's the morning going? Hope you're enjoying the day! Anything fun going on? Liv is currently obsessed with Taco Tuesday (I have no idea where she heard this haha) so maybe we'll have tacos on the menu at some point today. 🙂
Some fun news: I took my first spin class last night! Since I start teaching again next week, I figured I should get back in the saddle and see how it feels. Thank goodness, it felt awesome. There was a very real time not too long ago when I couldn't imagine myself taking spin (let alone teaching it) again. Needless to say, even though it kicked my a**, it was pretty amazing to be back.
So today, let's talk about a new dish that's a great way to spice up the usual rice and beans.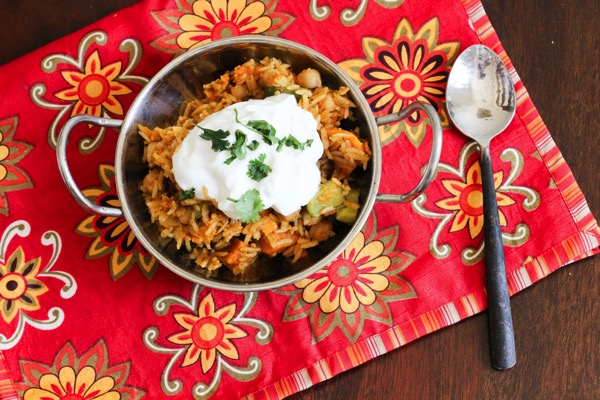 While I was at Fit Expo this weekend, I had the opportunity to meet Lesley from Fightmaster Yoga. (Fun fact: her last name is actually Fightmaster. I thought she was just a super tough Martial Arts-inspired yogi, but no. That is her last name. haha) When I met Leslie, I was immediately drawn to her and her kind spirit. I can't wait to take one of her classes on her YouTube channel! She has over 300 FREE yoga videos and also runs challenges.
She also presented at the Healthy Living Pavilion and introduced me to an Aryuvedic dish with warm flavors and healing properties: kitchari!
Have you ever tried it?

Kitchari for Your Health
-Kitchari means mixture, and is usually a combo of grains and legumes. Traditionally it's basmati rice and mung beans, but you can use any grain and legume combo you enjoy. For the batch I made yesterday, we had had brown basmati rice and chickpeas, so I decided to roll with that. Kitchari is used in Ayurveda (you can check out a post here and here), which is the sister science to yoga. Through Ayurveda, you treat the entire person according to their unique constitution, usually through food or lifestyle changes rather than medication. Kitchari can be adjusted depending on what ingredients work well for you and your constitution.
-Kitchari is easy to digest and can be used to help reduce inflammation in the body, in addition to promote healing in the gut. This meal is also high in plant protein, which makes it a great healthy option for vegetarians and non-veggies alike. (It's also very easy to make vegan if you use coconut oil instead of ghee.)
–To prepare the kitchari, you saute vegetables in ghee or coconut oil. Season the veggies with salt and pepper, and when they're soft, add in your spices. This is where you get to be a little creative!
Some spices you can use:
Cumin
Cilantro
Mint
Ginger
Turmeric
Saffron
Mint
Fennel
Kitchari to Balance Your Dosha
I am mostly Pitta (I'm a Pitta-Vata. To find out your dosha, there's a great quiz here!) so I tend to get "fiery" very easily. I can tell when I'm off balance because my sleep quality diminishes, I get anxious, and find myself extra sensitive to temperatures. This is a bummer for me because I LOVE spicy food, but too much of it (like garlic, cayenne, chili powder, peppers) can set me off balance. (I love the list on this page, for all of my fellow Pittas out there.)
Spices that are good for Pittas tend to be more cooling, like cilantro, cinnamon, coriander, mint and fennel.
For my kitchari blend, I used vegetables that are suitable for Pittas (zucchini and sweet potato) and the following spices: salt, pepper, coriander, fennel, and cinnamon. Like I mentioned before, you can adjust these depending on your dosha, or what you have on hand.
After you add your spices (as little or as much as you'd like), add in your grain (I used 1 cup brown basmati rice) to toast for about a minute. Stir in your beans (I used one can of garbanzo beans), and your liquid (I used about 2 cups vegetable broth) and bring it up to a boil.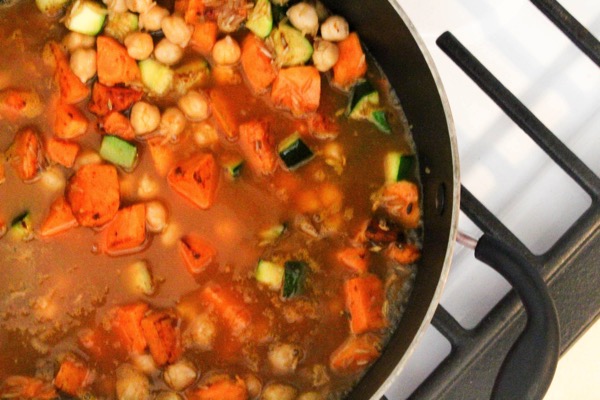 Cover, and allow to simmer until the grain is fully cooked, which can range from 15-45 minutes, depending on what you used.
From here, you can adjust the seasonings as necessary.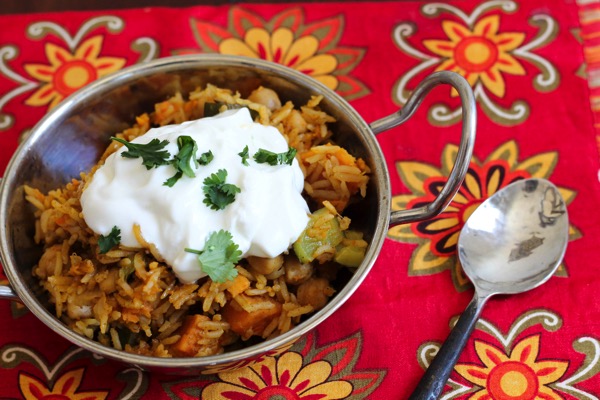 (For a more precise recipe, there is one here.)
I LOVED the way the Lesley served the kitchari: with liquid aminos, which gave it a beautiful umami, and creamy Greek yogurt for probiotics. I used a bit of each on top, and enjoyed it for lunch yesterday.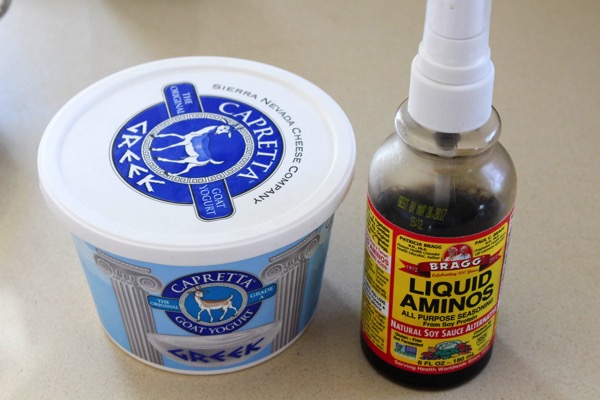 I can definitely tell I'll be enjoying this in the regular meal rotation. Another interesting thing about kitchari: it can be used as part of a cleanse, where you eat kitchari for breakfast lunch and dinner (adding in fresh fruit or veggies as needed). While I do love the fact that it's a cleanse that supports eating real food (and actually has protein!), I can't say I'm going to be trying that anytime soon. But for lunch: I'm a huge fan. 🙂
Blog pick up line of the day: what's your dosha? 😉
xoxo
Gina