the vitamix tango +meals/fitness/who knows
Weekend, feel free to stick around a little longer. Not only have we been living up our last few seconds of time here in Tucson, but I'm ok waiting until the unpacking begins (even though let's be real, it will be nice to get it over with). A funny story: Livi thinks our base hotel is California. We walked out to the parking lot on the first day and she said, "California! I can see it! Oh, I can't wait!"
It's a little better than the base parking lot, kiddo 😉
Yesterday, we were at the BX picking up some necessities right before naptime and Livi said, "I want to go back to California for my nap." Cracks me up every time.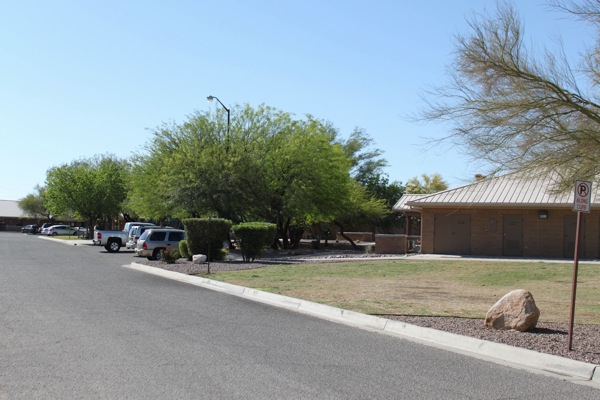 (California! Except not at all.)
For workouts and meals this week, it's all up in the air. I'm excited to eventually get my kitchen tools back and start cooking again, but for now, we'll probably be going out to eat and exploring. Our household goods shipment keeps getting pushed back…and pushed back… so who knows when we'll really be putting the house together.
The day that Vitamix comes out, I'll be dancing with it around the kitchen 🙂 I REALLY miss homemade smoothies, especially now that the weather's been warmer!
Whole Foods made a rather lovely one yesterday: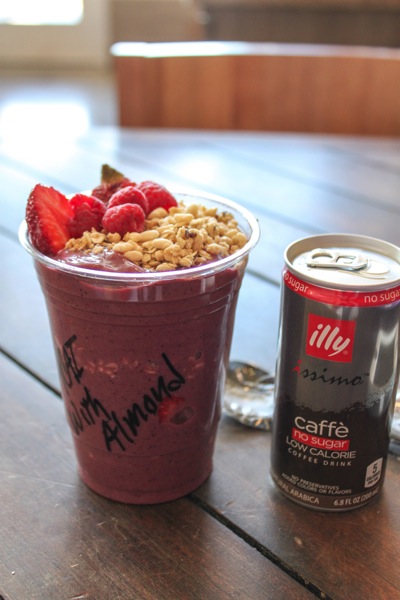 When I'm not going to be cooking so much, there are some staple meals that I tend to fall back on. These are great traveling meals, especially when we're gone for longer than "vacation mode." This is when the novelty of restaurant meals has outworn its welcome, and I'm craving anything with resemblance to homemade food.
Easy hotel meals:
Breakfasts:
Eggs and fruit (and if I have access to one: a brown tortilla to make a burrito)
Oats with protein powder, nut butter and/or berries
Out to eat: scrambled eggs, fruit and breakfast potatoes
Lunches:
Salad with protein and veggies, sweet potato
Burrito bowl with protein, greens, guacamole and salsa
Banana and almond butter roll-ups with yogurt
Goat cheese quesadilla with salsa
Dinners:
Protein, veggie, sweet potato
Turkey burgers + sweet potato fries
Any fresh ingredients to make a salad
Snacks:
Fresh juices, trail mix, bars or fruit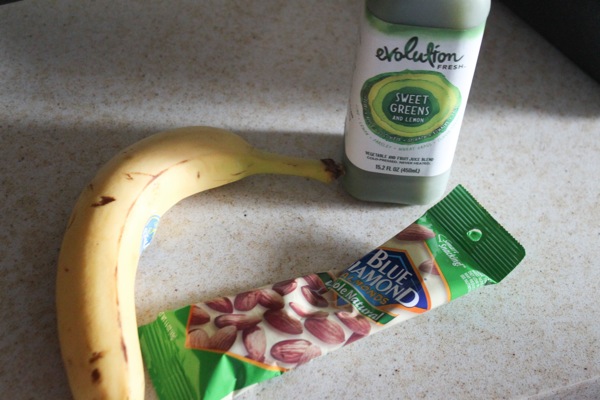 Pretty simple. While I like the convenience of planning and prepping, we'll still have access to lots of fresh and healthy options. The good news is that even when things are weird (especially during this moving transition-limbo phase), I feel more inspired to eat healthy meals when I have my little monkey-see-monkey-do with me. She always wants what I'm eating, so I'll grab a healthy option first, knowing that she'll end up eating most of it 😉
For fitness this week, I have no clue how it's going to go.
Here's what it's tentatively looking like in my brain, but I'll be going with the flow based on where we're staying, what day(s) we spend unpacking, etc.:
Sunday: Total body circuit and HIIT (done!)
Monday: OFF
Tuesday: Ballet Beautiful workout or yoga podcast
Wednesday: Beach run (omggggg) + at-home weights 
Thursday: OFF
Friday: New fitness class?!
Saturday: yoga
I'm already so excited to check out all of the yoga options in our new neighborhood 🙂 
Something I WILL be doing: plank challenge!! How is it going for all of you?
Are you planning for the week? What are some of your staples when you're away from home for a longer amount of time? Favorite healthy restaurant meal?
Hope you have a very happy Sunday!
See ya later today with some weekend pics <3
xoxo
Gina