Hi friends! How's the morning going? Hope you're having a great day so far. <3 I'm off on a friend date with Ashley, who's here visiting from Phoenix. We've been friends since the Valdosta days, and I'm so excited that she and her fam made a visit this week. We also have Tucson friends in town, and it's been so awesome to hang out with some familiar faces that we've missed!
Today, I have a new workout for ya… and it's a killer.
The BOSU: it looks so fun and whimsical, but it will add an entirely different dynamic and challenge to your workout. If you're been in a strength training rut, this is an easy way to switch things up and work your stabilizing muscles. You can check out more of the benefits of BOSU training and a roundup of my favorite exercises in this post. Last time I used the BOSU, it had been quite a while since I implemented it in my training (which is funny because I LOVE to use it with clients). I was shaking like a leaf! It was a great way to change up my standard strength blitz.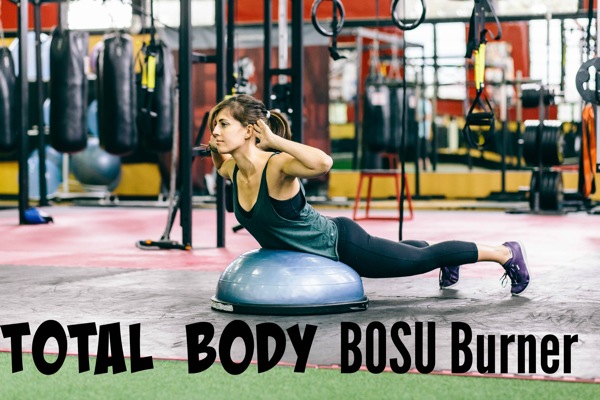 Here's a workout I put together! It's a combination of heart-pumping cardio moves, stabilization work, and strength. It's intended to be completed circuit-style, moving quickly from one set of exercises to the next. When you finish the circuit, you have the option to complete it up to two more times through. As always, check with a doc before making any fitness changes and honor your body. Modify as needed! Here's what it looks like:

Some form cues and tips:
1) Plank wobble and push-up: come into a plank position with your hands on the BOSU, and your feet on the ground. If you are a beginner, come onto your knees. Keep your hips in line with your torso and gently wobble the BOSU from side to side. Right, left, come back to center, then complete one push-up. For the push-up, elbows are wide and squeeze your chest to rise. That is one rep.
2) Diamond push-ups: place your hands on the BOSU and place your index fingers together and thumbs together (making a diamond shape). Place your feet on the floor and walk your feet forward, bringing your hips high (so your body is like an upside-down "V"). Bend your elbows out to the side, then exhale and squeeze your triceps to straighten your arms.
3) BOSU burpees: for this one, you can do your burpees with the squishy side of the BOSU up (easier) or down (more challenging). Hold the BOSU up overhead -you will feel hardcore doing this because it looks really heavy even though it's not- place it down on the floor in front of your feet, and walk or hop your feet back to a plank position. Optional: add one push-up here. Walk or hop your feet back forward, and come back up to standing, raising the BOSU overhead.
4) Squat jumps: come into a plie squat with one foot on the BOSU and one foot on the floor. Sink down into your squat, endeavoring to bring your thighs parallel to the floor. Make sure your knees go towards your toes but not past them. Keep your chest lifted as you reach towards the floor, then spring up into your jump, reaching your arms up overhead. Land with a soft knee. Complete as many as you can in the 30 second rounds.
5) Biceps curl: stand on the BOSU, feet hip-width apart, holding a pair of dumbbells. Keep a slight bend in your knees, chest lifted, shoulders back and down, and a tight core. Perform your biceps curls like this (aiming for full flexion and extension of the elbow), and for an extra challenge: stand on one leg.
6) Back extension: come into a prone position on the BOSU (on your stomach), with the BOSU just above hip level. Place your hands either crossed at your chest or behind your head (more challenging). Ground through your hips and feet, and contract your core to exhale and come into your back extension. Just aim for a straight spine and avoid hyperextending your back. Gently lower down to repeat. If it's your first time doing these, I recommend one set to start and that's it. You will likely be sore from just a little bit and it's better to start small and work up from there.
7) Plank with knee to elbow: starting in a plank position (on knees or toes, hips in line with your torso), contract your obliques as you pull one knee in towards your elbow. Bring your leg back to plank and repeat on the opposite side.
8) Lunge: place one foot on the BOSU and step the other foot back, keeping both feet in line with your hips. Keep your chest lifted and core tight as you lower down into your lunge. Watch the front knee to make sure it remains stacked above your front ankle (if it extends forward, you need to widen your stance). Complete all of your reps on one side before switching to the other side.
As always, please let me know if you give it a try!
What's your favorite piece of workout equipment? Do you ever use the BOSU in your training?
Hope you have a wonderful day. <3
xoxo
Gina
All photos by the amazing Danny Chan! 🙂
More gym equipment-related posts: