Wellness trend: Forest Bathing
I'm getting back in the swing of life over here after the whirlwind trip to Minnesota. Back with the family and back in the SUNSHINE (Minneapolis, your food was great and the people were so lovely and kind, but wow. You were a little chilly. It burned a little.). Today, I thought it would be fun to talk about a first-time experience from a couple of weeks ago: forest bathing.
Get your soap and towel ready!
Ok, not at all.
A couple of weeks ago, when we were in Sedona for the Yoga Festival and staying at L'Auberge, we had the opportunity to sample forest bathing, which is one of the resort's newest offerings. Even though the practice has been around for quite a while, it's high on the trends list: Spafinder named it a top wellness trend for 2015.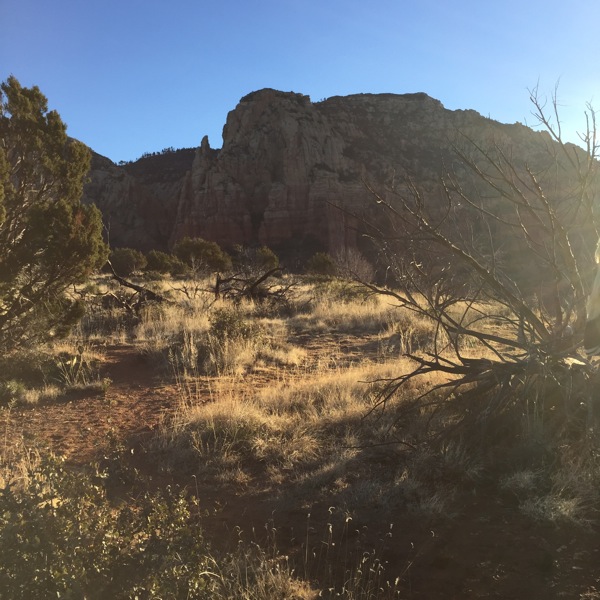 I have to admit, that I was totally trying to figure out the logistics of taking a bath in the wilderness with a group of people I'd just met. Thankfully, the only water that was involved was the gentle gurgle of the Oak Creek, which we viewed, but we were not submerged in. 😉 Instead, we were guided through a group meditation practice, which emphasized intention on the present moment, and the beauty of nature to guide and center us.
What is forest bathing?
Forest bathing, or Shinrin-Yoku in Japanese, is the effects from submerging yourself in the natural beauty of the forest. You focus on your sense and become one with nature, usually for at least an hour. In doing so, you focus on yourself, your relationship with the surrounding area (plants, birds, soil, air), and let your intuition guide you as you slowly wander, or sit and observe. While there are no stringent rules for a successful experience, here are some baseline requirements from this M. Amos Clifford: (A Little Handbook of Shinrin-Yoku)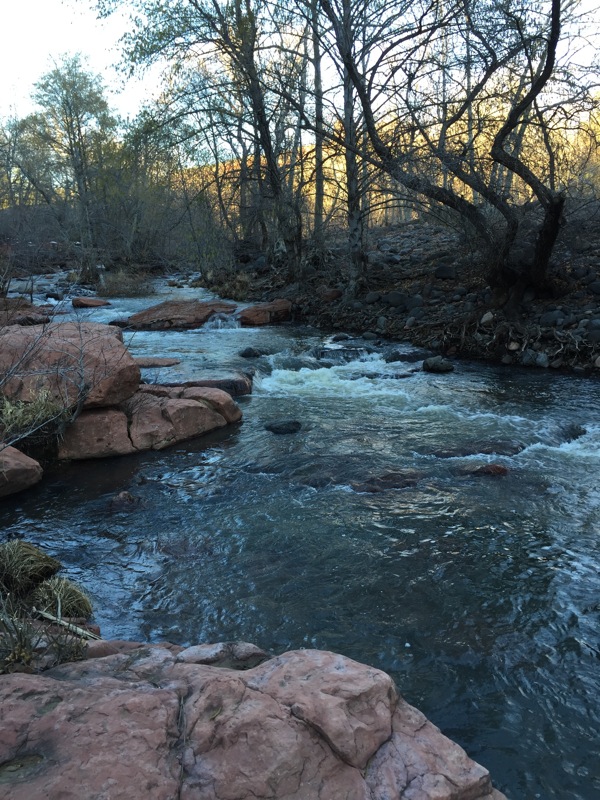 Requirements for Forest Bathing
1) There is a specific intention to connect with nature in a healing way. During the practice, the goal is to activate all of your senses, and set the intention to communicate with the earth around you.
2) It is not something to rush through. This shouldn't be thought of as a workout ("I skipped CrossFit today, but NBD, I went forest bathing instead"), and shouldn't cover a vast amount of distance or result in serious sweating. You dedicate a large amount of time to a very small distance of land covered.
3) Healing interactions require generously giving our attention. During our forest bathing experience, we were given a few activities to enjoy on our own, and then we went back to the group to discuss what we've found or noticed. This was optional, but gave it more of a community feel, and since we were given a small assignment, I found it easier to focus on the task (instead of thinking about the future). One of our assignments was to open a piece of paper we were given, after resting upon a spot that we were drawn to. I found a serene location by the creek, and opened my piece of paper. I can't remember what it said verbatim, but the essence was to look within yourself and find an area that needed your loving attention. I realized that I'd had a hard time being present, which, as someone with anxiety, is something I've often struggled with. It gave me an opportunity to look inward, slooooowww down, and just enjoy the "right now," which at the time, was such a beautiful moment to enjoy: the sun was just setting beyond the glorious red mountains in the distance.
4) It's not a one-time event. Any relationship deserves time, consistency and intention, and forest bathing is very similar since you're cultivating a relationship with your natural surroundings.
5) It's not about *just* taking walks in the forest. Walking is a portion of it, but it's a very small piece of a large forest puzzle.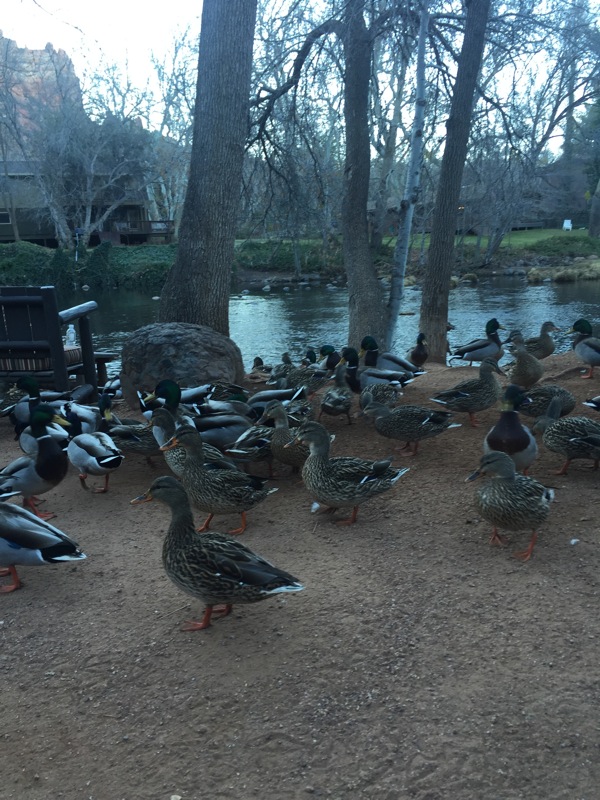 How does forest bathing work?
An element of the healing power of forests comes from the aromatherapy benefits of phytoncides, the essential oils found in woody plants, particularly conifers. You can receive the benefits by simply breathing in the fresh air from trees. You might notice that when you're outside, surrounded by a natural environment, you may experience a heightened sense of relaxation and clarity; at least, that's how I feel. I find it so much easier to be present in the moment when I'm outside, and can enjoy silence away from chores and technological distractions.
-Reduced blood pressure
-Reduced cortisol levels
-Increase in counts of natural killer cells that combat disease
-Improved perception of vigor
What to expect from forest bathing?
To be surprised. Since I really had no idea what to expect, I think it helped with my first session. Expect to move much more slowly and intentionally than usual, and focus on activating all of your senses. As someone who is always on the move, I thought I would be bored, but I wasn't at all. I was like like "Oh, this is what relaxing feels like." It was pretty nice. 😉
Tips for a successful forest bathing experience:
-Go in with an open mind. Drop your expectations and try to draw your focus inward.
-Find a friend or group to go with you. This is a good idea for safety and community purposes.
–Check out some activities here if you're looking for guidance.
-Create a gratitude alter, and add small pieces each time you come back. I often saw these on hikes in Tucson, and thought it was so beautiful to see stones and sticks so delicately placed together, or beaded necklaces hanging from mesquite trees. Make something small and think of something you're grateful for as you create it; it will likely bring a smile to your face when you come back.
Have you done forest bathing or something similar before? Do you think it's something you would enjoy?
What is your all-time favorite outdoor spot? Mine is definitely Sabino Canyon in Tucson.
Have a great day and I'll see you soon!
xoxo
Gina
Special thanks again to L'Auberge for hosting my stay and giving me the opportunity to experience this. My full review of the resort is here. <3