Heyyyyy 😀 How are you?? Hope you're having a great morning!
So glad ya'll like the Pilot's guest post! He's a keeper, right? 😉
Yesterday, we had a meeting at work and I was so stoked when a very lovely friend surprised me with a whole grain bagel in the sea of white bagels: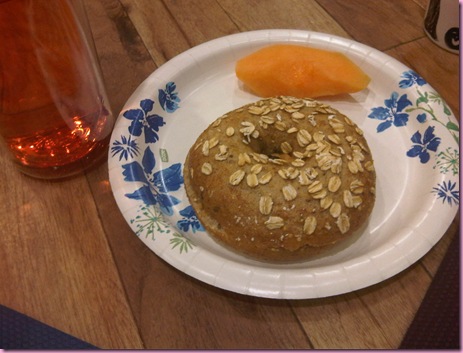 Smeared with peanut butter and with a little cantaloupe, it was pretty glorious 😀
I came back to the casa after the meeting (aaaaand after a stop at Whole Paycheck, heh heh), got the Pilot's care package together and also packed up the macaroon goodie package for the winner of Tina's charity bake sale.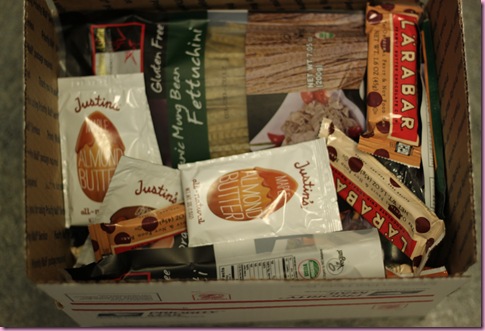 It's always fun to throw extra stuff in there 😀
Along with 2 dozen double chocolate chip macaroons, there were Vega packets of protein, mung bean fettuccine and black bean spaghetti, new Larabar flavors and nut butters.
Some random eats: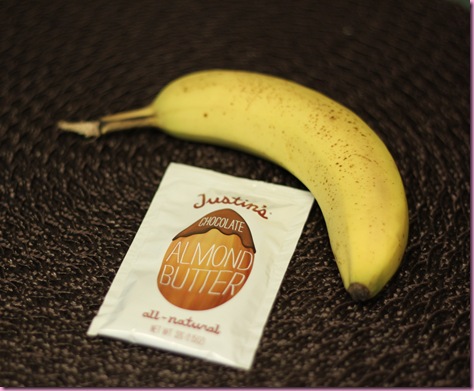 (The original plan was to eat half the pack of almond butter, but I had to finish it. That Justin guy knows his stuff)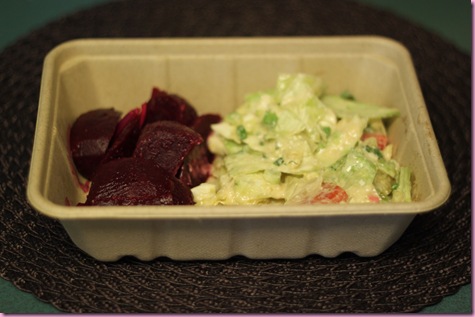 MISO SLAW!! 😀 Saved the beets for today's lunch salad topper
Sweet potato with goat gouda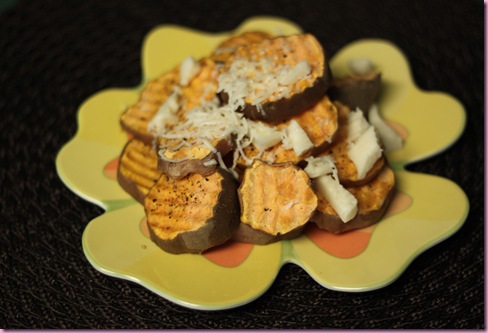 Salad beast with kamut bread and Garlic Gold: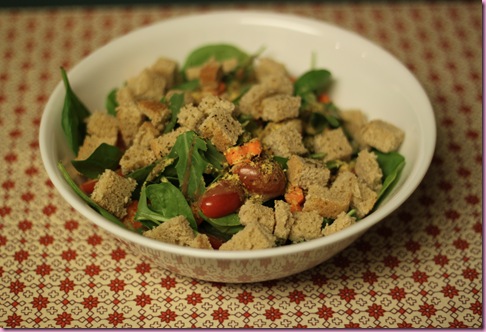 My cousin and I had a lot of fun going on a Zumba rendezvous 😉 We were going to try out a class from a girl who may hire me to teach (I wanted to meet her in person since we've been emailing back and forth) but alas, didn't bring cash to pay for the class. The girl was going to let me dance for free but we had no cash to pay for my cousin. So instead of going to an ATM and being 20 minutes late for class, we went to another Zumba class at the YMCA. Random little roadtrip, but we ended up having a blasty.
This morning, I'm off to work and then coming back to chillax before weights/cardio.
Can't wait to show ya my packed lunch- I got a new lunchbox :D  <—- Nerd
Have a wonderful day!!
xoxo
Gina
Something to read:
David Kirsch's Boot camp Workout
Dangerous Personal Trainers (I've had one of these before, when I first started getting into weights. Let's just say, it didn't last long!)