Hey hey! How was the weekend? I hope you had an amazing one. I'm back home feeling refreshed and inspired from the weekend's events. It was my 5th IDEA World fitness conference, and each time they're just as enjoyable as the previous ones I've been fortunate to attend.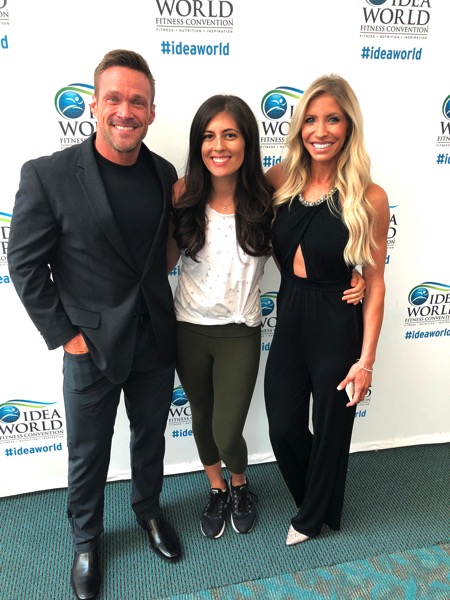 This year brought a new opportunity as I was asked to emcee for the Studio Spotlight stage at the Expo. While I was hesitant about doing it (I was like, "Why are they asking me? They know I'm awkward, right?"), in the end I decided to go for it. I found that it wasn't nearly as awkward or terrifying as I anticipated because it was about FITNESS and new studio classes, aka things I genuinely enjoy with all of my heart.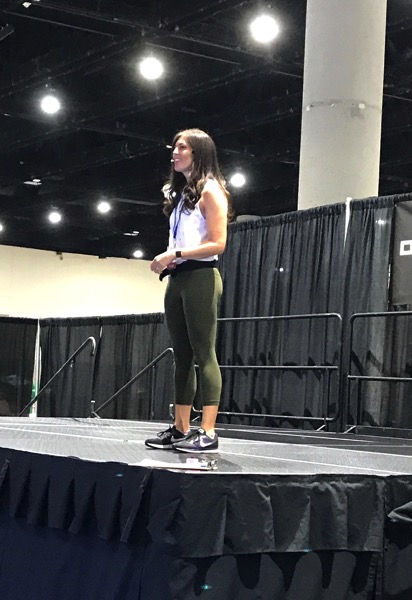 So this year I ended up spending a lot of time at the Studio Spotlight stage and got to check out so many new and amazing formats. (Thank you so much to the reader friends who came up to say hi at the conference!) The Studio Spotlight stage was towards the side of the expo, and the entire time, participants wandered in to take classes from the latest and greatest in studio fitness. Many of the classes were packed and the energy was off the hook.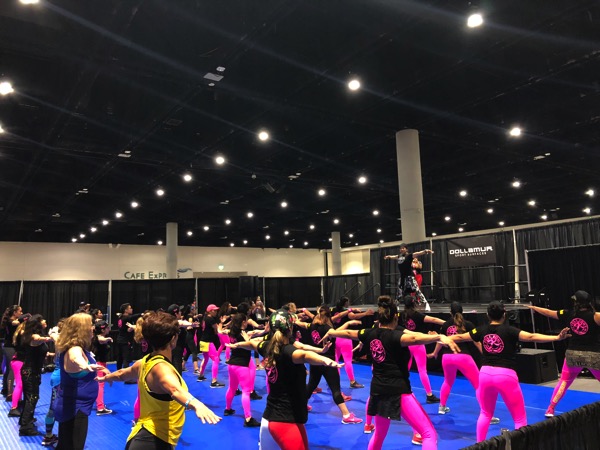 Here are some of the highlights:
Jazzercise: I still feel like I need to make up for lost time with Jazzercise. (I waited forever to try it and when I finally did, I loved it.) The moves are easy to follow and I really enjoy the upbeat music. It was great to catch up with some of the Jazzercise girls and take their classes on the studio spotlight stage.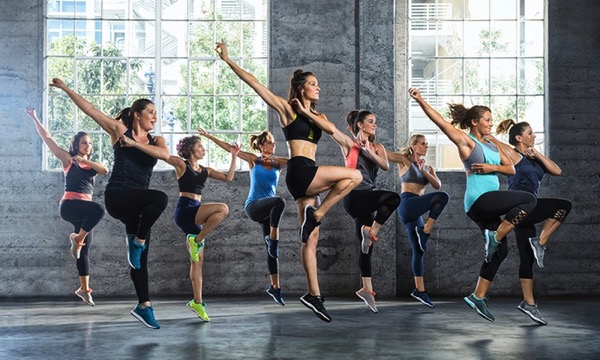 (Source)
FitSteps: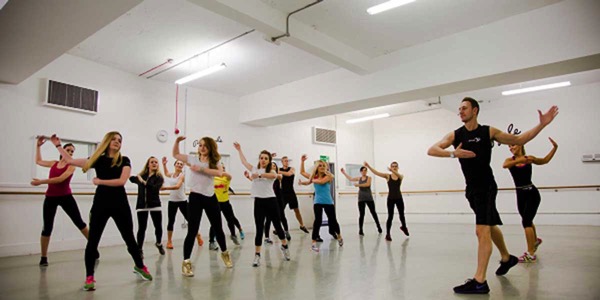 (Source)
FitSteps was a unique twist on traditional dance cardio as they focus on ballroom-style movements without a partner. I had a smile on my face the entire time! The waltz was especially beautiful, and the instructor Crystal was graceful and enjoyable to watch.
HIGH Fitness: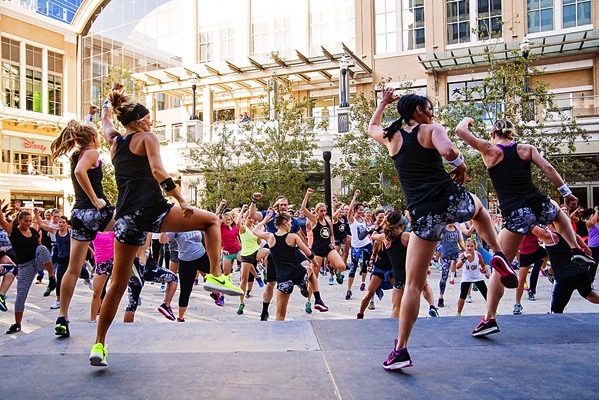 (Source)
You guys. HIGH Fitness is a PARTY. It's modern aerobics with current music and killer cardio moves. The instructors were a blast and their dance moves and style they brought to the class made it even more fun. I'm actually thinking about getting certified even though I might need to start drinking caffeine again to teach haha.
Full Body Fitness by Roger Romero: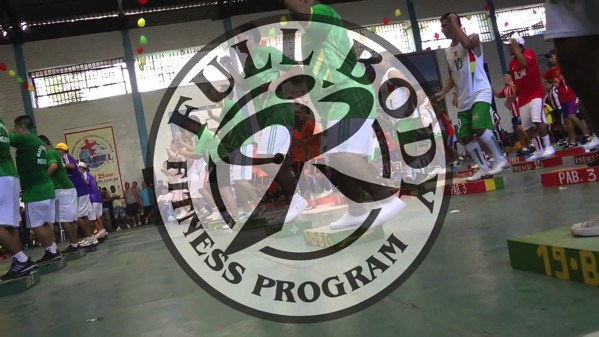 (Source)
The creator of this format came to present along with an entire crew from Peru. They had SO much energy and I loved Roger's mix of aerobics, dance cardio, boxing, and plyometric movements.
BollyX: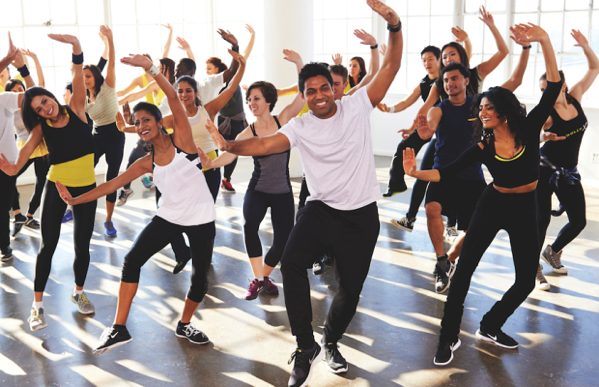 (Source)
I already swooned over BollyX in my last post, but it deserves another mention. The movements were SO fun and different – it was like hip hop meets Bollywood- and they drew a huge crowd for each of their demos. Something about Bollywood music makes me insanely happy and I loved dancing along. I'll definitely be checking out their YouTube channel when I want a little at-home cardio.
Flow Barre Dance: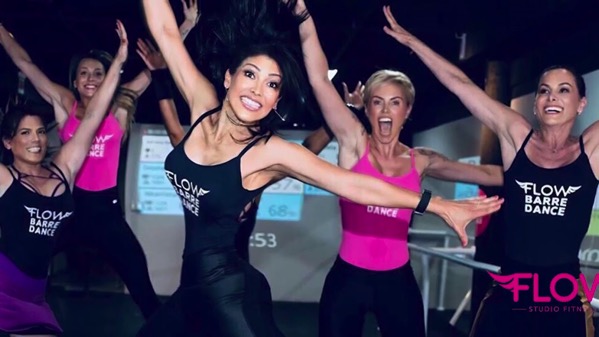 (Source)
The creator of this format, Edvania, was here all the way from Brazil. (And reads the blog! HI!) This format combines dance, Pilates, and barre, and had beautiful fluid movements. She has a huge following in Brazil, and I can see why so many people love taking her class.
STRONG by Zumba: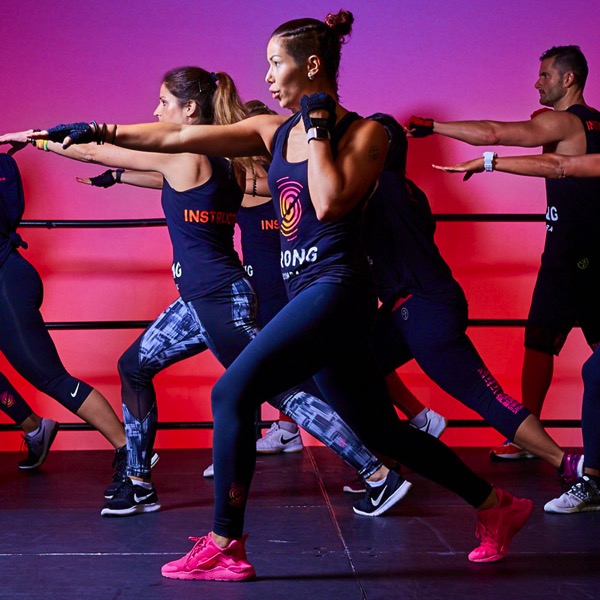 (Source)
This is another that I feel like I've been missing out on. STRONG is totally unlike traditional Zumba. There's zero dancing and is strength, cardio, and plyometric movements synced to the music. The music was driving and powerful; the perfect accompaniment to jumps and martial arts-style punches. The master trainer Ai Lee (from Switzerland. She's in the pic above) was INCREDIBLE. I would want to take her class all the time.
Beachbody LIVE PiYo and Insanity: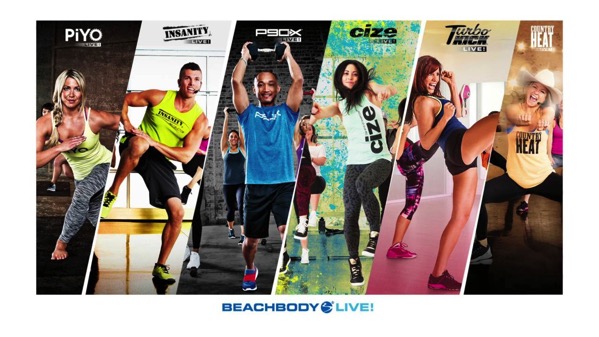 (Source)
It was great to take an Insanity class from Danille (Fit and Funky). I've followed her online for a while and she's a powerhouse instructor. All of the Beachbody Live classes were perfect representations of the formats I enjoy so much. (Check out my review of PiYo here and Insanity here.)
While the IDEA sessions and classes are a haven of happiness, I always look forward to catching up with blog friends,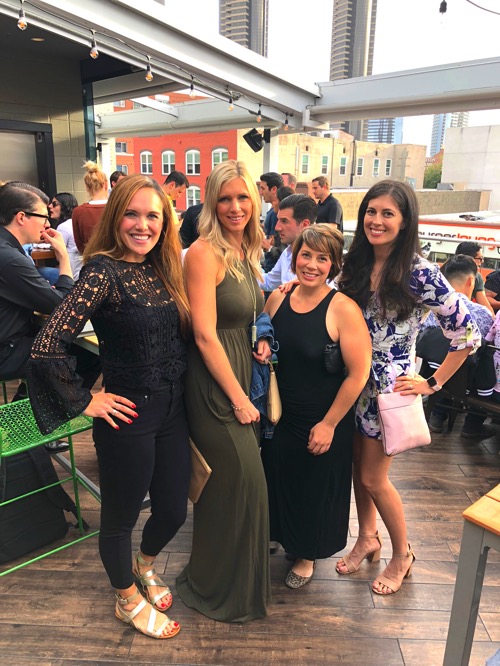 (with Ashley, Giselle, and Tara. I also got to spend all day Wednesday and Thursday with my bestie before she left for a trip.)
and exploring the expo.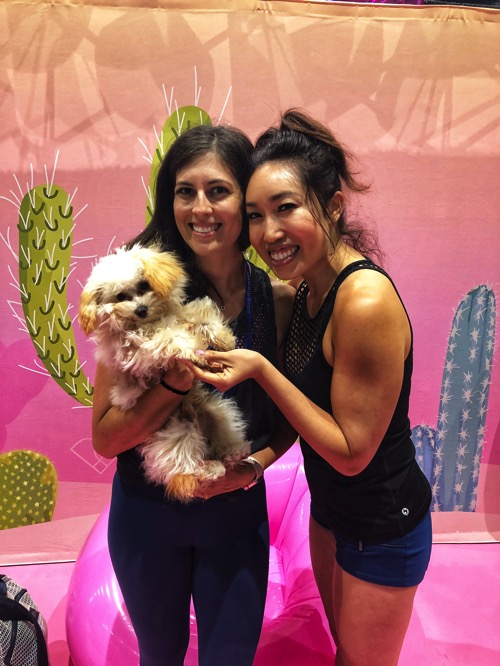 The expo is pretty much my Disneyland. Just picture all of the latest and greatest in fitness gear/equipment + healthy foods, snacks, and fitness apparel under one roof. *Sighs* It's just so good. The LaCroix booth was my very favorite; they had free LaCroix for everyone, hats (! to match my swimsuit), and many photo ops.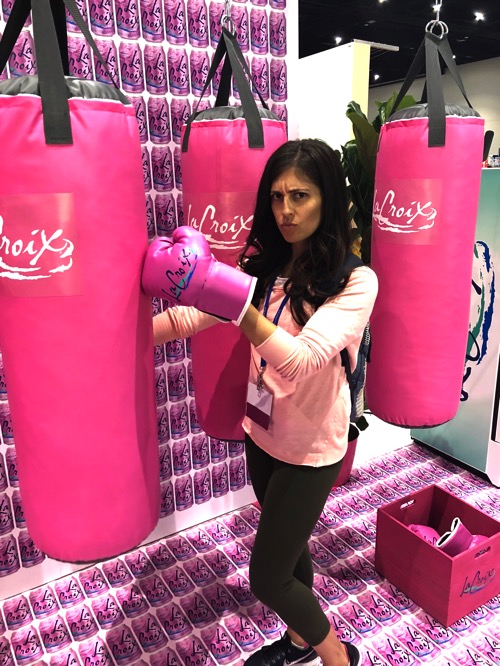 We had some great meals, too. Thursday evening Betsy and I grabbed tacos and margaritas at Puesto,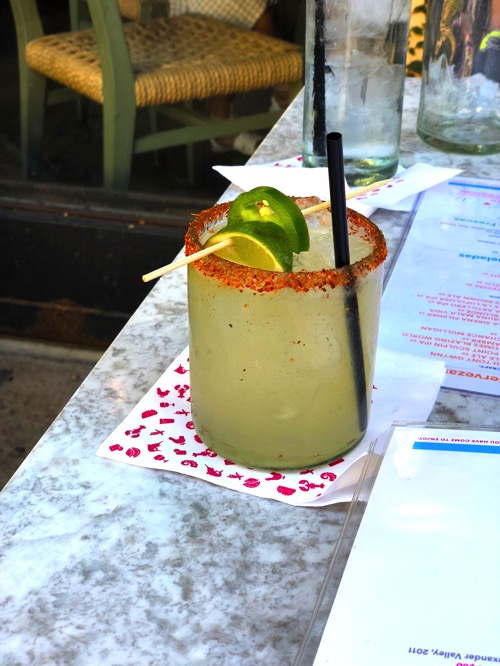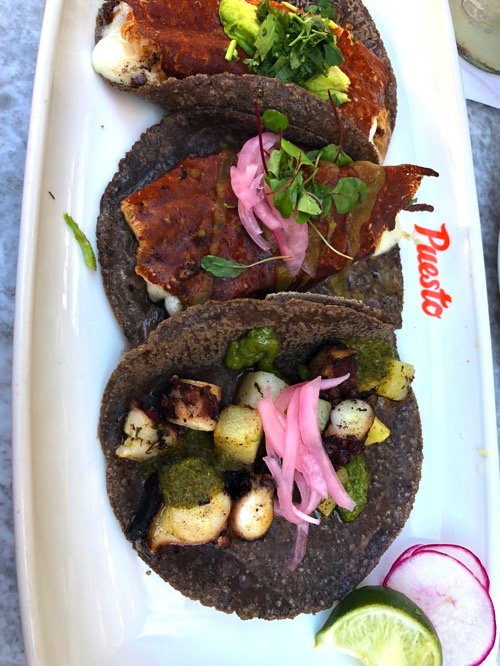 and Friday night, I met up with Giselle, Ashley and Tara for cocktails and dinner at Rustic Root.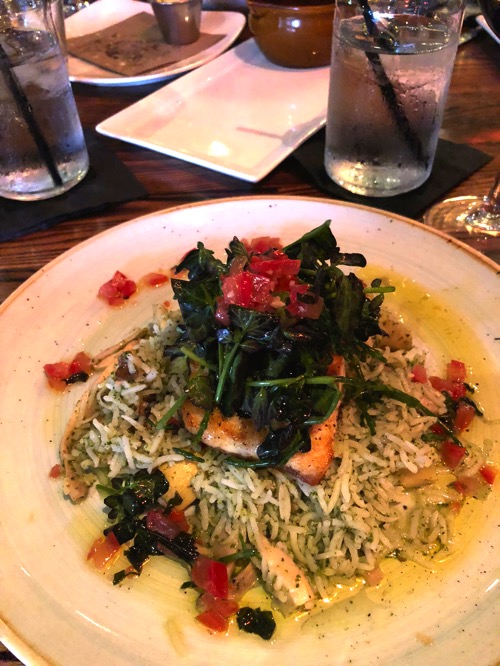 This year, I didn't end up going crazy with a lot of lectures and workshops. After the past month, my body and mind needed a serious reset. There's been so much going on, especially packing up the house, living in hotels with the girls in Valdosta and in Tucson while the Pilot drove here, unpacking, getting settled, and more behind-the-scenes stuff, it all kind of hit me at once. I ended up sleeping in each day and enjoying slow mornings before heading to the Expo for the official adventures.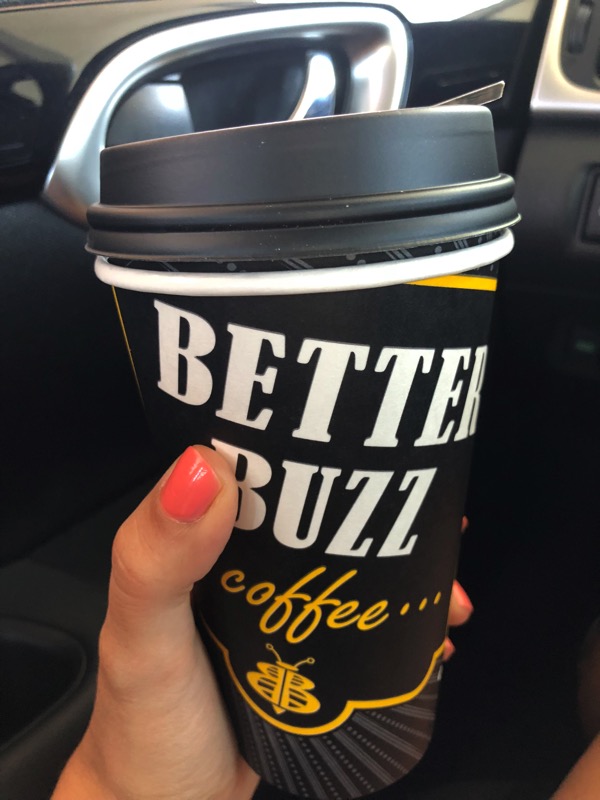 (One morning, I went to Better Buzz and walked around Liberty Station, and it was lovely.)
I still got to see and do a ton, but usually after IDEA, my body is EXHAUSTED (in the best way!) from all of the classes and lectures. For the first time, I didn't feel tired at all coming home.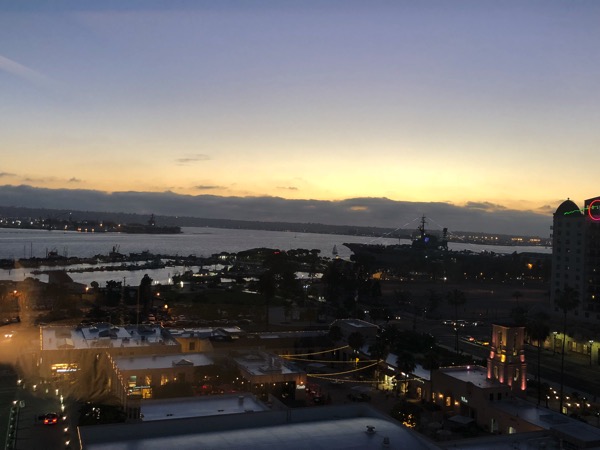 I'm still not quite sure what my teaching schedule will be like in Tucson – I can only teach one or two classes a week right now, so I'm subbing at a local studio. For next year's conference I'll likely have a solid purpose for the workshops and lectures. I'm still trying to figure everything out and decide if I want to get certified in a new format, create my own format, or teach something that I know and love (like spin, barre, or BODYPUMP).
I really, really missed the girls during this trip. For my first night away, I was like YES I CAN SLEEP UNTIL WHENEVER I WANT, but after a couple of nights, the loneliness and missing set in. I missed those little monkeys so much and being back home with them is the best ever. It's always nice to get a little bit of a break and time to enjoy cocktails with friends, but whenever trips like these are over, I'm so ready to get back home to our little fam.
Thank you again to my friends at IDEA for an incredible weekend. I'm already looking forward to next year. 😉
What's your all-time favorite group fitness class? Any new studios you've discovered lately?
xo
Gina
More IDEA recaps:
2013: The Expo and other fun stuff