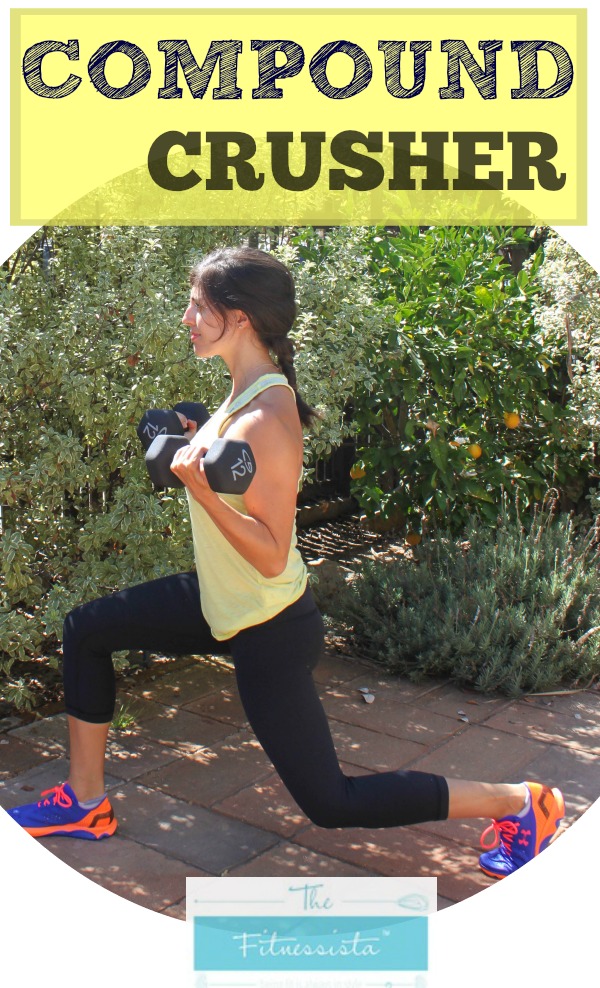 Hi guys! Hope you're enjoying your day so far <3 It's been an interesting week. I fully believe that the full moon affects energy/mood/toddler behavior. During naptime, I usually blitz through the to-do list, but this week, I watched a couple episodes of Dallas Cowboys Cheerleaders and the finale of So You Think You Can Dance. Hashtag guilty pleasures. It's been a fun teaching week, and today it felt great to get back to Orangetheory since I had an off night from teaching. I think one of the many reasons why I love it so much is that they use heavy weights, compound movements (with an emphasis on safe, proper form), and high-intensity intervals. All the good things rolled into one.
I put together this compound crusher to share for the next time you're looking for a quick circuit workout. It hits all of the major muscle groups, and will also get your heart rate up if you move quickly from one exercise to the next with little to no rest in between.

Here are some form cues and tips:
Lunge and bicep curl (right leg): watch your front knee to make sure it doesn't extend past your front toe. Sink down instead of forward, keeping your chest lifted and a tight core. Keep your elbows close to your torso as you perform your biceps curl.
Plie squat and upright row: feet are wide with toes turned out. As you sink down, keep your hips in line with your body and chest lifted. As you perform the upright row, lead with the elbows and top with the weights at mid chest.
Lunge and triceps extension (left leg): same guidelines for the previous lunge, but hold 1 or 2 dumbbells for an overhead triceps extension. Keep your elbows close to your head and go for a full range movement.
Squat and overhead press: sit your hips back and down while you squat, and keep your hips just above the knee line. As you rise up, carefully bring the weights into an overhead press. (For shoulder concerns, skip these, and do a light front raise if that is an option for your shoulders.)
Plank walk and rotate: starting in a plank position, take two steps (moving hands and feet at the same time) to one side before rotating into a side plank. Come back to regular plank before taking two steps in the opposite direction and rotating into your side plank.
Hip bridge and chest press: keep your upper back on the ground as you raise your hips. Press your weights up into a chest press, and squeeze your chest. Carefully lower hips and elbows down to repeat.
Complete the circuit 2-3 times total, and if you'd like, add in some HIIT intervals afterwards for a complete cardio and strength workout. Here's an awesome HIIT workout if you're looking for one!
Have a great night <3
xoxo
Gina