Hi friends! How are you? I hope you're having a wonderful week. Sorry for disappearing on ya yesterday. So much of Monday was spent getting things together for our little shindig that I didn't have time to blog. Since the girls are out of school for the summer, I'm still trying to navigate my summer work schedule. They're signed up for a couple of fun camps, so I think I'll be able to get back in the work groove while living up every moment with these amazing little nuggets.
We've spent a lot of time at the splash pad,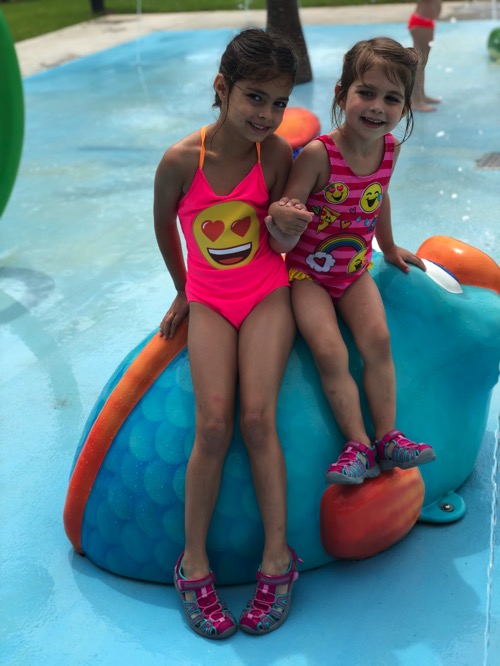 playing outside,
going on "Nature Walks,"
baking,
and watching movies. Summer is the best ever. It's about to get even better because we're headed to Tucson for a little while and I CAN'T WAIT. Even though I have to admit I'm a liiiiiittle terrified of the heat. At least my hair won't be super frizzy? It will be perfectly smooth and styled, even though I'll be a red, sweaty tomato. You win some, you lose some.
Monday night, some friends came over for a little wine and cheese party. I wasn't sure how many of the girls would be able to make it since so many people plan summer trips, but 16 people RSVPed yes. YAY. Thankfully, I stocked up on allthecheeses during our last Jacksonville trip.
I made two cheese boards,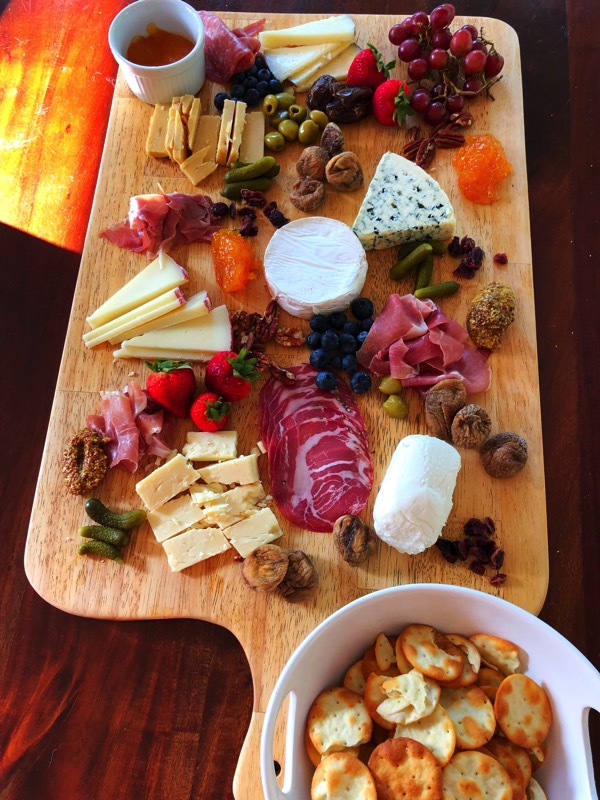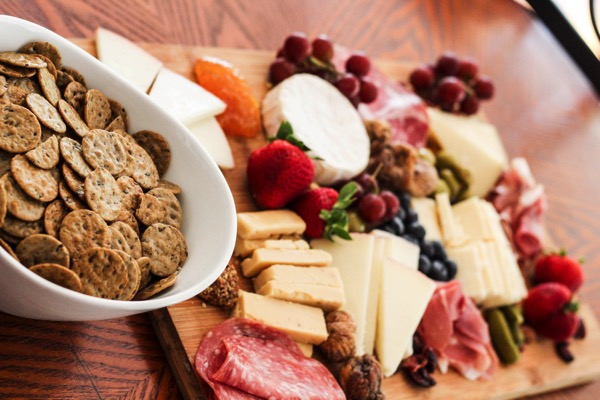 and to go along with it, some fresh sourdough bread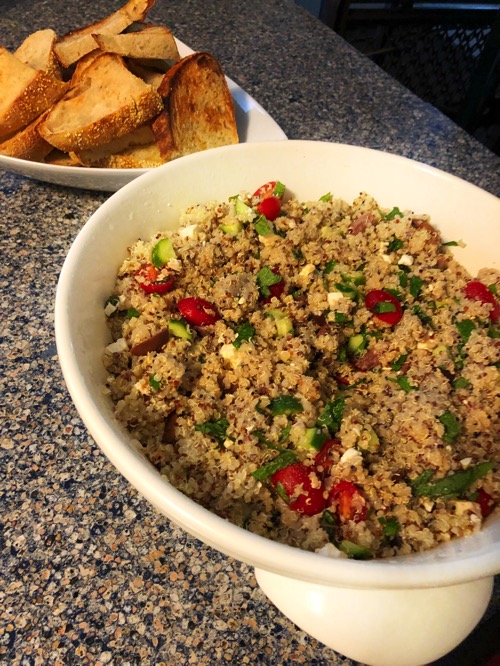 (toasted in the oven with a little butter and garlic)
Greek quinoa salad (cucumbers, tomatoes, kalamata olives, mint, parsley, quinoa, lemon juice, garlic powder, salt and pepper)
marinara for bread dipping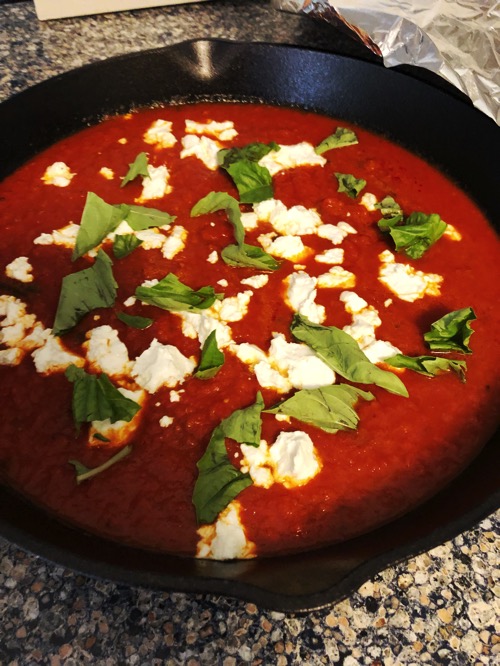 (with goat cheese and fresh basil)
and I didn't even get a picture of the main course: this garlic herb shrimp from Ina. I made three pans worth – this recipe is clutch because they go from fridge to the oven and are DELICIOUS – and they were almost gone by the time the night was over.
For dessert, pizookie (chocolate chip cookie cooked in the giant cast iron) with ice cream. 🙂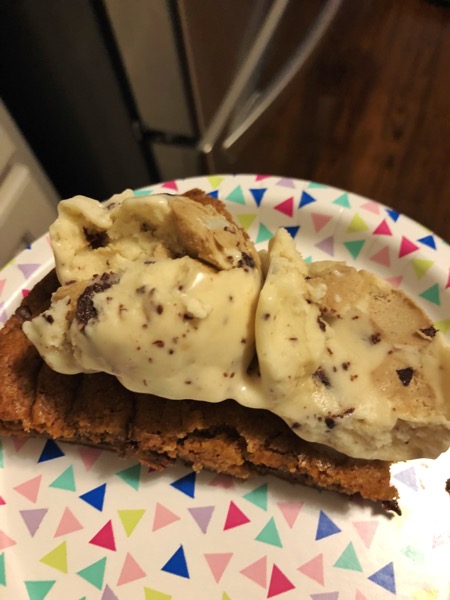 Cocktail-wise, I didn't do anything super crazy (usually I make this sangria when we have guests over), but we had my favorite easy cocktail + lots of red wine, rosé cider, and champagne.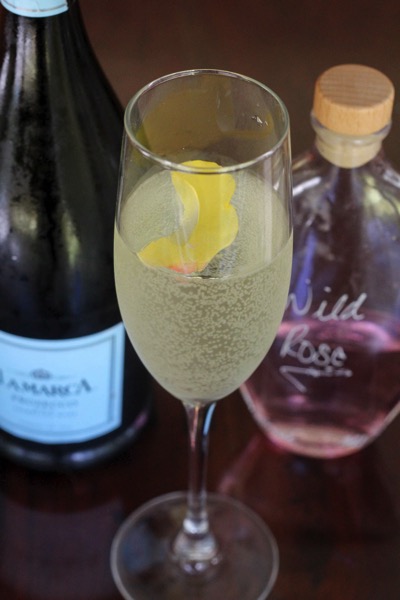 Since hosting friends is one of my favorite things ever, I thought I'd share some of my top dinner party tips. It took a LONG time for me to get in the swing of dinner parties. I cringe to think of the early days, when we first moved to Valdosta, and I'd tell the Pilot, "Let's have people over for dinner!" He'd put the call out to our friends, and then I'd START COOKING. They'd be sitting at our dinner table awkwardly while I was banging pots and pans around in the kitchen trying to make something. I get red-faced just thinking about it.. and telling the internets about it haha.
Another huge snafu was that I used to be really into Splenda, and I'd make Splenda desserts when people came over. WHY WAS I SO WEIRD? I made them eat bitter Frankendesserts. And somehow they're still my friends. I really don't understand. (Thankfully the Splenda obsession died quickly after we moved here the first time.)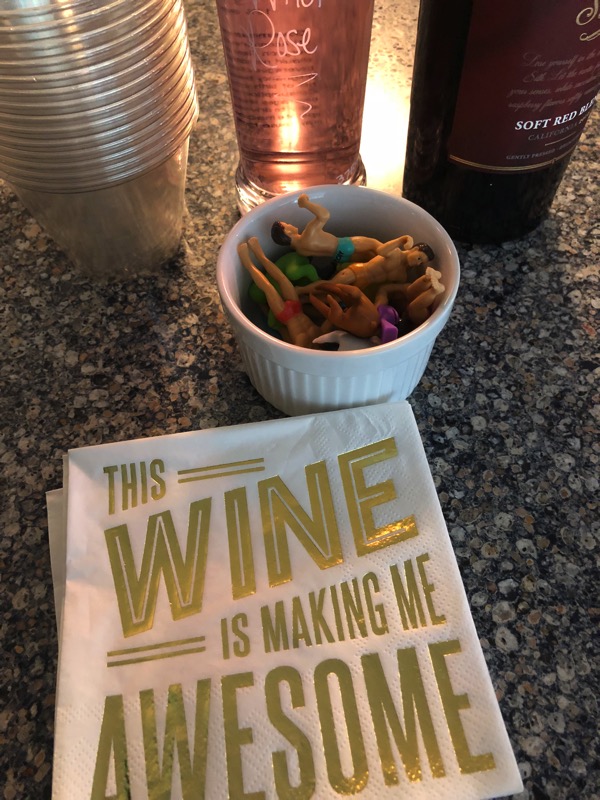 Anyway, here are some of the things I've learned along the way:
-If you can't make it ahead, don't. I plan menus solely on things I can make in advance. Some foods taste even better the next day, like lasagnas, enchiladas, and dips. If you need to cook it immediately, marinate it or prep as much as you can in advance. For example, I really wanted us to have fresh bread for dinner, so I made it on Sunday, sliced it, and popped it in the freezer. After a little toast in the oven, it was like I'd baked it that day. Desserts are another great one you can make in advance. Cakes, bars, pies, cookies all do well if you make them (or at least the dough) a day or so before. Anything you can do before the party (like chopping crudités), do it!
-Another huge one is having a plan for what dishes you'd like to use for each item. I got this tip from my friend Sabrina and it's a great one: set out the dishes the night before and put a little post-it note on each one detailing the contents of that dish. So I'll have sticky notes that say "Spinach and artichoke dip" attached to a big bowl, another bowl that says, "crackers" etc. This way you know exactly what you need and everything is clean and ready to go!
-Create a signature dish or cocktail. When friends come over, they know at least one of two things will happen: there will be an enormous cheese board and/or this boozy sangria. When you make something constantly you can add your own spin to it, and it also helps you to get really good at making that one appetizer or cocktail.
-Do the dishes and take out the trash before everyone arrives. This way I can put dirty dishes directly in the dishwasher and run it while I'm sleeping. It makes cleanup so much easier.
-Outsource when you can. Sometimes I'll have a couple of things catered or will buy them online just to make things a little easier. I'm notorious for using boxed cake mix with homemade buttercream frosting. <— the frosting makes it taste homemade. I also love ordering decorations from Etsy because no one wants to see my craft abominations.
-Have fun!! I think that prepping ahead really helps with this aspect. Since almost everything is prepped in advance, when people arrive, I can pour myself a drink and kick back. Instead of spending the party in the kitchen cooking, I spend it refilling wine glasses, chatting and laughing with friends, and dishing out desserts.
So, tell me friends: any awesome dinner party tips? Do you have a signature cocktail or appetizer you always make? Please share and feel free to link it up!
xoxo
Gina