Hi friends! Hope you're having a wonderful morning! Thank you SO MUCH for all of your wonderful comments and excitement about the new ebook. It was so amazing to hear some of you say you enjoyed a new recipe for dinner last night. <3 We wanted to make this as valuable as possible, but also super affordable, so grab yours here for the $9.99 intro price.
I feel extra excited for Halloween this year. This time last year, I was certainly excited for our due date and to FINALLY meet P, but was feeling pretty uncomfortable.
Blast from the past: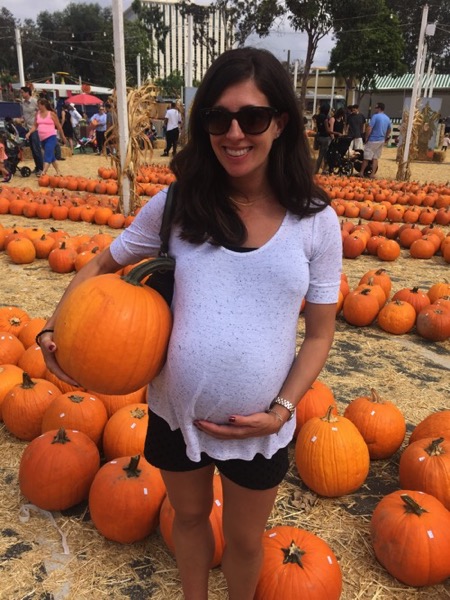 Halloween itself was a bit of a blur, but it was a pretty special one since P was home with us and the entire family was together. I love looking back and reading this post, and am excited to plan out the girls' Halloween costumes. We'll be heading to Betsy's for the usual Halloween festivities, and my madre, Trevor (my brother) and his girlfriend will be in town. I can't wait.
For today, I have a festive Halloween-inspired workout for ya. The only spooky thing about it is how much you'll be sweating when it's over. 😉 This is a combo of strength and cardio, so the cardio blasts can increase total calorie-burning potential and keep your heart rate elevated during the muscle-building strength. This is my favorite way to work out. Circuit workouts fly by, and I'm sweaty and triumphant when it's over.
Please let me know if you give it a try!!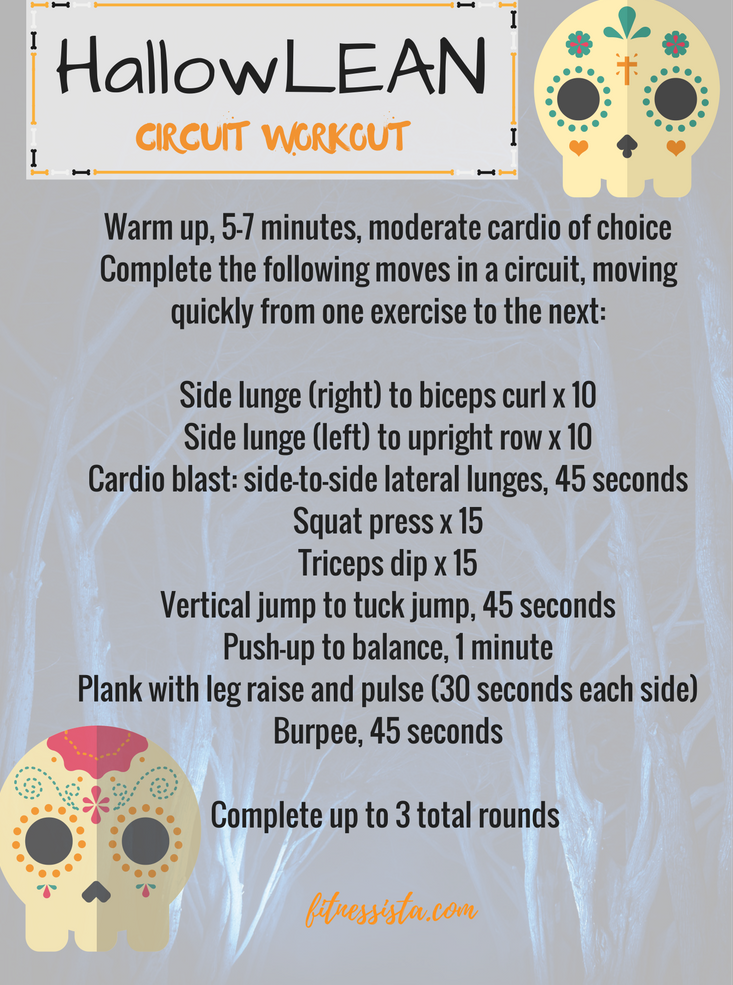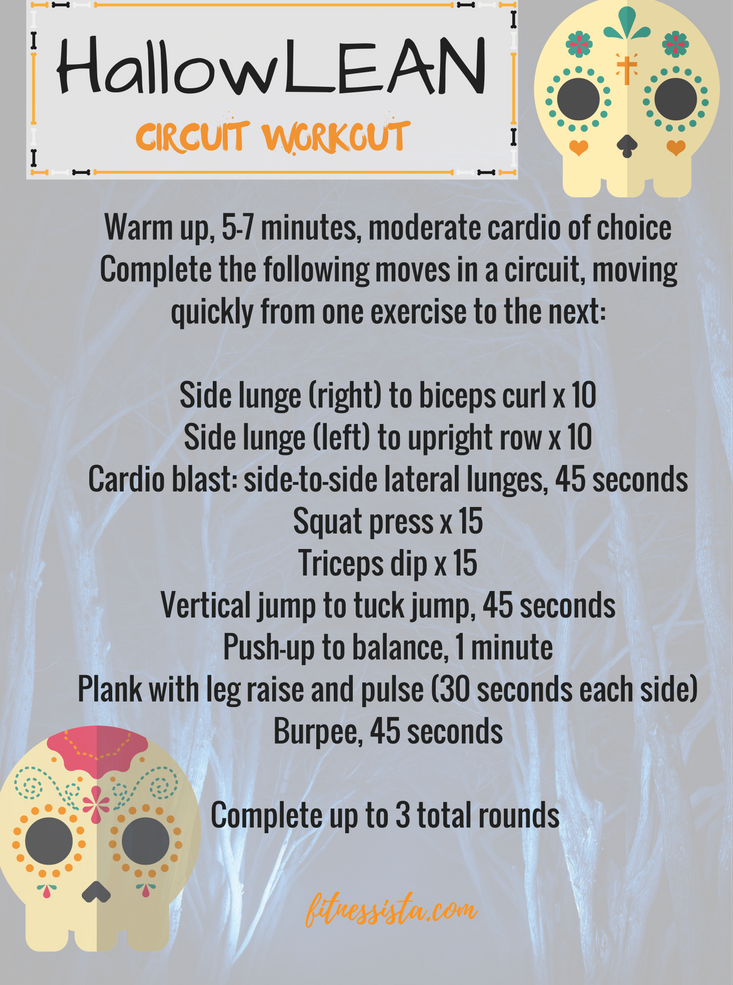 HallowLEAN Circuit Workout Exercises and Form Cues
(As always, talk with a doc before making any fitness changes. Honor your body and modify as needed.)
Warm up, 5-7 minutes, moderate cardio of choice: go for a brisk walk, jog, star climb, row, jump rope, or hop on the elliptical)
Side lunge (right) to biceps curl: for this one, make sure you take a big step out with your right leg (holding a pair of dumbbells), and that you right foot angles out 45 degrees. (Your left leg stays straight and strong; toes point forward.) Think about sinking your hips down and back into your lateral lunge as you keep your core tight and your chest lifted. Exhale to step back to center, and perform one biceps curl. That's one rep.
Side lunge (left) to upright row. Complete the same lateral lunge, stepping out with your left leg this time. As you step back to center, complete one upright row. Make sure that your elbows are the first to rise, and the dumbbells stop at mid chest level.
Cardio blast: side-to-side lateral lunges, 45 seconds. Ditch the weights, and complete your lateral lunges, moving side to side, as quickly and as safely as possible.
Squat press: holding a pair of dumbbells, keep your chest lifted and your weight in your heels as you squat down and back. Exhale and squeeze your booty to rise, and perform an overhead press at the top.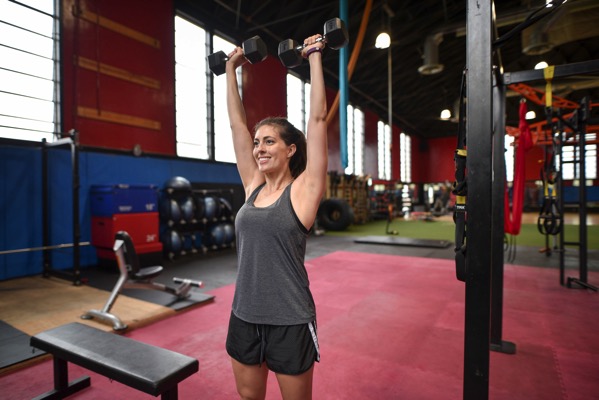 Be sure to smile like you're reaaaaallly happy to be pressing these weights overhead.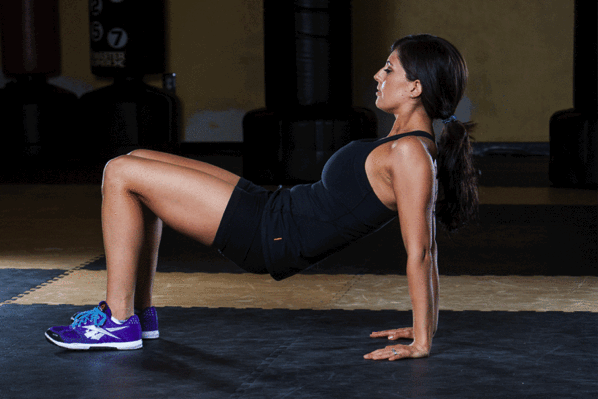 Triceps dip: for a more challenging version, place a flat plate on your legs. To modify, bend your knees. As you complete your dip, make sure that your elbows stay pointing straight back, keep your chest lifted, and shoulders down.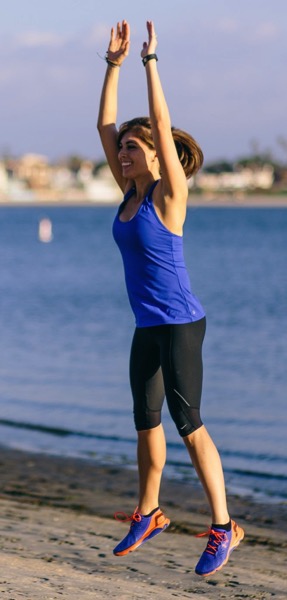 Vertical jump to tuck jump, 45 seconds. Be sure to land with soft knees and exhale to spring up. Feel free to eliminate the jump (calf raise instead) or to add a tuck jump to make things more intense.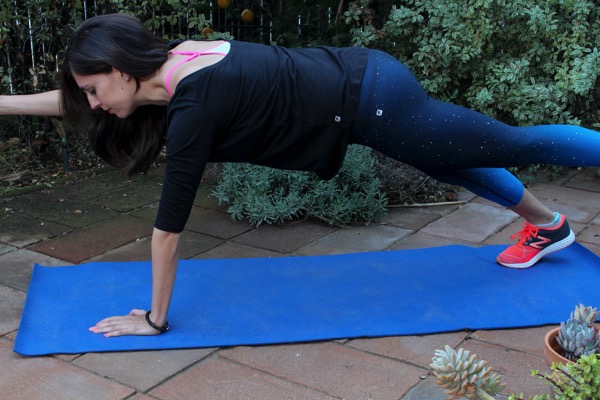 Push-up to balance, 1 minute. After you complete a push-up (on your knees or toes), come into a balance position (pictured above: opposite hand and leg raised). Keep both hips pointing down, your core engaged, and your neck long. Lower your arm and leg down, push-up again, and balance on the opposite side.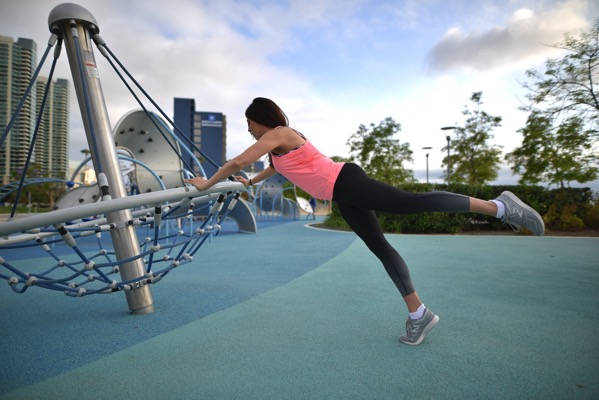 Plank with leg raise and pulse (30 seconds each side). You can complete this in a modified plank (above), or a full plank on your hands, or with knees down. Raise one leg off the floor (keep that hip pointing down) and pulse that leg towards the ceiling. Take a quick break if you need it, and switch to the opposite side.

Burpee, 45 seconds
Complete up to 3 total rounds. Also, feel free to break this up into sessions throughout the day!
What's on the workout agenda today? Are you (or your kiddos or pets) dressing up for Halloween? I'd love to hear about your plans!
Have an amazing day.
xoxo
Gina
*psst. If you're following the fall fitness plan, this is a perfect workout to change out for Monday