Review of Zuzana's ZCUT Power Cardio DVDs
I think we're all in agreement that I have a girl crush on Zuzana.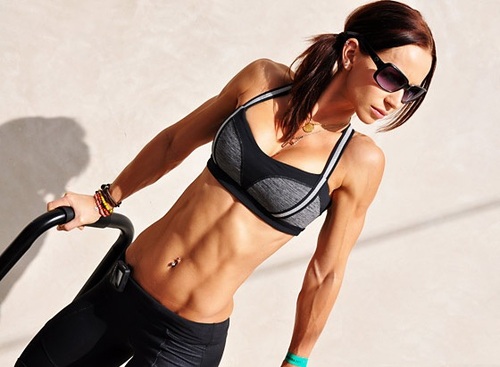 She has a soft-spoken, kind and approachable demeanor, and at the same time, creates these crazy intense workouts that leave me shaking in a pool of sweat. How can someone so nice make my muscles cry so effectively?
Oh, and I have serious ab envy.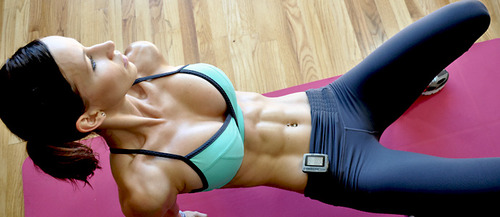 I'm gonna go do a plank now.
As a fitness instructor, it's always so refreshing to have the chance to take a class or do a DVD so you don't have to think about your workout. When you're used to creating them so often (and coaching along the way), it's nice to zone out and just do it. Whenever I'm looking for someone else to kick my booty, I know I can count on a ZWOW. When I found out that Zuzana was coming out with a set of cardio DVDs
, I knew it would be something worth checking out since I love her online workouts so much. When I saw the price tag ($15 for the set), I decided it was destiny and ordered some.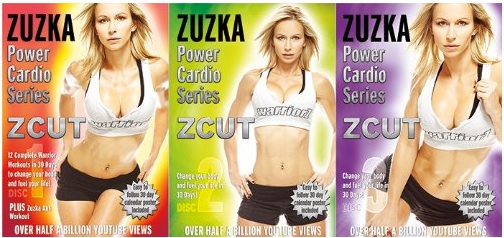 I haven't had a chance to try all of the workouts yet -I've done 4, plus the warm up and bonus abs workouts- but thought it was worth a little post, since quite a few of ya have asked how I like them so far.
Here are some details:
-It's a 3-DVD set, which has 12 workouts, a warm up, cool down and bonus abs workout
-The set also includes a workout calendar, plus basic nutrition tips if you want to follow around. This is a helpful tool for scheduling rest days.
-Each workout is around 10-15 minutes and if you do the warm up and cool down each time, you still will not be working out for longer than 30 minutes. This makes it a fantastic option for those who don't have a lot of time to workout, especially since all of the DVDs can be done at home with minimal equipment (chair, mat, something to jump over)
-Before each workout, Zuzana breaks down the moves with proper form so you know what to expect, and how to do it properly. The workouts are done in rounds for time, so the key is to complete them as quickly as possibly, while still utilizing proper form.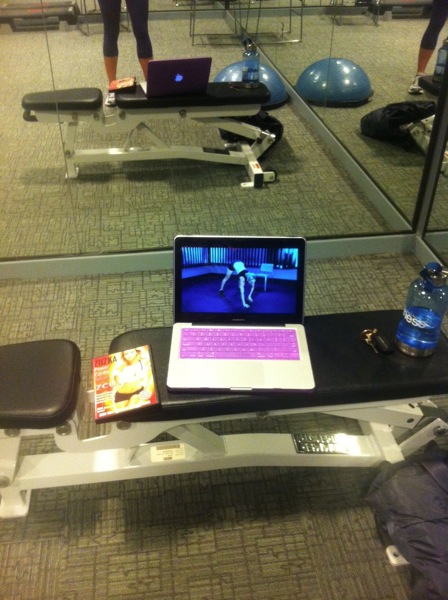 My thoughts:
-The movements are very high impact and intense, so I wouldn't recommend them for fitness beginners or those with injuries. There are a couple of the moves that I've had to modify, since I knew I wouldn't be able to complete the rest of the high rep set with proper form.
-I wouldn't do these types of workouts on consecutive days. Like I mentioned, they're high intensity, and it's a better choice for your heart (it's a muscle and needs rest, too!) to alternate cardio intensities. I'd space them out throughout the week, or use them as a tough cardio HIIT session after weights (which is how I've been using the DVDs).
-They are very, very similar to the workouts you can find for free online. However, Zuzana provides a ton of awesome content at no cost to her thousands of viewers, I'm assuming she's primarily paid via YouTube ad revenue. I these DVDs are a great way to financially support her, and I love that these workouts can be done without an internet connection. (I take my computer to the gym and will do them in the training room, which doesn't get a good WiFi signal.) On a non-workout related note, some of you may have read online about her troubled past, and she's also been through a lot personally in the past year or so. From what I can tell, in addition to her abs of steel, she has a heart of gold. She's built amazing success for herself and is proof that you don't need to finish the same way you start. 
I'll definitely continue using the DVDs as a fun change-up in my workout routine, along with my beloved TurboFire, NYC Ballet Company and Physique 57.  
Hope you're all having a happy morning so far <3
See ya later today with a fun Valentine's gift guide from Meg!
xoxo
Gina
New on the Family page: Toddler DIY Valentines
More posts about Zuzana's workouts/BodyRock (which is now called DailyHIIT; Zuzana is no longer a host):
Winter Shape Up! Today is your Hill challenge and Ab burner. Pick any ab burner from my YouTube channel (or do a couple!) and for your hill challenge, you're going to focus on resistance. If you need some ideas, check out this workout and this workout.
How'd you do? Make sure to check in by leaving a comment below! Two lucky winners will receive the same scarf I'm wearing in this pic, courtesy of White Plum Boutique.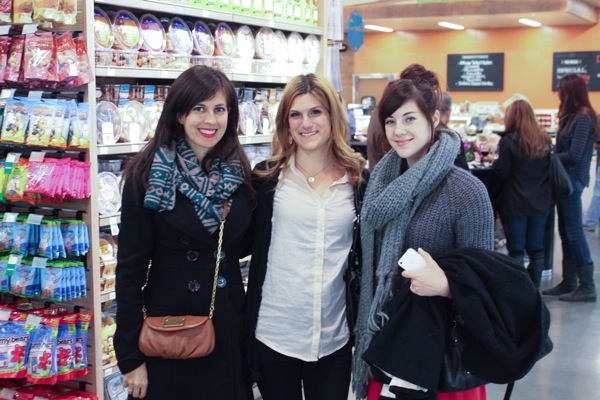 I'll also send a set of the Zuzka DVDs to each of the two winners, just because I'm enjoying them so much [sponsored by Bella and Caroline] 🙂
Congratulations to the lucy tank winner from yesterday!
Catherine C. said: Holy arm burn!!! Did workout 3 today and will be using tomorrow as my rest day…I'm gonna need it 😉
Send me an email to fitnessista at gmail dot com and we'll get your prize on the way! xo