Hi friends! How are ya? Thank you so much for your amazing comments on yesterday's post. I can't wait to write back to them all later today.
For now, I have a little Vegas recap from the weekend's adventures. We're back in the swing of life over here, and despite the time change (I miss AZ haha), I feel energized and rejuvenated after such a fun weekend.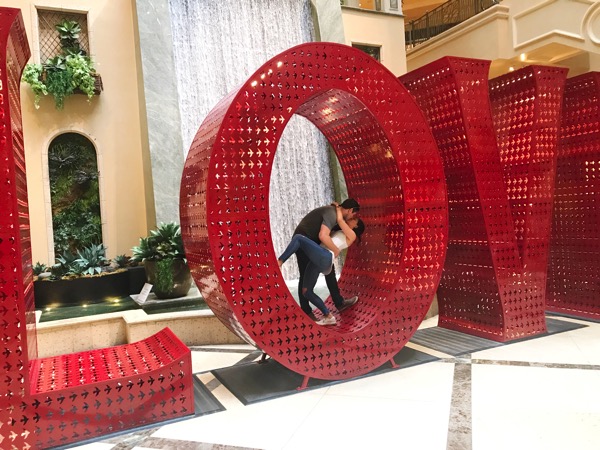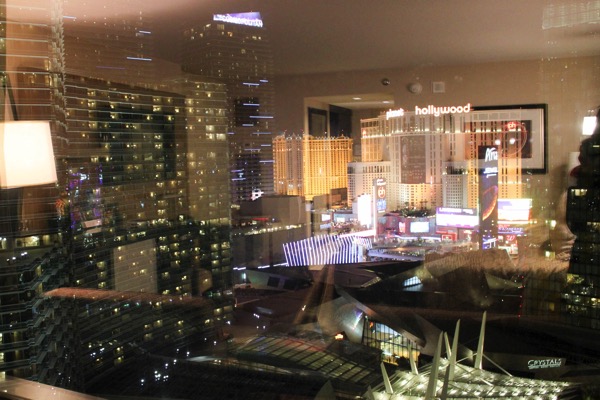 Where to stay in Las Vegas:
Each time we go, we stay somewhere different! The Bellagio has always been my favorite hotel, but I think that the Aria has taken its spot. It's centrally-located, so it's really easy to get around, and is extremely new and clean. There are a lot of restaurants, a great gym, beautiful spa, an AWESOME club, shops attached to the hotel and, like
Betsy
said, you could stay there and not even have to leave. I was also really impressed by the hospitality. Everyone we encountered was extremely friendly and helpful. 10/10 would stay there again. (Also worth mentioning that I was going to book it on Hotwire, but found a better deal through the hotel's website directly.)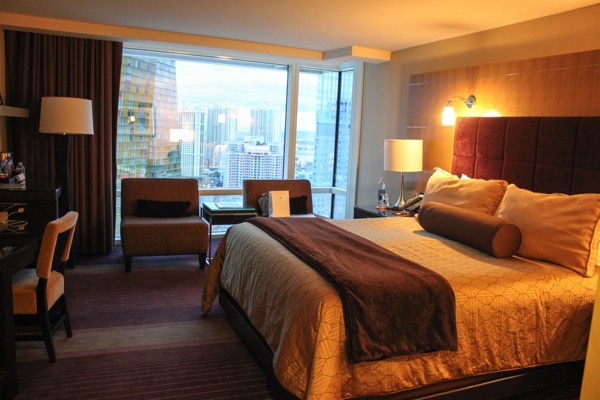 Las Vegas eats:
Las Vegas is a culinary masterpiece. It has every type of cuisine you could want, and the Strip is dotted with restaurants from celebrity and Michelin-starred chefs. I feel like we could go for a week, eat the entire time, and not even make a dent in the amount of incredible food that's available.
Here's where we dined for this trip:
Brunch at Mon Ami Gabi: This is the first spot we have to check out when we're in Vegas, and it's been our favorite spot for so many years. If you can nab a patio seat – they're first come, first serve – it's prime people-watching real estate. There's nothing more satisfying than sitting on the patio watching the Bellagio fountains across the street, while sipping an overly-garnished Bloody Mary. Their food is always top notch – lots of Benedicts and breakfast pastries on the menu – and they offer a variety of gluten-free goodies, too.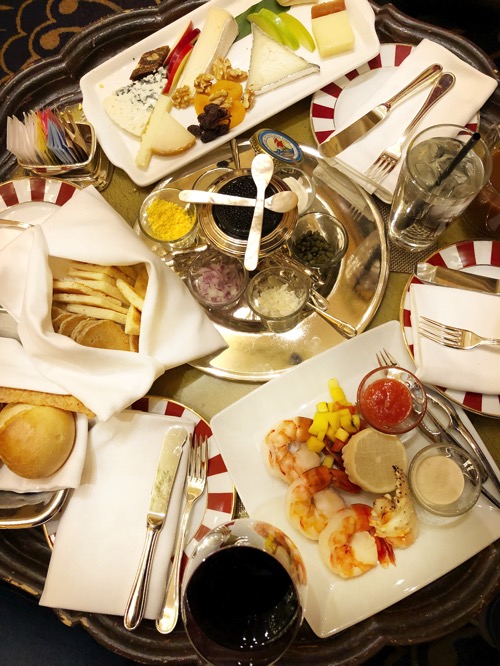 The Caviar Bar at the Bellagio: Betsy and Jeremy got us super into caviar a few years ago, so it's quickly become a Vegas tradition. This caviar bar has appetizers, a full afternoon tea service, cheese boards, and (you guessed it) caviar for dayyyyyys. It's not cheap, but an enjoyable Vegas indulgence. The atmosphere is perfect for a pre-game snack, too. They have a pianist in the entrance and even though it's a *fancy* spot, it still feels low-key. (In other words, we can show up in our U of A t-shirts and not feel like a bunch of weirdos.)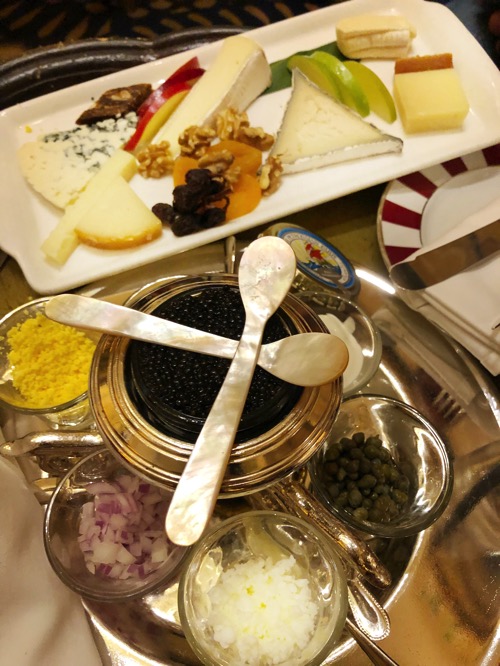 Brunch at Herringbone: This was probably my favorite meal of the trip! We have a Herringbone in San Diego, so we didn't know how similar it would be, but the brunch experience was totally different. (It's worth mentioning that Herringbone is one of my favorite La Jolla date night dinner spots! It's romantic and they have awesome seafood and desserts.) The brunch menu is a flat price with a full buffet + tapas for the table. So you can order hot dishes to share with the table (included in the price) and then browse the buffet for whatever else you'd like.
I thought it was going to be small and kind of "meh" but that was dumb of me because, Vegas. They had fresh-squeezed juices, parfaits, at least six different types of salad, a seafood bar (with lobster, crab legs, poke, seaweed chips, and oysters), an omelet station, steak and turkey, breakfast potatoes, breakfast meats, smoked salmon, and an over-the-top dessert table. I highly, highly recommend it if you're looking for something different than Mon Ami Gabi.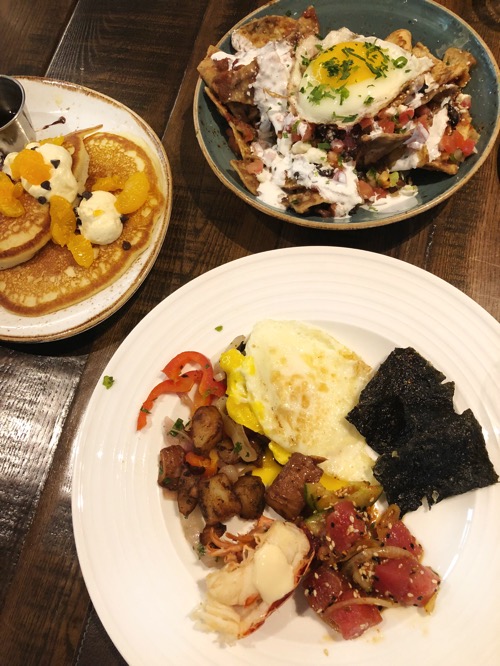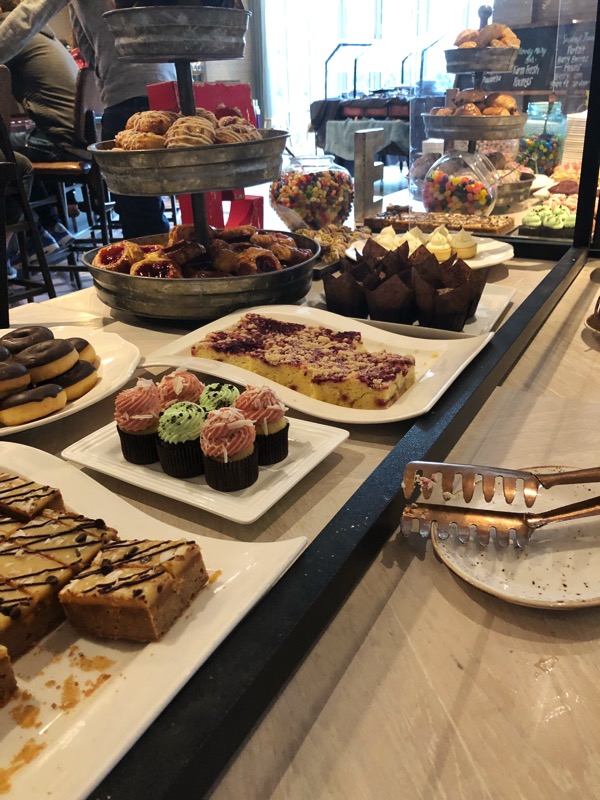 Tapas at Julian Serrano: We grabbed tapas at the hotel late one night after the first game, and once again, were blown away. We just wanted a small snack before bed, and it was just the right amount for the Pilot and I to share. We got a scallop skewer, bang bang shrimp salad, short rib, and potatoes bravas.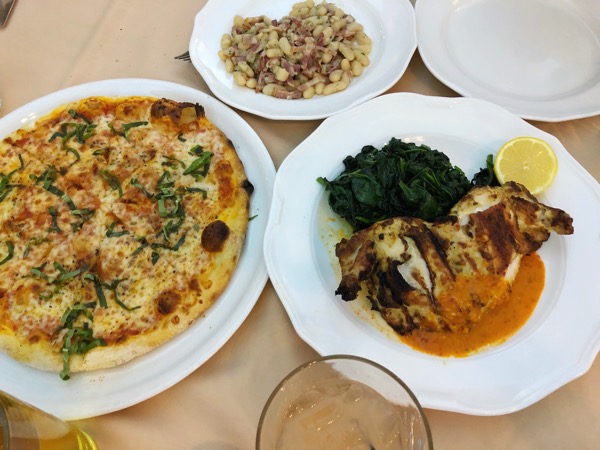 Canaletto in the Venetian: Pizza sounded the best after our shopping adventures, so we wandered over to Canaletto for wood-fired margherita pizza, spicy chicken (with wilted spinach and lemon), Caesar salad, and cannelloni beans. We shared so many meals during this trip – I love sharing so you can have little bites of everything – and this lunch, along with a Sicilian Sunset cocktail was just what we needed.
Snacks from the Patisserie and Aria cafe: We grabbed quick snacks and eats at the hotel. My faves were the salmon crepe from the Patisserie and the hotel-branded Thai coconut.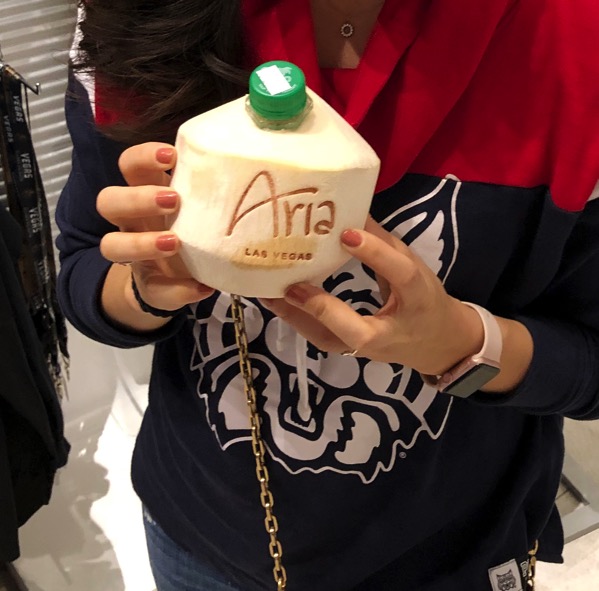 More of our usual favorites:
Sushi at Yellowtail in the Bellagio.
Breakfast at Hexx.
Any buffet! We heard really good things about the buffet at the Aria, but didn't get the chance to check it out. The Herringbone brunch didn't offer as much, but felt like it was definitely quality over quantity.
Highly recommended from blog reader friends:
Giada's
Beauty and Essex
Sushi Samba
Vegas activities:
– PAC-12 basketball! This is what we look forward to every year. My beloved Wildcats haven't had their strongest season, but we love heading up to Vegas (along with about 80% of the people who live in Tucson) to cheer them on. Betsy and Jeremy both have teams in the PAC-12 (UCLA and USC) so we always have someone to cheer for…that is, unless our teams are playing each other. (Which happened twice!) Then we heckle each other in the best way possible. (AKA no one is too serious about it.) The highlight was seeing U of A take home another PAC-12 championship and hearing the "U of A!" and "Bear Down!" chants wherever we went.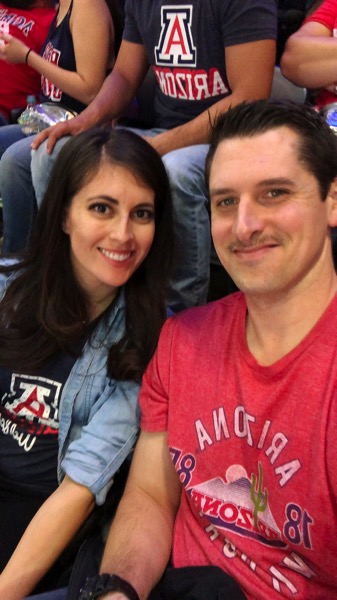 – Whenever we're in town, we make it a point to take advantage of the shopping. The Strip has anything you could ever wish for, and after living in a bit of a shopping ghost town for the past year (thank goodness for online shopping), I was a liiiittle excited about all of the awesome shops. We didn't go too crazy – mostly grabbed outfits for the girls, the Pilot, I got a pair of jeans, pajamas, and a new phone – but enjoyed just browsing around. Some of our very favorite spots are the Forum Shops at Caesar's Palace and the shops in the Venetian.
– Gymming it up! Whenever the Pilot and I travel together, it's always a special treat to work out at the same time. We hit up the hotel gym twice before the days' adventures, and each time, I was shocked to see how PACKED it was. Work hard, play hard, Vegas. Doin' it up right. I got in an upper body workout + cardio, and a leg workout while we were there. As usual, we also did a ton of walking, so I hit around 20k steps each day we were there. #bananas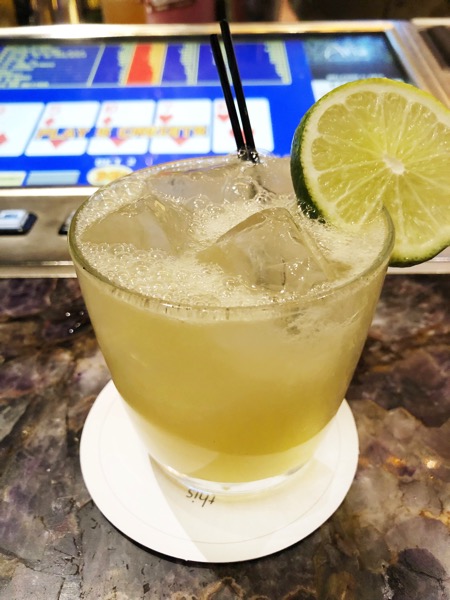 – Drinks at the Lift bar in the hotel. We loved the Lift bar! They had live music and hilarious bartenders. We spent a few hours there on Saturday night after the game, and it was one of the highlights of the trip.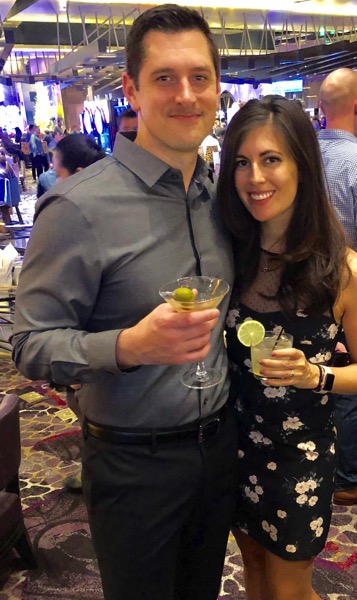 -Blowouts at Dry Bar. I always seek out a Dry Bar if it's convenient when we're traveling, and the Cosmopolitan next door had one! (The other location is in the Miracle Mile shops in Planet Hollywood, which is still close by.) This way if I end up looking like a grease ball on the plane, Dry Bar will fix everryyyyything.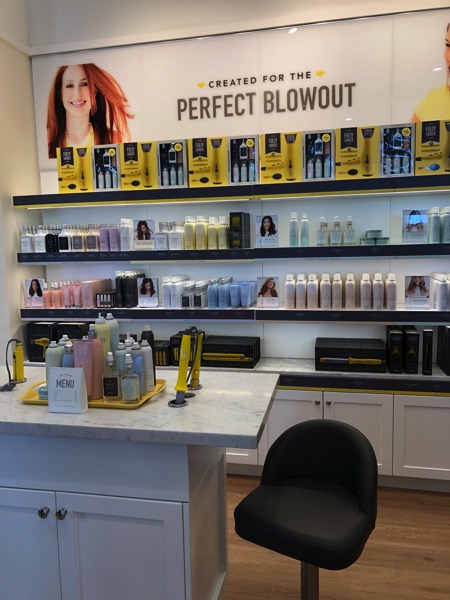 – Jewel at the Aria. Another huge highlight of the trip. After Betsy and Jeremy called it a night on Saturday around midnight, the Pilot and I wandered down to Jewel to check it out. I LOVE DANCING so I was pretty pumped to hit the dance floor. I feel like lately a lot of Vegas clubs play more EDM-type music, which is kind of weird to dance to. This DJ was amazing. The dance floor was packed and he played tons of hip hop remixes. They also shot confetti into the air multiple times, had flashing lights, dancers on stage, and I could have stayed there all night. It was amazing.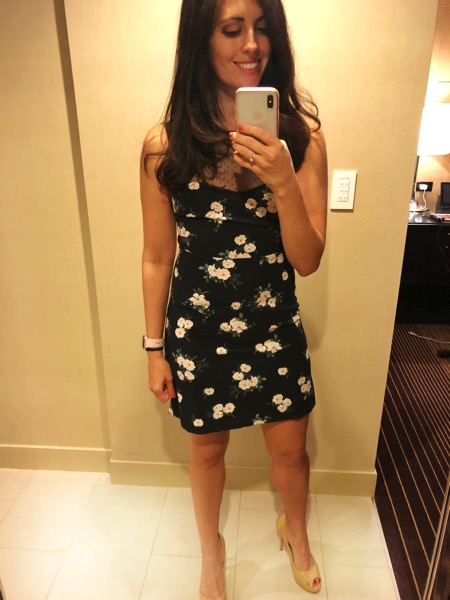 Worth mentioning that we rolled the dice once last time and flew Spirit home. (We flew Delta there, which is prob my fave airline.) The tickets on Hotwire were significantly less expensive with a Spirit return flight, so I decided to go for it. I googled about Spirit experiences and wanted to change or cancel our tickets within 10 minutes because there were so many terrible stories online! Turns out that you can't change your tickets or cancel them, so we were kind of stuck. I decided to make the best of it even though I hate flying, so we packed snacks and waters – I read online they don't have any food or water on board which was not true! You just have to pay for it – and was prepared to sit on the tarmac for a thousand years and be late getting into Atlanta.
The verdict: it was totally fine. It was pleasantly uneventful and the flight was great, which was good since it was a longer flight (around 3 hours). We got into Atlanta early, and the lack of internet forced me to get a lot of workout plans done in between reading trashy magazines. So there ya go! Not as terrible as the internets say.
Even though we had the best time and it was a much-needed recharge and fun trip, we missed the girls SO much. They're my little sidekicks and we're always together, so there were a lot of moments when I was like, "I wish they were here." It feels good to be home and back with them again. It also feels good to eat a couple of vegetables. 😉
While we were Vegas-ing, the girls were living their best life with my mom, who flew in to stay with them for the long weekend. She's the real MVP, and I can confidently say that while we missed the girls dearly, they were too busy having a blast to complain about missing us.
What was your last vacation? Any vacation traditions that you have? This is our yearly one, but everything else is on the fly.
Have a great morning and I'll see you soon!
xoxo
Gina