Running with the ghetto Garmin
Hi everyone!!
Meet the Ghetto Garmin: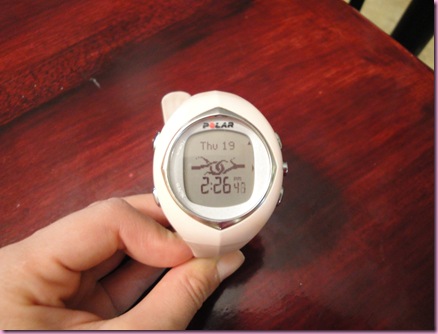 I know what you're thinking… "That's not a Garmin, that's a Polar F6!"
You're right. But it's my makeshift Garmin until I find one under the Christmas tree 😉
Features and benefits:
– Calculates your heart rate.. unless you're like me and your chest strap is broken
– Doesn't tell you your pace, but can be used as a stopwatch, so when you're running on a track or trail with mile markers, you can calculate how fast you're going with some mental math
-It's pink 🙂
So I woke up early this morning, had 1/2 Ezekiel muffin with earth balance, maca and cinnmon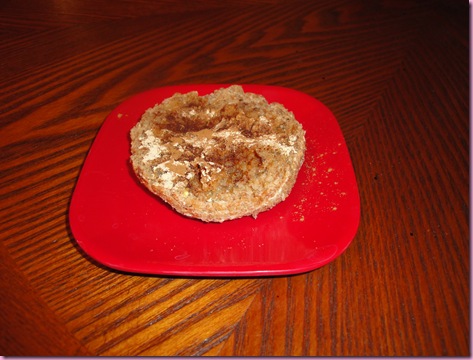 and did 6 miles on the track so I knew my distance 😀
I walked for 5 minutes, ran 5 miles in 44:05 then walked 10 minutes to cool down. 6 miles on the TRACK. My mantra: I am not a hamster (because I certainly feel like one, running around and around). According to my training plan, I was supposed to do the 5 miles at 8:39 and my pace was 8:49 – not too shabby, considering my lack of running technology 😉
When I got back to the casa, I stretched like a maniac, took a hot steamy showa, then got to work on the stuff for tomorrow night's dinner party that I've been neglecting.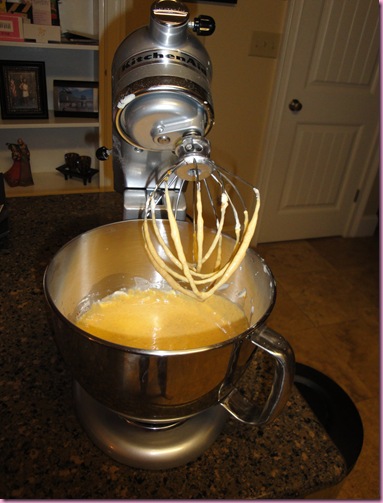 (Artisan Kitchen Aid stand mixer = best wedding gift ever. I use it almost every day!)
Mid-morning snack was a glorious smoothie with 1.5 cups almond milk, 1 frozen bananner, 1 T almond butter, 1 T raw cacao powder, cinnamon, sea salt, vanilla, brown rice protein and garnished with some cacao nibs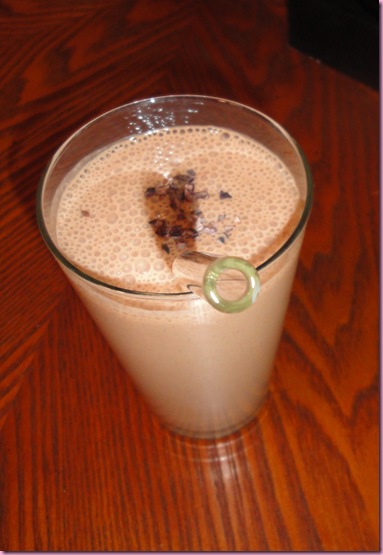 I worked on some classic hummus, chopped veggies, seeded a POM, put candied nuts into the dehydrator and made some lonchi.
It was VERY tempting to break into the new container of goat jack cheese the pilot brought home for me, but since it's VEGAN DAY a la Michelle and Katy, I resisted the temptation and decided to make some raw cheezy rice.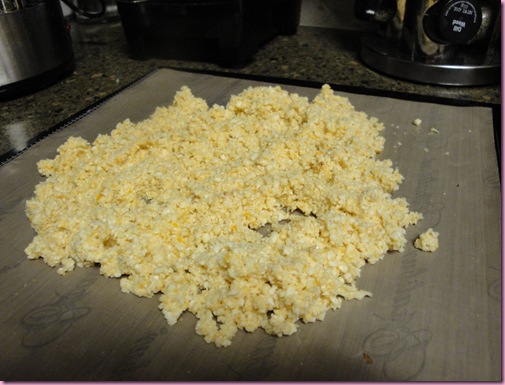 -Cheezy sauce: 1 yellow bell pepper, juice of 1/2 lemon, 1/3 cup soaked cashews, 1 T nutritional yeast, 1 t chili powder, 1 garlic clove, sea salt, pepper
-Mixed in with 1/2 head of organic cauliflower, pulsed in the food processor to resemble "rice"
-Dehydrated for 1 hr at 115* and mixed in some roasted brussels, grape tomatoes and garlic
Awesome all vegan, mostly raw lonchi: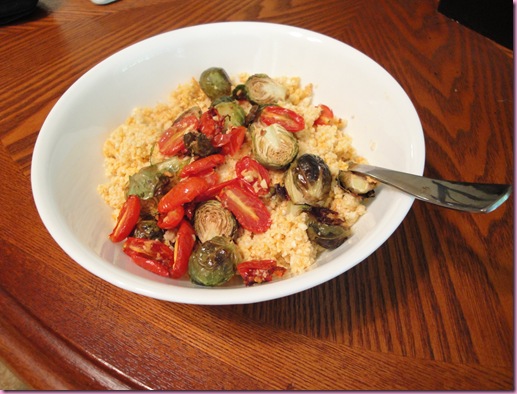 Someone got home from work early today…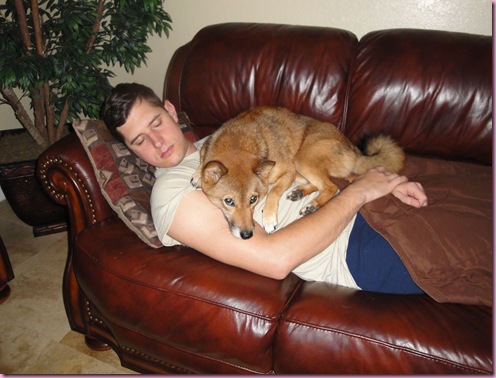 The puppies keep taking turns snoozing with him 😉
The rest of the day, I'm going to:
-clean up around here
-making training phone calls
-meet Jeni for weights (legs and abs)
-2 training appointments
-coming back and taking a snooze before the midnight showing of New Moon (ahhhhhh!)
See ya tonight <3
xoxo,
G
Today's tip: Don't put too much pressure on yourself when it comes to workouts. Instead of the concept that you *HAVE* to do something (for example: "I HAVE to do the elliptical for 'x' amount of time, I HAVE to do these arms exercises", etc"), have a plan, but also the idea in your mind that if you don't follow it, it's ok. If you get to the gym and feel totally inspired to forget the elliptical and hit up the stairmaster instead, go for it, or if you decided you want to do legs instead of upper body. Do whatcha feel 😀