This Tabata workout video is only 4 minutes long and the perfect way to work up a serious sweat. It includes cardio intervals with low-impact modifications. Work out with meeeeeee.
Hi friends! Happy Thursday! Hope you're having a wonderful morning so far. We're just chilling this morning, and I'm excited to join Livi's class for an Easter egg hunt. It's guaranteed to be the cutest thing ever. I'm taking today off from the gym after a solid week of teaching, my own workouts + filming a couple of videos to share.
This new one brings it back the old blogging days. I used to do Tabata Thursday pretty regularly here on the blog, and have shared some 4-minute videos here, here, and here. Don't let the 4 minutes fool ya, though. I promise that you won't wish the intervals were longer.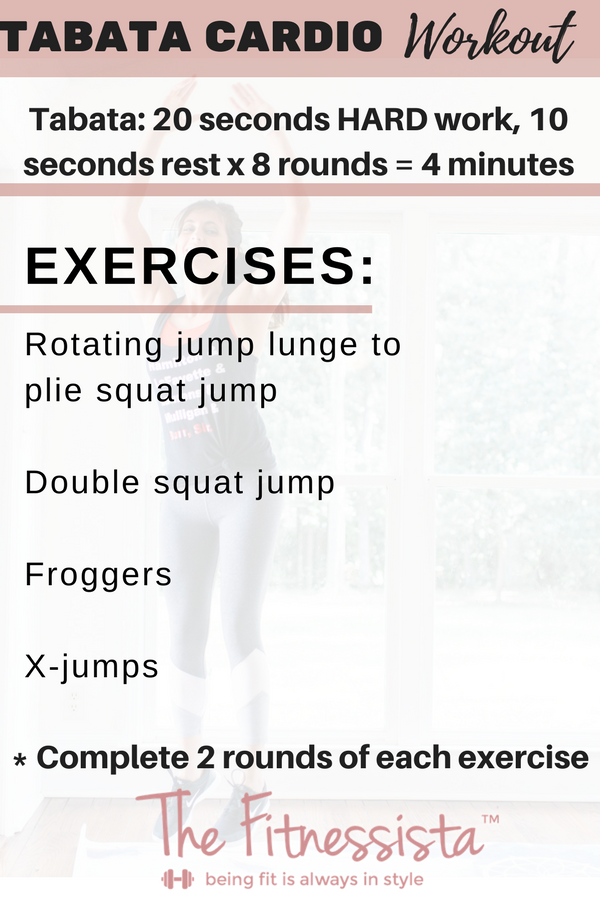 The beauty about Tabata training is that it's so efficient. These science-based intervals are guaranteed to give you the biggest bang for your buck. Even though it's a short workout, you can reap the rewards of improved performance, increased metabolism, and a stronger heart. Here's some more about Tabata benefits!
Because you're working your heart to a high intensity, you don't want to do more than 3 total Tabata sets (so that would be 12 minutes) in one day. (If you're doing them right, there's no way you would ever want to.) Be sure to alternate your cardio intensities (sandwich more challenging days with easy and rest days) and talk with a doctor before making any fitness changes. Honor your body and modify as needed. If you need to keep things low-impact, I include lots of modifications in the video.
Here's the video if you'd like to work up a sweat this morning!
When I did my annual blog survey, I had an overwhelming request for more workout videos. A few of you even said that you didn't care if the quality was super professional (like Grant's amazing videos he's done for the blog). I've had a really hard time finding a videographer in Valdosta, so this was the nudge I needed to just get back into filming/editing myself until we're back in Tucson. If you have any requests for specific videos, please let me know! (And YAY, I'll be in Tucson for a while this summer and can film with Grant again.)
I hope you enjoy the workout and I'd love to hear how it goes.
Have a great day and I'll be back with Friday Faves!
xo
Gina