Hi guys! How are ya? Hope the rest of your weekend was lovely and your week is off to a great start 🙂
I'm blogging from the pilot's new laptop: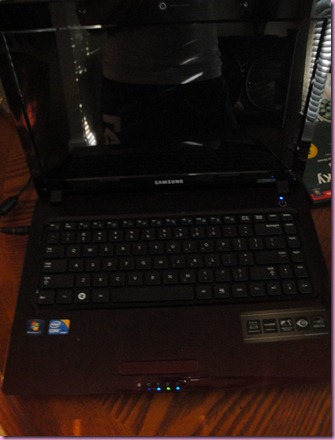 We took Pinkie to get fixed and since the pilot's laptop was on the fritz, we decided to get him a new one instead of getting his laptop fixed as well. I kind of like it and LOVE the classy maroon color- matches our TV exactly!
After spending two hours of our lives at Best Bizzle, we came back to the casa for dinner and Next Food Network Star (Team Aarti!)
The pilot had Atlanta Bread Company and I had a smoked salmon eggstada: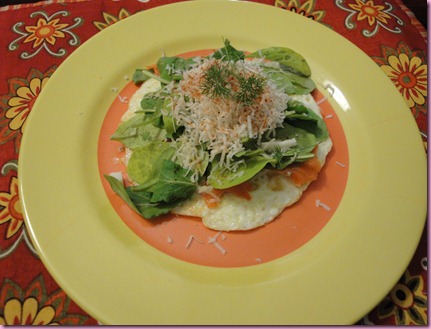 -3 egg whites
-smoked salmon
-dill from the garden
-gout gouda
Dessert was a shared bar of Green & Black dark chocolate 🙂
This morning, I was in a crepe-y kinda mood.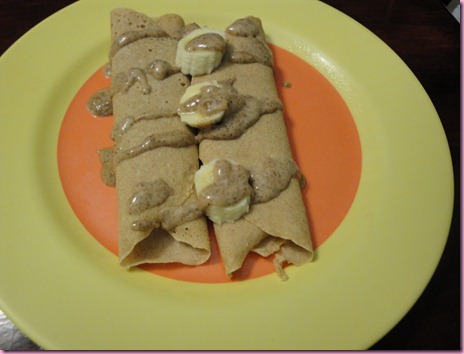 I *tried* adding protein to the original recipe and I have to say, it's better without. If it ain't broke….
I also had a side of insanity when I went to blog and my memory card wouldn't fit in the new computer. I thought Sony and Samsung were friends? Apparently not. So I went on a wild good chase, with bedhead and sweats all over Valdosta until I found THIS, 3 stores and many phone calls later.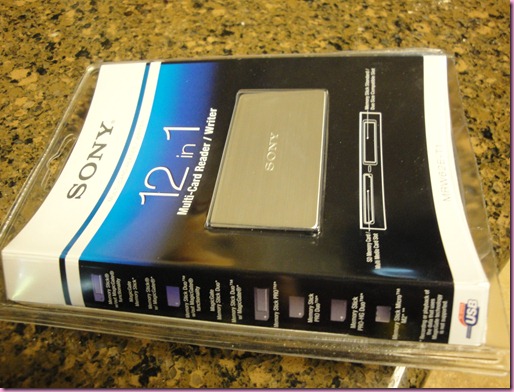 A memory card reader. Sahweet!
The plan for the day:
-Winsor Pilates in the yoga room (my muscles are tiiiiight)
-Write
-Lunch + blog
-TURBOFIRE Fire 45 + Stretch 10
-Training two new clients
-Romantic din-din with the seksi pilot
Have a wonderful day!!
xoxo,
G
Something to talk about: What workout do you get really excited about doing?? Right now, I am loving TurboFire. I'm so stoked about every workout, especially because it feels like I'm actually taking a group fitness class. I really miss taking huge classes with 50 people screaming and having a blast, and TurboFire is doing an excellent job of filling the void. It's also exciting because I'm doing something totally different- I've never really been into kickboxing before, so it's been a fun challenge 🙂
Something else to talk about: Reader's Requests! If there's a topic you'd like to see on the bloggy this week, please hit me up in the comments <3