Hi friends!
It's time……
Welcome to the 2011 Winter Shape Up!
Here's the dealio:

-For the next 4 weeks (on Monday), I'll be posting a workout of the week, as well as 7 dinner, lunch and breakfast ideas + 10 snack ideas. After the initial 4 weeks, the entire plan can be repeated so that it's an 8-week program

-The WSU begins towards the latter end of January, so that when the 8 weeks are over, the sun is just starting to peek its sunny face out. The winter layers come off just as mayjah results have occurred.

–It's not about weight loss- it's about strength gain, fat burning and energy boosting 🙂 If you choose to join in the fun, do it sans pressure and adjust anything you need to in order to suit your nutrition and fitness needs.

-Please check with a doc before starting anything new and be SMART- if it hurts, don't do it!

Eats: As far as eats go, aim to eat 5x day– 3 small meals and two small snacks. As a rule of thumb, try to follow the 3-2-1 principle: 3 parts carbs, 2 parts protein and 1 part healthy fat for each meal.
Smart carbs:
-100% whole wheat bread/pita/pasta (Hodgson's Mill and Ezekiel products are great)
    -sweet potatoes and other starchy veggies like peas, corn, squash
    -whole grains: brown rice, quinoa, millet, barley, wheat berries, oats
    – beans and legumes
    -fruit (raw, canned in its own juice, dried with NO added sugar)
    -all veggies
Lean proteins:
    -organic deli meat (look at for lower sodium choices)
    -fat free or nonfat milk or dairy products (almond or hemp milk is great, too)
    -boneless, skinless chicken breast or thighs
    -extra lean ground beef/ground turkey
    -fish: salmon, tilapia, halibut, mahi mahi, tuna, shrimp, crab
    -beans and legumes
    -eggs and eggs whites  
    -nut butter (max 2 tbs per day with NO added sugar- ingredients should be nuts and (optional) salt. That's it)
    -dark green leafy veggies (romaine, collards, spinach, kale)
    -protein powder (whey, soy, brown rice, hemp)
    -nuts and seeds (unsalted)
Healthy fats:
    –Extra virgin olive oil, coconut oil, canola oil
    -eggs (use the yolk)
    -Fish: salmon, tuna, halibut, mahi mahi
    -lowfat dairy
    -Nuts and seeds: aim for raw, unsalted
    -avocados (1/4 avocado is one serving)
Drinks:
-Coffee (with Stevia and fatfree/nonfat milk or vegan milk), unsweetened tea, WATER (8 glasses per day), red wine (5 oz per day) instead of a second snack
Condiments:
–Annie's ketchup
-mustard
-balsamic vinegar/rice wine vinegar/red wine vinegar
-Salad dressing (make sure to measure and choose ones without weird ingredients– better yet, make your own with lemon juice, olive oil, garlic, salt and pepper or balsamic vinegar with olive oil, garlic, salt and pepper)
-salsa and hot sauce
-hummus
*Remember, what we look like is 80% nutrition, 10% genetics and 10% exercise.
*To cook, always pan sear, bake, roast or grill with a little bit of extra virgin olive oil, organic butter, nonstick spray, coconut oil or canola oil
This week's meals:
Breakfast

Yogurt of choice (watch the sugar), 1 scoop of protein powder stirred in, berries, 1 T almond butter

Goat cheese and strawberry stuffed French toast

Omelet with veggies, 1 egg, 3 egg whites, salsa, and one piece of toast (or small bowl of oats) on the side
Lunch

Mung bean pasta with cheese sauce (Daiya or goat cheese, almond milk to thin it out, nutritional yeast and a little lemon juice) + salad

Salad beast with any veggie under the sun, shrimp + a piece of fruit

Smoked salmon sandwich with a salad or some soup

Chicken and vegetable pho with brown rice noodles, seaweed salad

Greek style quinoa (quinoa with cheese of choice, chickpeas, kalamata olives, tomatoes, bell pepper, mint, parsley, oregano, sea salt and pepper)

Quesadilla with salsa and fajita-style veggies

Smoothie (1 C milk of choice, 1 serving protein, frozen fruit, stevia) + salad beast
Dinner

Dijon salmon, mashed sweet potatoes and wilted spinach

Chicken Pita with tzatziki sauce (yogurt of choice blended with a few slices of cucumber, parsley, mint) + Greek salad

Fish tacos with baked tilapia, soft corn tortillas, salsa, black beans and veggies

Curried cauliflower with veggies, with fish or cheese of choice
Snacks

Organic turkey slices with cream cheese, veggies

Hummus with fresh chopped veggies

Larabar

Apple with 1-2 T almond butter

Baked vegetable "chips" with salsa

Omelet (1 egg, spinach, cheese of choice)

Small smoothie (1 C milk of choice, 1 scoop protein)

Fruit salad

Green juice (homemade or from the juice bar)

Yogurt and berries
_____________________________________________________________________________________________________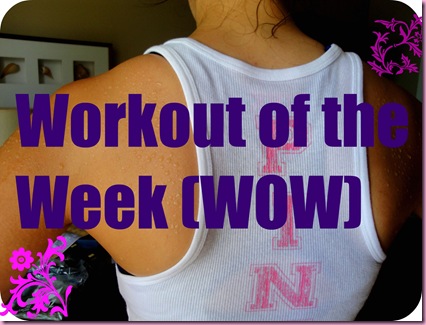 WOW (Workout of the Week!):
This week's workout is meant to be done circuit style, with little to no rest in between sets. You'll do 12-15 reps of one exercise, go to the next exercise (12-15) and then repeat #1. You'll do this 1-2 more times (for 2-3 sets total of each exercise). Each exercise in one circuit will be completed 2-3 times, then the cardio blast, and you'll move on to the next circuit.
Complete this workout 3x this week, on non-consecutive days. On the days you don't circuit train, do some cardio (spin, run, take a fun class) or active recovery. Make sure to give your body at least one day of active rest each week (walking the dog, easy yoga, nothing too strenuous).
*The entire workout should take an hour. Feel free to split it up (circuits in the morning, HIIT training at night).
*ALL of these can be done at home, with some dumbbells, resistance bands or water bottles. No excuses, play like a champion 😉
Warm up: Cardio of choice, 5-7 minutes
Circuit 1:
1. Plie Squat and Bicep Curl combo
2. Bent over row kickback (12-15 on each side)
*Cardio blast: Jog in place 1 minute, burpees 1 minute, mountain climbers 1 minute, plank 1 minute
Circuit 2:
2. T-push-ups
*Cardio blast: Jump rope (or fake jump rope) 1 minute, jumping lunges 1 minutes, pulsing squats 1 minute (squeeze your booty!)
Circuit 3:
1. Calf raise and overhead press
2. V-ups
HIIT workout: 15-20 minutes (Alternating 1 minute 30 seconds easy peasy with 30 seconds balls to the wall intensity. You can do this by either sprinting or adding in incline for tough hills during the intervals)
Cool down, stretch.
___________________________________________________________________________________
So are you joining in the fun?
You know I'm cheering for you! Each time you complete the workout, please leave a comment on this post so we can support each other and I love to hear your feedback 😀
Happy training!
xoxo
Gina