This post is sponsored by Care/of. Thank you for supporting our amazing sponsors!
Hey friends! Hope you had a wonderful weekend. We got to watch Liv at her Odyssey of the Mind competition and also spent some time catching up on things around the house. I'll be back soon with a recap from our adventures, but in the meantime, I thought we could share some tips and strategies with each other. There are things we all do for our health each day, with our busy schedules, it's easy for some of these components to fall off the radar. I tend to go for a more "grand scheme of things" approach to nutrition and fitness, but there are mental boxes I like to check on a daily basis.
Here are some of the things I strive to do each day: move, eat a mix of protein and produce, hydrate, meditate, and get adequate sleep. To be totally realistic, there are a lot of times that these things don't happen. Instead of dwelling on it, I focus on closing the gaps when I can, and setting myself up for success the next day.
Here are some of the things I do to help fill in the gaps:
Sleep. This is where we can all start to laugh hysterically before mournful tears fall to our cheeks. It's not really a secret that I LOVE SLEEP. I could go for 9 hours every night, but the kiddos don't necessarily agree. With two girls who tend to alternate sleeping habits (aka one sleeps well one week while the other is up constantly, and then they switch. It's like they plan it), it's not always possible to get a full night's rest. When that happens, I try to sneak in rest where I can. If the girls are watching a show, I'll curl up with them and grab a blanket. I'll take time to be still and rest my body, and try to get an earlier bedtime that night. If the Pilot isn't flying, we also alternate taking care of the girls when they wake up.
A couple of weeks ago, we were having a particularly rough week, so I napped with P in her bed almost every day. While chores and work were neglected a bit, it was worth it to be able to function like a human being.
Move. Ideally, I try to hit the gym 5 times a week for a mix of strength and cardio, or work out at home in our garage. If it gets particularly busy with the girls' schedules, travel, or work deadlines, I won't have official gym time that day. Instead, I'll focus on getting in extra movement where I can. I'll run around outside with the girls, work on extra chores around the house, take the dogs for a walk, and if I get a 15-20 minute empty space, I'll hit play on some dance cardio or barre in the living room.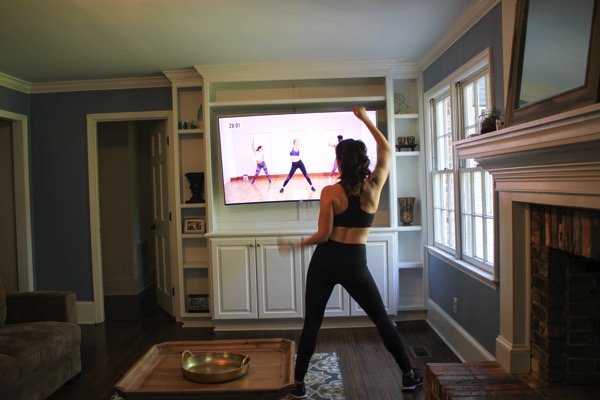 Hydrate. I notice a huge difference when I'm drinking water consistently throughout the day. My skin looks brighter and I feel more energized. When we reach the end of certain busy day, I'm shocked when I realize I've only had mostly tea or decaf coffee. When this happens, I'll drink a glass of water before bed. Taking nightly vitamins is an easy way to get in an extra 8 ounces of water. I'll also make an infused water bottle to enjoy in the morning. I just grab it before we head out for school drop-offs and teaching, and I'm encouraged to sip on it frequently, before I make a tea or order a decaf latte.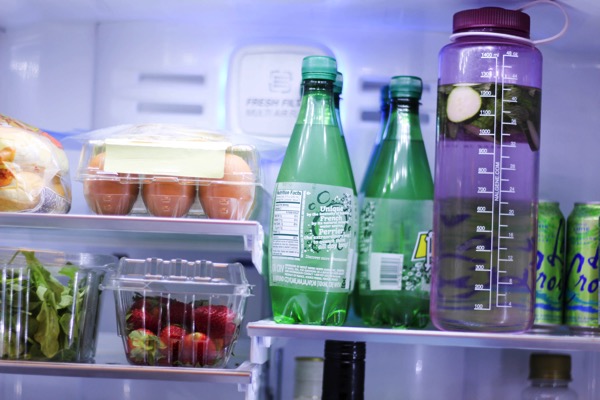 Meditate. If I don't have time for an official 15-minute meditation, I'll just use the "breathe" feature on my watch. It forces me to take a minute to focus on my breath and get back to the present moment, and no one usually knows I'm doing it. This makes it ideal for waiting in grocery store lines or being on hold for a phone call.
"Eat like a PRO." Whenever I make meals and snacks, I keep the "eat like a PRO" mentality in mind, focusing on PROtein and PROduce in each one. That doesn't mean that I don't eat Liv's leftover waffles on the way home from school drop-off or go an entire day solely consuming brown and white food. Life happens sometimes. While my nutrition can range from "on point" to "needs halp," I'm glad that I take a daily vitamin to fill in any nutrient gaps. I've consistently taken vitamins for years because I feel like it's insurance to nutrition. You may be missing out on nutrient goals that can be challenging to fill on a regular basis.
I'd been taking the same ol' vitamins for years (without really assessing what they were and how much I needed it), and the final nudge to try something new was on our recent trip to San Diego. My glass jar of vitamins shattered in my suitcase and made a giant mess. I wanted something that was portable and more customized for my needs, so I decided to try a product from a well-respected company with awesome reviews: Care/of.
I'm so excited about these vitamins because they're personalized according to your unique needs and preferences.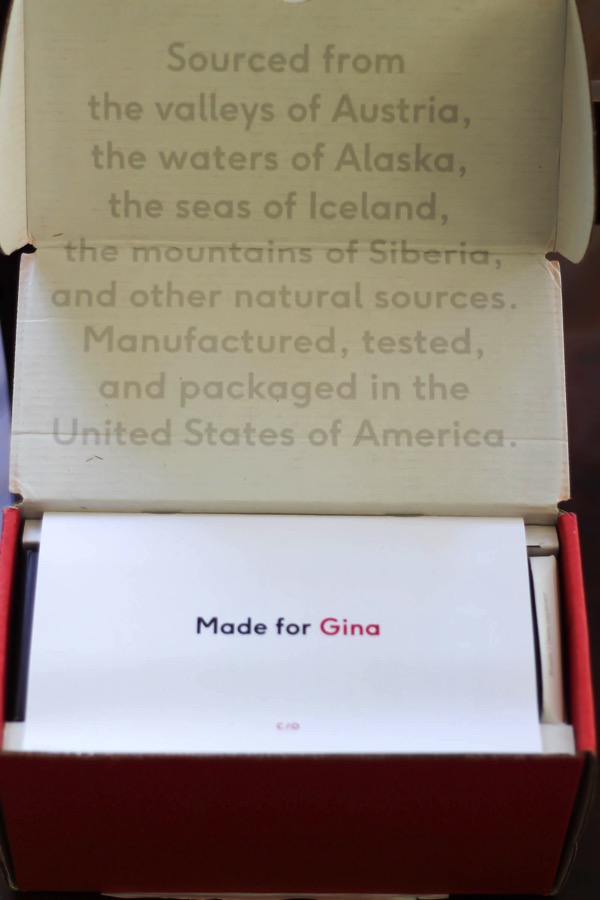 After taking a fun online quiz, my pack results popped up with my suggestions.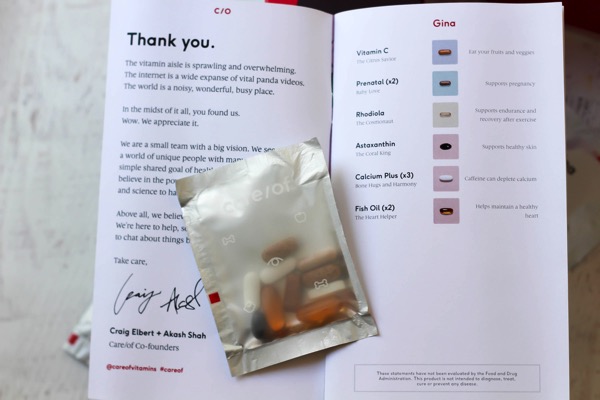 Here's what my pack contains, based on the quiz results:
-Prenatal vitamin. (I mentioned that I like to take a prenatal because it helps make my hair and nails strong and healthy)
-Vitamin C, to help boost my immune system
-Calcium
-Rhodiola to promote energy and improve mood
-Astaxanthin to support healthy skin
-and fish oil for a healthy heart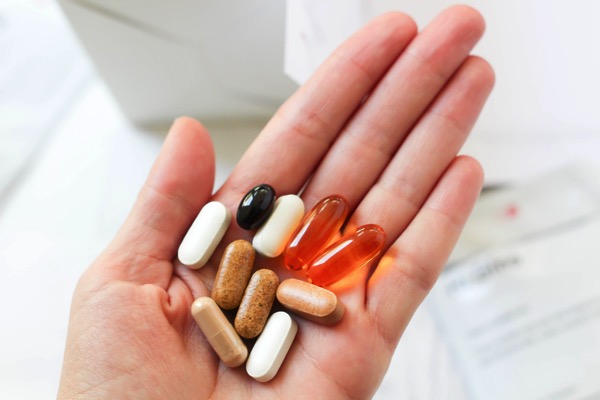 I LOVE that they include herbal supplements in their offerings. I'm always down to try alternative healing methods and herbal products, and when I researched more about rhodiola and astaxanthin, I was thrilled about the potential benefits. I had stopped taking the herbs from my naturopath -they're liquid alcohol-based and taste pretty gnarly- so it's been nice to take something different in pill form.
Care/of makes their own line of supplements using high-quality ingredients. The fish oil is from Wild Alaskan Salmon and all herbal supplements are sustainably sourced. A portion of every sale goes toward the Good+ Foundation, which helps mothers in need receive prenatals to ensure that their child can get the critical nutrients he or she needs while they're still developing and during the early months after birth.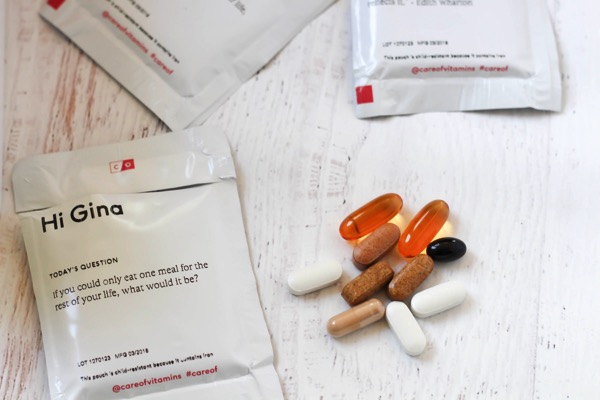 After taking the vitamins this past week, I felt energized and my mind was clear, despite some iffy nights of sleep. I'm thrilled to keep taking them and see what my results are like. If anything, I'll definitely do it for the convenience; everything you need is sent to you in handy individual packs. This makes them extra awesome for travel and taking your supplements on the go. No more glass bottles breaking in my suitcase!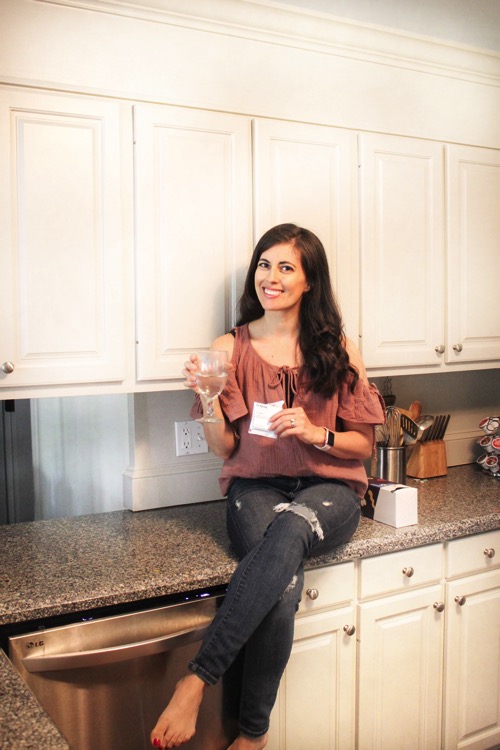 Here's the link if you'd like to take the simple 5-minute quiz and check it out for yourself! You'll also get 25% off your first month with the code FITNESSISTA
So, tell me, friends: what are some things you do to fill the gaps during the day? What health checkboxes do you try to hit on a daily basis?
xo
Gina