Focus On: Tracy Anderson Method
Morning friends! How's your day going? Thank you so much for your awesome discussion on sugar last night and for the sweet compliments on the new job – I've very excited! I'm actually off to take my drug test this morning (ie Operation Golden Flow) so that I can start working soon. In the meantime, here's a post with a Tracy Anderson Method review.
This is one that was a popular request on Facebook and I've been intrigued to learn more about it myself, as I've never tried the DVDs or taken a class. So instead of trying to research the deets without having real life experience and write a post about it, I decided to put the call out on Twitter for any Tracy Anderson pros. I DM'ed back and forth with Jenna, who so kindly offered to write a review post for me. Hope you enjoy it as much as I did 🙂
See ya this afternoon with the best gluten-free brownies everrrrrr <3
xoxo
Gina
__________________________________________________________________________________________________
Tracy Anderson Method Review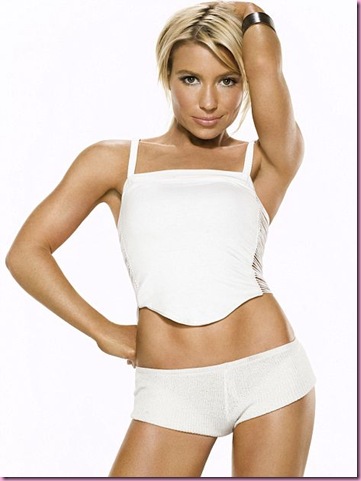 Source
Hi Fitnessista readers!
I'm Jenna and I blog over at the online home of Upcakes, my baby business that I just started in London, where I live (www.upcakes.co.uk – no longer active). I've been reading blogs for a long time and Gina's always been one of my favourite voices in the community. So when she asked me to review the Tracy Anderson Method, I jumped at the chance! It's people like her who inspired me to start blogging in the first place anyway 🙂
What is the Tracy Anderson Method
The Tracy Anderson Method consists of two components: Dance Cardio and Muscular Structure Work (Mat Work). Tracy's motto is that you have to work your small accessory muscles that surround your larger muscles, in order to get the ideal lean and feminine shape. She believes that conventional forms of cardio (eg running spinning) can overuse your large muscles and bulk you up, whilst the Dance Cardio portion of her workouts uses lots of varied movements that help you burn fat without the bulking. The Muscular Structure work is the 'design' part of the workout–a series of dancer-like movements in high reps that aim to re-shape your problem areas.
What to Expect from a Tracy Anderson Workout
In each of the dance cardio DVDs, there is a teaching chapter where Tracy talks you through each dance combination and breaks it down for you move-by-move. Once you've learned the combinations, the aim is to perform the 7 or 8 songs continually, which usually lasts about 45 minutes. During the Muscular Structure dvds, you just follow her along whilst she does the moves, always in high repetition with low resistance.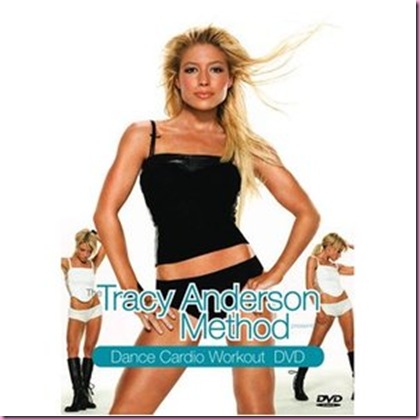 Source
Tracy Anderson DVDs
–Tracy Anderson Method Mat Workout DVD: If you only purchase one thing from Tracy Anderson, this should be it. It was her first muscular structure DVD and I can rave about it enough! I think all her best, most effective moves are in here. Your butt and inner thighs will never look so good as when you stick to this DVD.
–Dance Cardio Workout: This was the first cardio DVD and whilst it's the also the simplest, it's not an easy way out! The music is super fun and you really start to enjoy the routines when you get a hang of them.
–Dance Cardio 2: The steps become pretty complicated in this DVD, but it's not necessarily a harder workout that the first, so I wouldn't recommend starting with it. I also find the routines are a little too similar in this one and therefore not as much fun.
–Perfect Design Series: This is a series of 3 DVDs that build on the Mat Workout, getting more complex with each DVD. They are equally effective as the Mat Workout, and having more to choose from allows you to switch it up, but it's a little more of a pricey package. And I just happen to LOVE the results from the Mat Workout the most 🙂
-Post-Pregnancy DVD: This is mat work only – I haven't tried this one myself, but I've heard rave reviews about it! Women speak of their loose skin snapping back and their saggy stomachs disappearing.
-Metamorphosis: This is Tracy's brand-new program – a group of 4 DVDs, one for each 'body type' according to where you tend to store weight. When you buy this DVD you also gain access to her online community, where trainers will redesign your workouts for you every 10 days. Pretty cool, huh? However at around $120+, its definitely a splurge and I have to say I'm still saving up for it.
Equipment Needed
You'll need a set of 3lb weights for some of the DVDs, but other than that all you need are a pair of sneakers and comfortable workout clothes.
Pros of the Tracy Anderson Method
– The muscular structure work really is a stand-out, and I can honestly say I've never seen anything like it for my body.
– I like the emphasis on getting a lean shape, rather than focusing on building muscles.
– Tracy has a really lovely manner and is not overly bossy or loud in her style (but that might be a con for some peeps).
Cons of the Tracy Anderson Method
– If you're a workout purist and want to follow Tracy's program to the letter, she demands that you do both cardio AND muscular structure 6 days a week – which is unrealistic for some. (She does say that you could do a minimum half an hour of each, but seeing as the DVDs are in sets of 45-60 mins, it can be hard to do half of one dvd and then switch to another halfway through).
– Tracy also advises you follow her diet plan whilst doing her workouts (not included in the DVDs, but can be found online and in her book '30 Day Method') but its super-restrictive and nowhere near enough calories for most of us to be able to function properly on. Proceed with caution. [***Gina's input: I have researched her diet method and am telling ya'll to say NO to it. Not a balanced plan that can be maintained as a lifestyle]

– Some of the mat workouts will not give you the 'burn' that many of us like to get from our workouts, but trust me, this does not impact the results you will get.
Let me know how you find it!
Jenna x
__________________________________________________________________________________________________
Thanks so much for this review, Jenna!
Here's a fun video of Kelly Ripa (and her very nice looking hubby) taking class at the Tracy Anderson New York studio.
Have you tried her DVDs before? If so, what did you think? If you haven't, do you think this is a workout you'd enjoy? I personally would love to give it a try, but as far as fitness goes, I'll happily try anything 🙂
Edited to say: I loved reading your discussion in the comments below. I added my two cents about the Tracy Anderson Method here. 🙂