Focus On: SUP Exercise Class
When we lived in San Diego, I enjoyed stand up paddle boarding (SUP) and spent a lot of time cruising down the channel or in the bay. Our

neighbor

owned a SUP rental company, and would often drop boards off in our side yard to take on adventures. I would have loved to try a SUP exercise or yoga class while we were in SD, but we moved to Valdosta before I had the chance. The beach is a liiiittle farther away now. Fortunately,

Laura

(who does a lot of behind the scenes work for this blog) takes a SUP exercise class at her gym in Silicon Valley, and she offered to share her experience with you. This post will be a helpful guide for any SUP exercise class format, but specifically focuses on Aqua Stand Up

®

. Laura is also a Pilates instructor, so her perspective is that of a group fitness instructor. You can follow her adventures in raising healthy kids on

Instagram

.
Paddle Boarding vs. Paddle Board Group Exercise
My husband and I have enjoyed SUP since we first gave it a try when vacationing in San Diego. Since then, we've rented boards in France, tried it out on some lakes in Northern California, and recently decided we enjoyed it enough to buy our own. We hope to have many more SUP adventures in various states in the years to come!
Paddle boarding is good exercise in itself, but the most fun thing about it is exploring wherever you are from the water. Even though I enjoy it and have never fallen in (*yet*), I'm always a little nervous about it – especially when we're on the ocean! I've seen SUP yoga classes offered on open water and was curious about them, but was most excited when my gym started offering SUP exercises class in the indoor pool. There's nothing to explore there – just a focus on working out – and it's not so scary to fall in. I knew I had to give it a try!
Here's what you need to know about Aqua Stand Up® (this is the class my gym offers) and why you might want to try it too.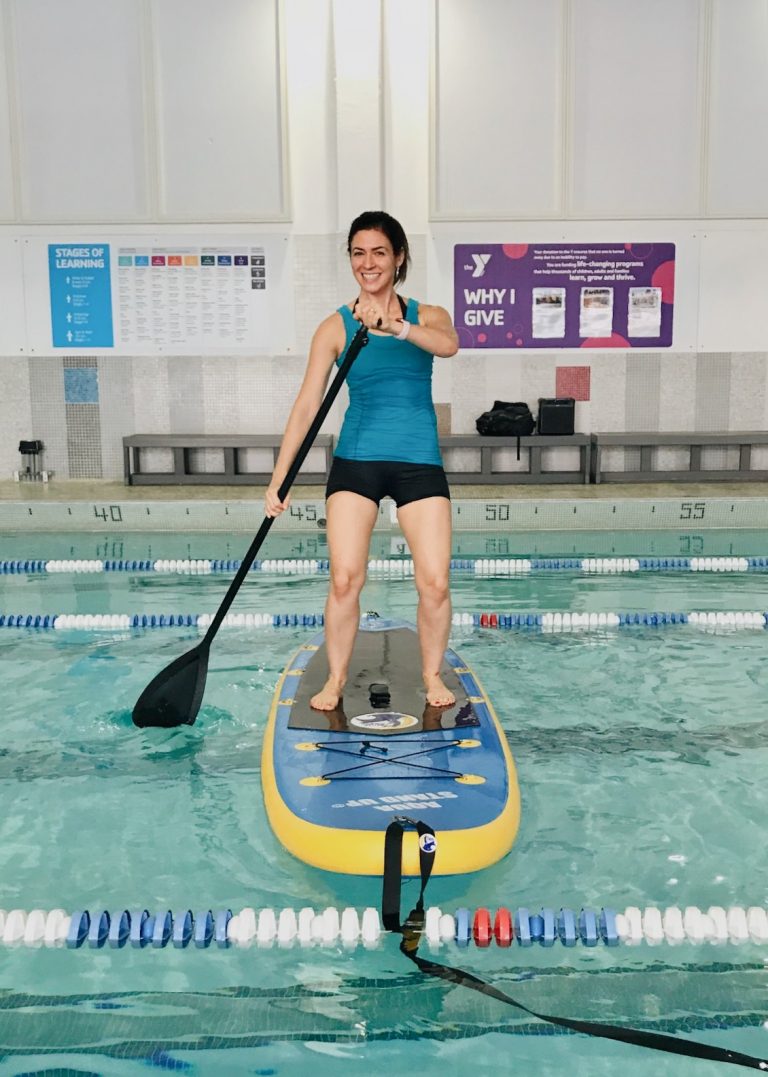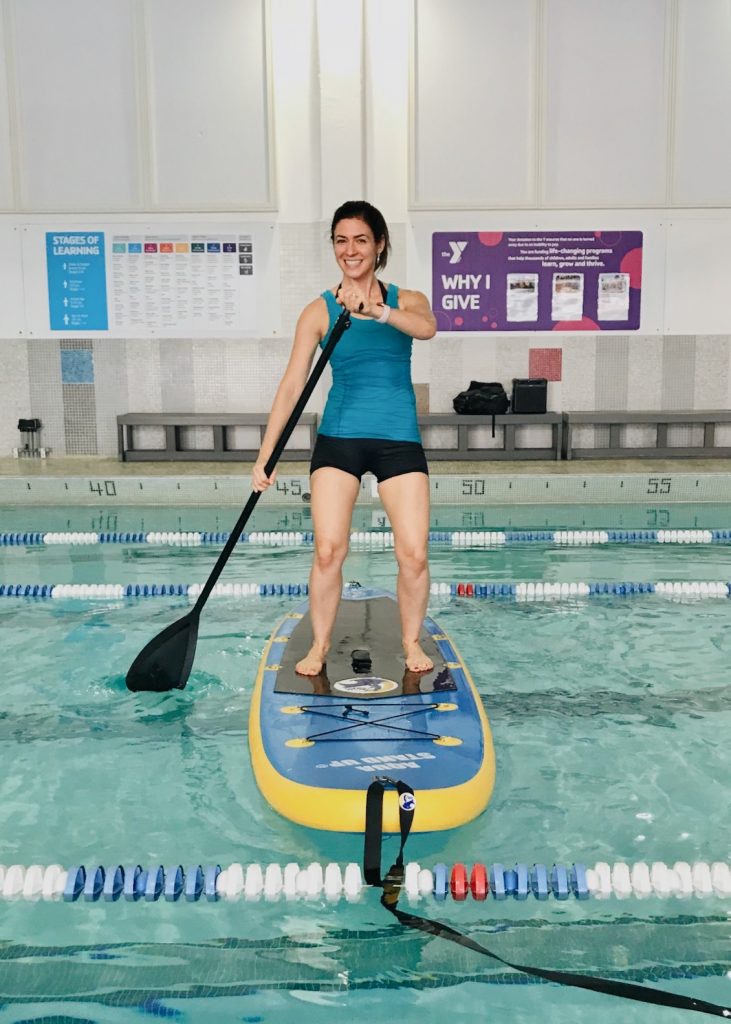 What is Aqua Stand Up®?
Aqua Stand Up takes traditional outdoor SUP into the gym! You perform exercise moves choreographed to popular music, all while on top of a paddle board in your gym's pool. You'll challenge your balance and activate your core while doing a variety of moves from basic strength training, to yoga and Pilates.
Check out this teaser video to see what the class is like:
Here's What You Can Expect in Aqua Stand Up® Paddle Board Class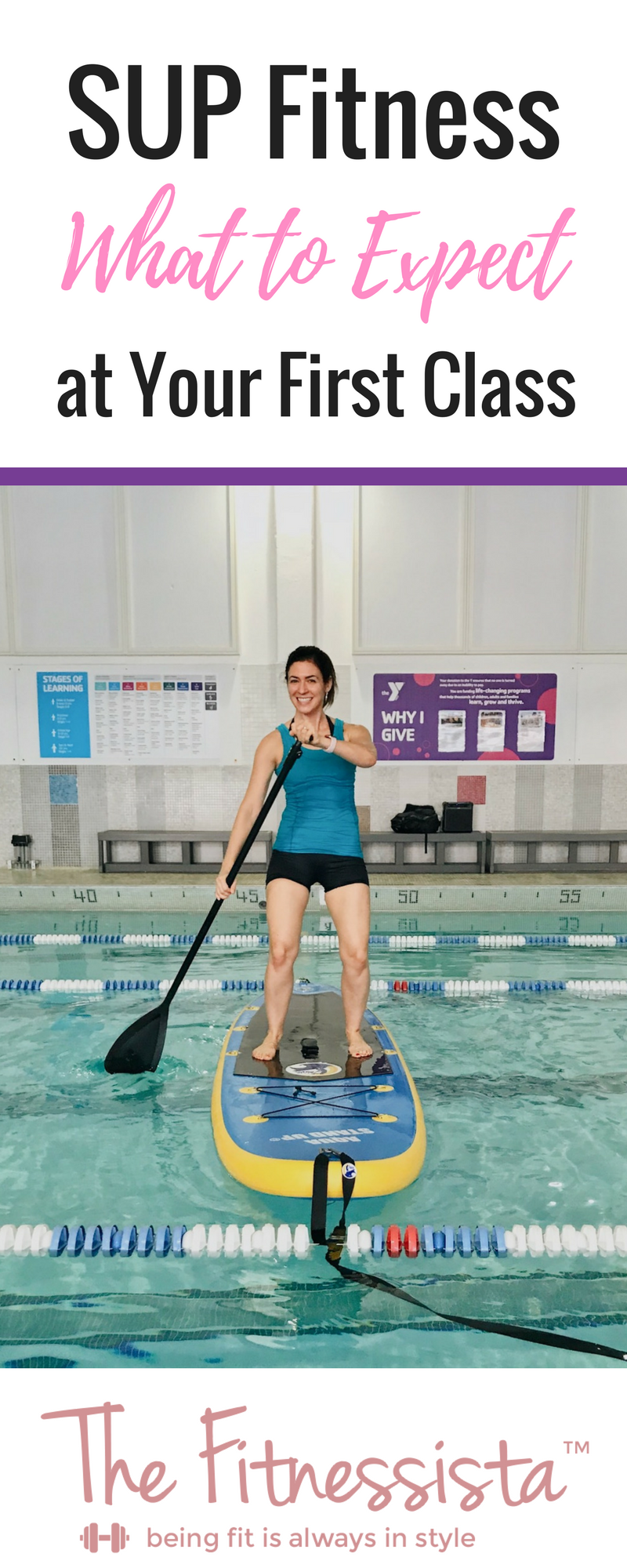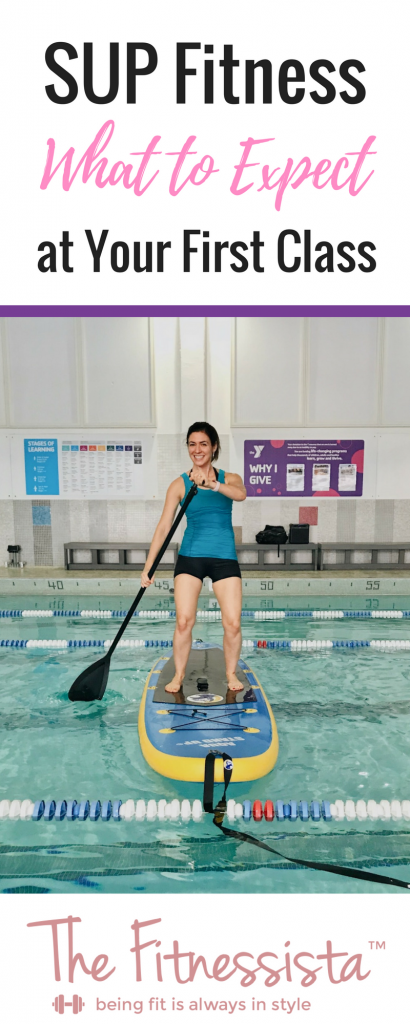 –To get wet! Even if you have stellar balance, you'll at least need to get in the pool to hook up your board. You'll also need to lie on the board for some exercises, which will definitely get you wet.
–To learn something new! The instructors know that many people haven't tried a SUP exercise class before and are prepared to show you how to hold the paddle, set up properly and stand up on the board. Standing up on the board can feel challenging when it's not something you've done before!
–To fall in! Most people fall in at least once, especially if you're a beginner. Even more experienced participants might fall in if they're really challenging themselves. Falling is safe – you're far from the edges of the pool and other class participants so you'll just make a splash and climb back on!
–To stay in place. The boards are hooked in the front and back, so you won't actually go anywhere, even when paddling. What this does do is create more resistance for your paddle. You'll feel the burn paddling both forward and backward.
–To work your core. Paddling itself works your core, but aside from that you'll be doing strength moves while challenging your balance, which naturally works your core. Your core is more than just your abs, and this class targets your back a lot too.
–To work your whole body. From squats to crawling, planking to pushups, you'll work most of the muscles in your body. The best thing is that because of the balance aspect, you're working your muscles in a way that is different than what they're used to.
-To challenge yourself. Even if you've done SUP before like I have, your balance will still be challenged. You're purposely doing things to throw off your balance, like burpees and making waves. Even exercises you might be used to, like side planks, may feel especially challenging on the board. Have fun with it!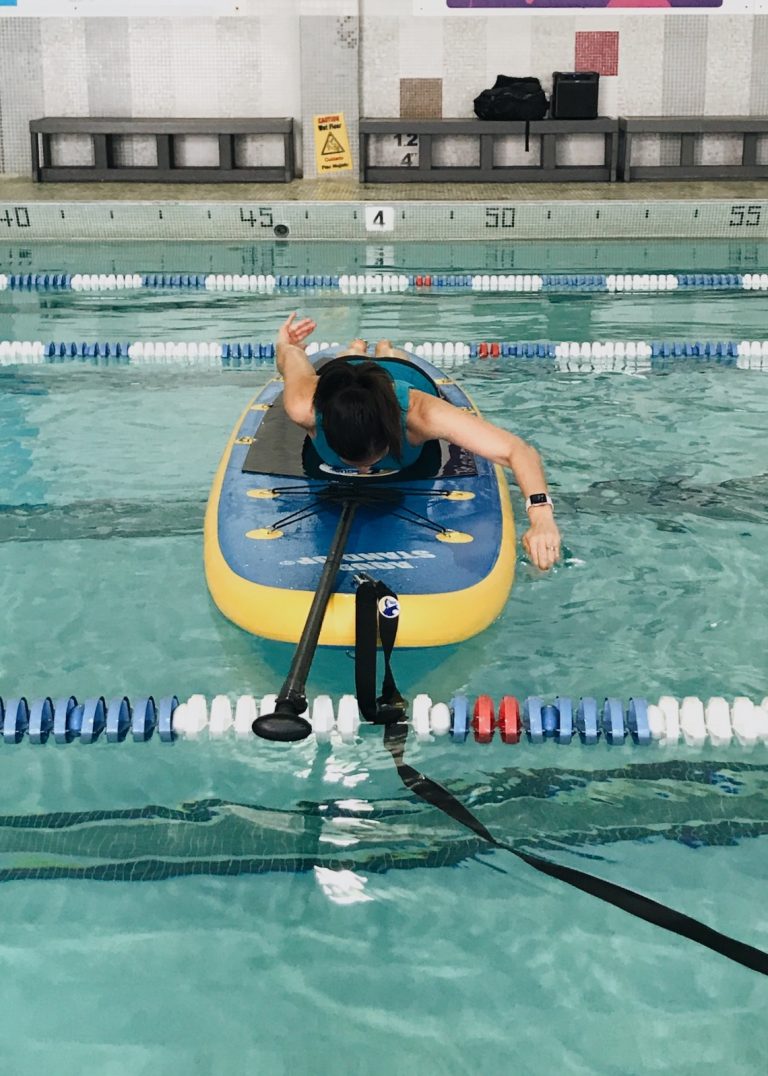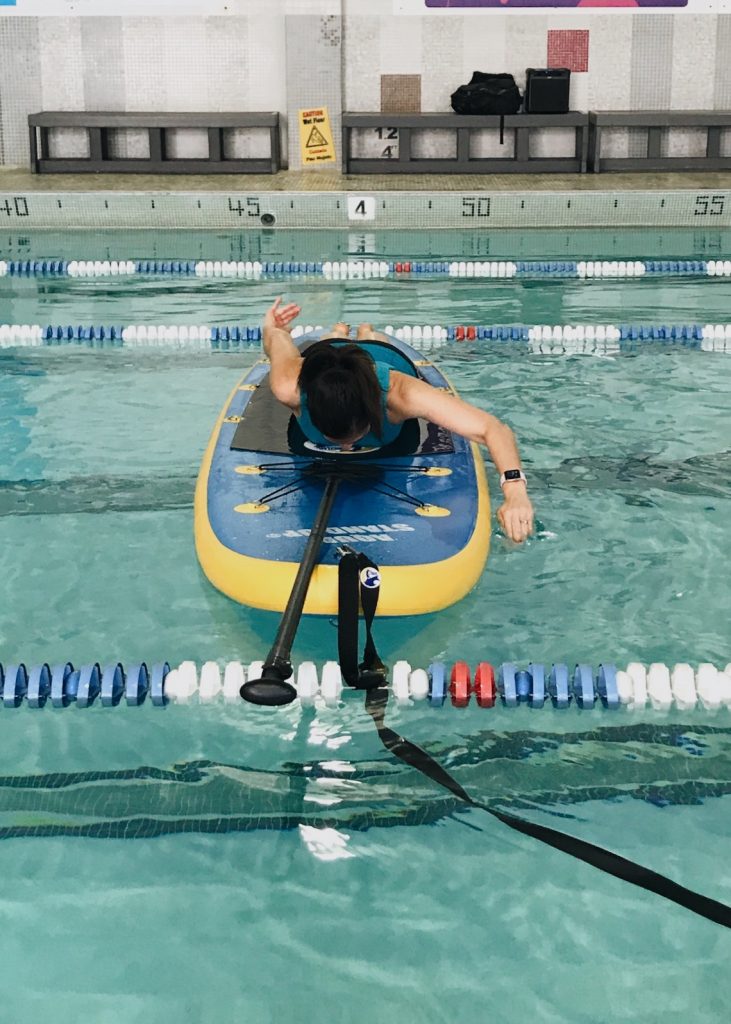 What to Bring to Your SUP Exercise Class?
A water bottle and a towel for after class.
What to Wear?
At minimum, you'll need a swimsuit. A one-piece, tankini or rash guard might be most comfortable since you lie down on the board for some exercises. Depending on your comfort level, I'd also recommend wearing shorts. To my first class, I wore a tank top and a bikini bottom, and felt awkward doing moves like downward dog since there were people walking through the pool area behind me. For my next class, I opted for fitted workout shorts and felt much more comfortable. If you're in a closed in area with no one walking by, this may not matter to you.
Who is This Class Good For?
Aqua Stand Up® is a fun new way to challenge your muscles. If you're up for trying something new, enjoy a fitness challenge, and are free of injuries, I'd recommend it to you. Even better if you're the type of person that can laugh at yourself if you fall in. 🙂
Who Might Want to Skip It?
This class might not work for someone who has recently had surgery or has any type of injury – especially shoulders – even if they've been cleared to workout. It's challenging enough to keep up with the speed of paddling when you're injury-free, but it's near impossible if you have any shoulder issues. The class is not well-suited for those who need modifications such as that. The instructor is not in the pool with you and cannot help much with modifying (this is similar to my experience with BodyPump – the instructor shouts out form cues and modifications, but doesn't come around to help). This class also might be discouraging for new participants who are struggling with their balance. However, this is something that can improve with practice, so I hope you won't be discouraged if you think you'll fall in!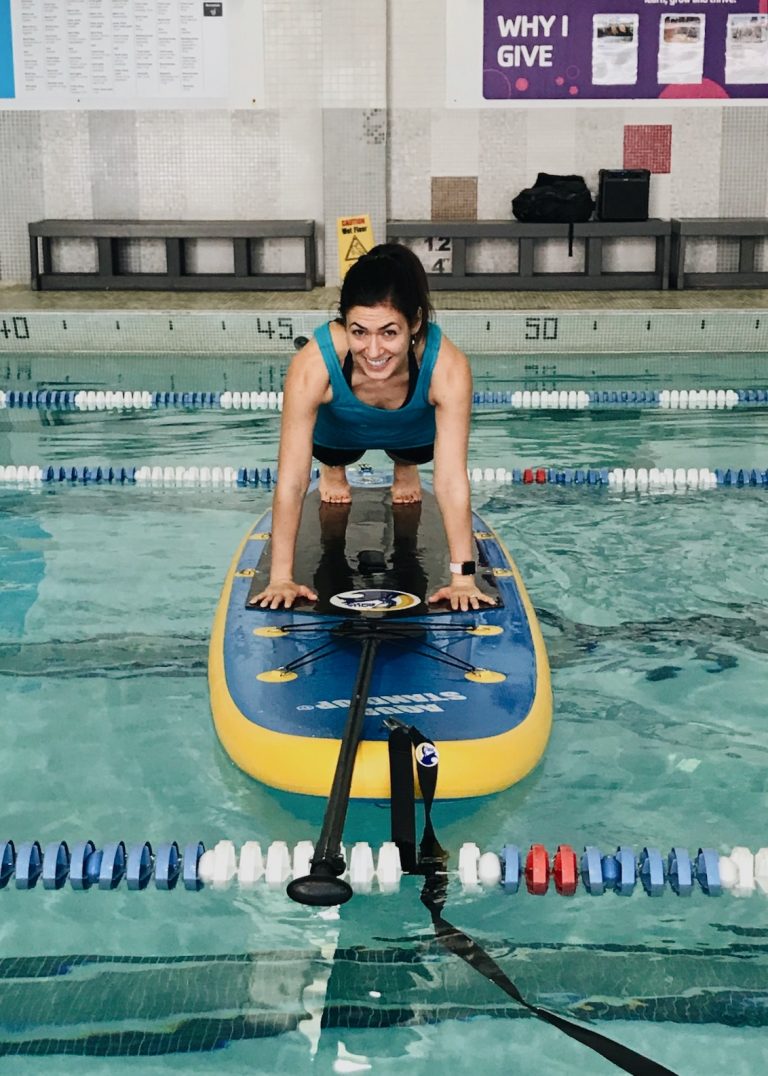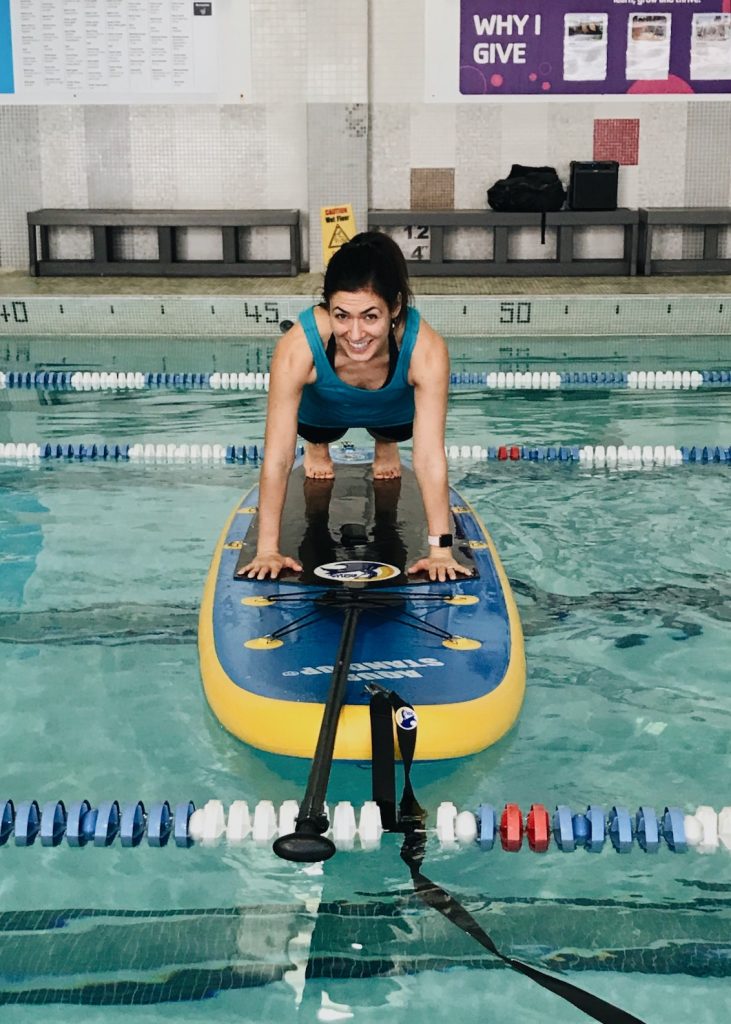 Have you tried a SUP or a SUP exercise class? Do you think you'd enjoy it?
Other Focus On posts here: