Top 5 easy, healthy meals for breakfast, lunch and dinner
Hi friends! Hope you're having a wonderful morning. I'm grabbing sipping on my detox drink before the girls are up, and we'll start the usual morning routine. I'm excited to teach barre later today and sneak in my own little workout during naptime. It's also girls' night tonight, so a day that ends with rosé shouldn't be too terrible.
This morning, I'm popping in to chat about meal staples! These are the go-tos when I'm in a pinch, and you'll often find me rotating through so many of these favorites. I can always count on these to taste good (<— critical factor), satisfy the hunger beast, and I know I can make them quickly, which is clutch on busy weekdays. I've found that since I'm usually running around with the girls, I don't have time to make snacks for myself like I used to. Instead, I've focused on having 3 more filling meals lately, with smaller snacks mixed in when I need it. (Usually something easy and portable, like a bar, some Lorissa's Kitchen protein snacks, or whole fruit.)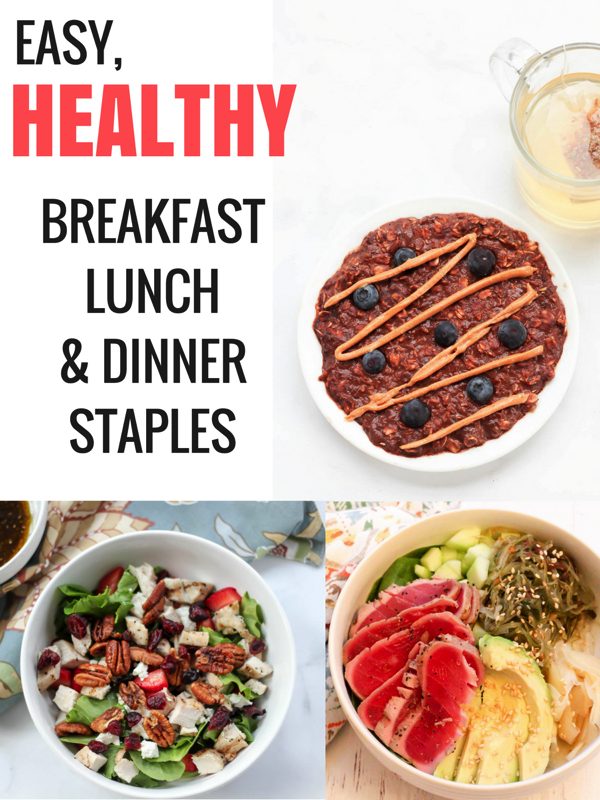 Here are my top 5 favorite healthy options for breakfast, lunch and dinner.
Breakfast:
1. Giant egg patty, salad and toast. For my giant egg patties, I'll use 1 egg and 2-3 egg whites cooked in butter. When it's firm on one side, I flip the entire thing over (using this enormous flipper the Pilot put in my Christmas stocking). It's like a huge over-medium egg. I'll put the egg on top of a spinach and chopped veggie salad, and cover it with hot sauce or Primal Kitchen dressing (ordered from Thrive Market). On the side, I'll either have oats or a slice of toasted sourdough. <— I freeze it and then heat it up in the toaster. Note: if I'm going to be working out, I'll either have my breakfast after cardio – most of the time I do cardio on an empty stomach – or skip the toast/oats until after I lift weights. (I go for protein before my workout, protein + carbs after.)
2. A filling smoothie. This is one of my favorite breakfasts because I can drink it in the car while I'm doing preschool drop-off or racing to teach a class. The combos are always different, but I'll either use a Daily Harvest container (adding collagen and protein) or the Fab Four formula.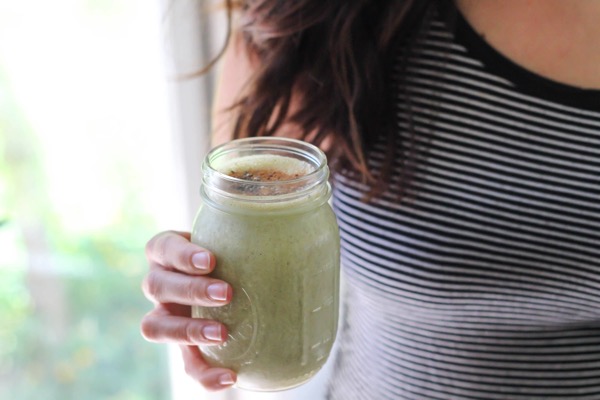 One of my favorite combos is:
1 1/2 cups almond milk
1 scoop Garden of Life vanilla protein (from Thrive Market)
1 scoop Vital Proteins collagen
a little frozen cauliflower
a giant handful of spinach
a teaspoon of Moon Juice dust
Cinnamon
a heaping tablespoon of almond butter
a tablespoon of cocoa powder
Just blend it up, pour and go!
3. Breakfast cookie or another type of overnight oats. The breakfast cookie has been a staple in my breakfast routine since the early blog days (2008!). It tastes like dessert and you can easily customize it to suit your tastes and preferences. This one had a little cocoa powder mixed in, collagen and a drizzle of peanut butter on top.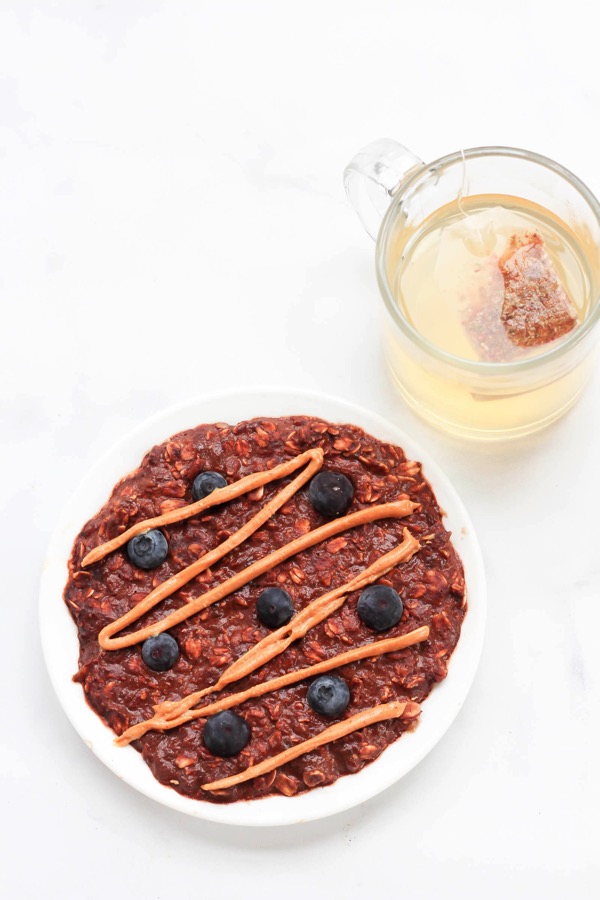 For overnight oats, I'll usually combine 1/2 cup of oats with a tablespoon of chia seeds, cinnamon, almond butter and almond milk. I'll let it set in the fridge overnight and add protein powder and berries in the morning. When I'm in a time pinch – usually when it's midnight and I want to go to bed instead of prepping breakfast – I still love the Quaker overnight oats (the oatmeal raisin is the best!), and have also tried a few from Thrive Market.
4. Protein egg-y oatmeal. Lately, I've been soaking my oats in the fridge overnight in water. It's supposed to reduce the amount of lectins which can decrease the inflammatory response and make them easier to digest. It also gives oats an AWESOME super fluffy texture. I'll rinse the soaked oats and add them to a pot with water to cook. When they're about 80% cooked, I'll stir in 2-3 egg whites and some almond milk. I'll stir continuously as the eggs cook – nothing like biting into a chunk of eggs – and add cinnamon, maybe a little protein powder. When everything is cooked, I'll remove it from the heat, and add some berries, a spoonful of almond butter, and a splash of maple syrup (just to make sure they're no egg taste to it).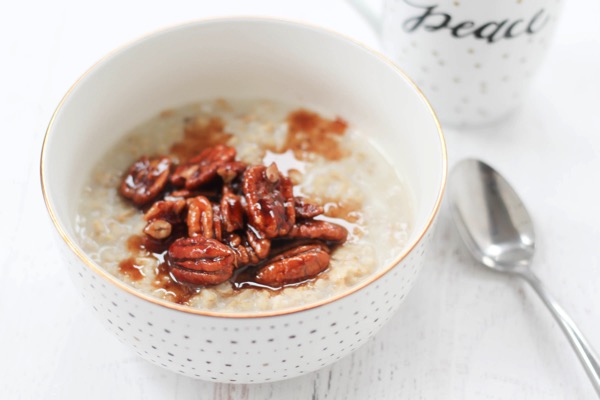 5. Banana-egg-oatmeal pancakes. I make these pancakes at least twice a week. The best part is that they're the girls' absolute favorite breakfast (and they have no idea they're just eating egg, banana and oats). I'll do a double batch and freeze any leftovers so I can quickly reheat them in the morning. The girls love them with berries and maple syrup. I've made buttermilk pancakes a handful of times, and they always eat these pancakes so much better and ask for seconds.
Lunch:
1. Daily Harvest grain bowl with leftover protein from the night before or scrambled eggs. I recently tried the grain bowls and I LOVE THEM. The only downfall is that they're kind of high in sodium – I have to watch my salt intake post-surgery or I still swell quite a bit – so I'll have half a container at a time. I'll stir in some quick protein (either tuna, black beans cooked in the Instant Pot, or leftover chicken) and boom: lunch is done. They have a lot of savory flavor combos, and it's been fun to switch up the lunch routine.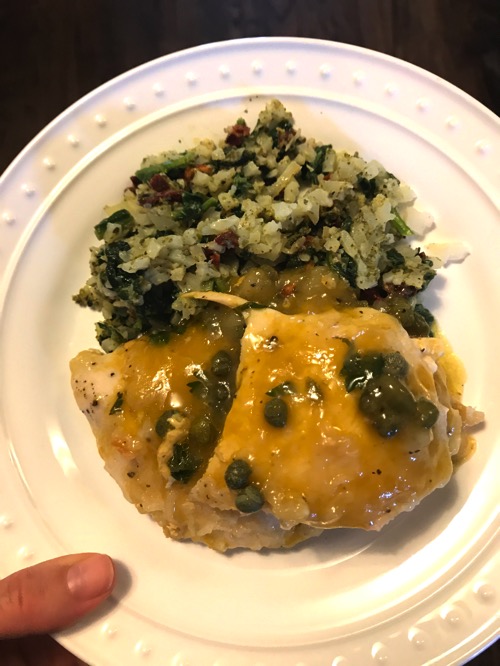 2. Coconut wrap with tuna salad, tempeh bacon and veg, or chicken. I get these turmeric coconut wraps from Thrive Market, and the coconut flavor is really mild. I'll usually fill them with a mix of toppings depending on how I'm feelin'.
3. Egg scramble with veggies and avocado. The classic never dies. Eggs are my #1 favorite food so I'll usually have them at least once during the day. I'll roast a large batch of veggies for the week and use these for egg scrambles, wrap fillings and salad toppings. For some extra healthy fats, I'll either slice up half an avocado or drink some tea with MCT oil.
4. A filling smoothie. This is the same recipe from above. If I don't have one for breakfast, I'll usually have one for lunch.
5. Protein, lots of veggies, and Primal Kitchen dressing. (<— sometimes I'll add rice in here, too.) Salads and grain bowls are always so satisfying – so many flavors and textures – and they're fun to personalize with whatever we have in the fridge. I'll usually fill up my bowl with half rice and the rest veggies, then top with protein and dressing.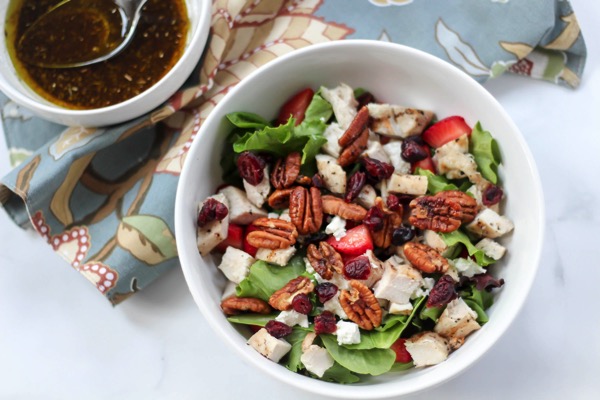 Dinner:
1. Cobb Salad. This is one of our "classic" dinners and something we make fairly often. The girls love theirs deconstructed, so I'll make little piles of each topping for them, and it's an easy way to eat like a PRO (lots of PROtein and PROduce). Here's our favorite recipe!
2. Poke bowl. This one is quickly edging up to the Cobb salad for most frequent dinner in our house. It requires minimal prep, so I can make it quickly during a busy weeknight (clutch), and everyone loves it. I'll either use frozen tuna tataki (you can find at at Whole Foods in the freezer by the sushi), smoked or baked salmon. We fill our bowls with sushi rice (cooked in the Instant Pot, then seasoned with rice vinegar and sesame and seeds), cucumber, nori, avocado, seaweed salad, and salmon/tuna. Top it with some soy sauce (or coconut aminos!) and sriracha: best dinner ever.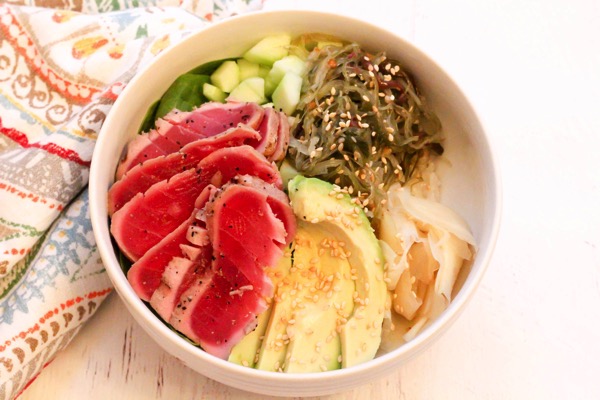 3. Big pot of soup, roasted veggies + homemade sourdough. My standard Instant Pot soup recipe is here! I'll usually make a batch to have on hand for easy lunches for the girls, or as a heartwarming dinner. I'll use lots of veggies (zucchini, onion, carrots, bell pepper, zucchini, sweet potato), fresh herbs, chicken, garlic and chicken broth. Each time it turns out a little differently, but it's always delicious. As far as the homemade sourdough goes, it's ruined us all for store-bought bread. There's nothing like it! Making the starter was intimidating until I just decided to go for it. This recipe is pretty foolproof.
4. BBQ salmon, sweet potato, and salad. I'll pan-sear the salmon (seasoned with salt and pepper) and then baste it with BBQ sauce before baking (about 10-12 minutes at 375). Usually I'll try to bake a batch of sweet potatoes each week, so i'll heat these up, top with cinnamon and butter, and serve everything with a simple salad.
5. Chicken stir fry with rice and cashews. This is what I do when we have a lot of produce on hand. I'll stir fry onion, garlic, ginger, veggies (carrots, bell peppers, broccoli, cauliflower, squash, etc.) and add chicken, seasoned with salt, pepper, coconut aminos, a little maple syrup, and cayenne. When everything is cooked through, I'll add chopped fresh herbs, cashews, and serve with rice cooked in the Instant Pot. This one always takes less than 20-30 minutes from start to finish.
So there ya go! My top 5 quick and healthy options for breakfast, lunch and dinner.
What meals are in your constant rotation? I'd love to hear some of your faves and get some new ideas! Please don't hesitate to share super simple ones; these are often the easiest to remember!
xoxo
Gina