What is Cyclebar? Is it worth the cost? Sharing all of the details and a full review in this post!
Hi friends! Happy Monday! I hope you had a wonderful long weekend. I'm definitely in that, "What day is it? Where am I?" kinda mode. We had an amazing trip to San Diego – I'll share more pics and adventures from our trip soon – and today it's back to the usual swing of things. The good news is that I did all of our laundry before we left so I don't have a mountain of dirty clothes staring at me. It's the little things. 😉
With the exception of the cruise (since we had a full gym and free childcare on board!), I haven't been working out much on vacations lately. It hasn't made sense with our schedule, and when we're walking around and exploring/playing a ton, I get in a lot of movement. It can also be tricky when we're in a hotel – I don't want to leave early and wake everyone up as I'm walking out – but since we stayed in an Airbnb, it was so much easier to sneak out. I left early one morning while everyone was still snoozing to try my first Cyclebar class.
The TDLR version: I wasn't super crazy about it.
It didn't blow me away the same way I felt when I first tried Orangetheory, Pure Barre, barre3, or BODYPUMP. It was ok.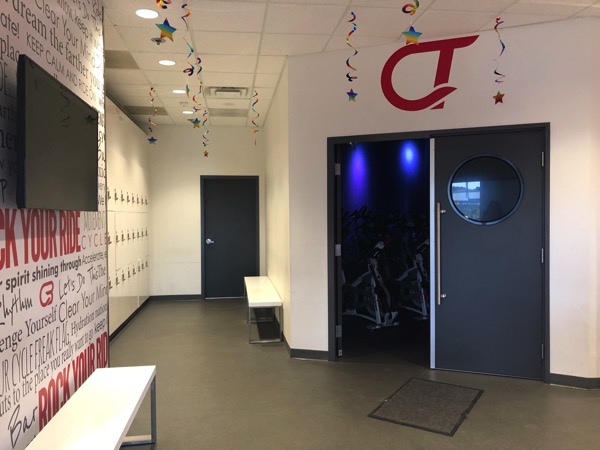 When I got to the studio, I was so excited to try out the workout. I'd heard a bit about Cyclebar – we don't have one in Tucson but there are a handful in Phoenix – and I knew they used a leaderboard for the class. This was intriguing to me, especially since the leaderboard often makes me work a lot harder in my Peloton classes at home.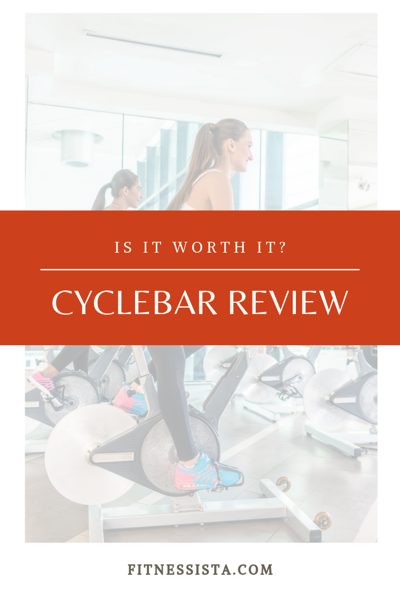 What to bring:
– Socks, a water bottle, a sweat towel
– Any comfortable fitness attire
*You can borrow cycling shoes at the studio. If you have your own, I'd just make sure they're compatible before class. I'm pretty sure the Hillcrest studio used the Look Delta clips.
Here's what my experience was like:
I walked upstairs and was instantly impressed by the design of the studio. It was bright, clean, open, and had quite a few Instagrammable red and white walls. 😉 I got my shoes, found my bike, and got set up. They use Schwinn bikes (LOVE) in a stadium setting, light effects, and had two large screens with a Miley Cyrus music video playing. I loved the vibe and was super pumped about class. But… it kind of went downhill from there.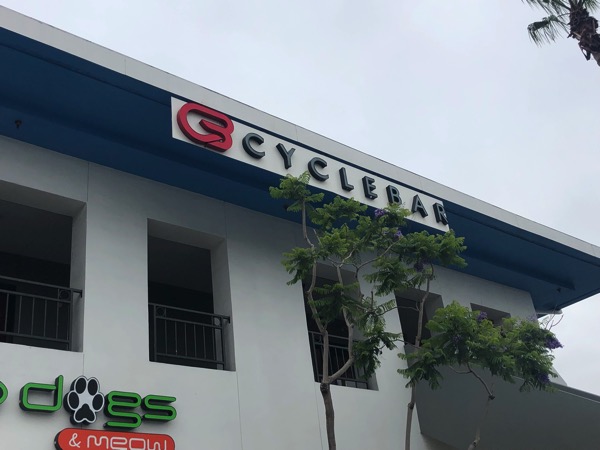 I don't want to say class was bad, but it's not something that I'd pay to attend on a regular basis. In all fairness, I don't think I had a strong instructor. She mentioned that she was new, so I feel bad because I've been a newbie instructor myself (and bombed my first spin, Zumba, step, and everything classes), but I didn't have a noteworthy first experience. The music was great, but the cueing was vague and uninspiring. The worst part was that they only used the leaderboard two times for two 30-second sprints. (I realized after writing this post that they focus more on the leaderboard for specific class types. I'm not sure which class I took but it sounds like a performance class would have been more fun and motivating.)
After class, I received an email with my leaderboard stats, but I wish I could have seen them in real time instead of after the fact.
Pros:
I think the leaderboard aspect could make class really fun and interesting, but I don't think I had the full experience of it.
The sound system was incredible and loved the idea to play music videos on the screens before class. I also found the lighting to be moody and cool; it was a fun effect without being distracting.
I liked the strength portion of the class. You use a short weighted bar (one is 4 lbs and the other is 6 lbs) that are like heavy magician wands, and perform traditional endurance strength training moves. We did some shoulder work, biceps curls, and overhead triceps extensions.
Cons:
I think like anything else, the instructor makes the class! I'm sure there are rockstar Cyclebar instructors out there, so I absolutely think I'd give i another try.
Also, I think they had way too many bikes in the room. There were 44 bikes in the studio (!!!!) and only 18 people in class. It made the class seem empty and low-energy even though there were a decent amount of people there. I understand why they cram so many bikes in there because during peak times, it's probably pretty full, but it seemed empty.
Have you tried Cyclebar? My group fitness-loving friends: what's your absolute favorite studio?
xo
Gina
More Focus On posts: