Savory Chicken Sausage Butternut Squash Bowls
This is a delicious and healthy dinner option. It's gluten-free, high in protein and packed with flavor. This stuffed butternut squash bowl recipe uses pre-prepped squash bowls to save on time and stuffs them with savory chicken sausage, zucchini, tomato sauce and Italian spices.
Hi friends! How's the day going? I'm so happy to hear you enjoyed the booty workout! I had a lot of fun putting it together. I used to dread leg day, and now in a weird way, I look forward to it.
I did the workout at the gym yesterday morning, and also taught barre last night. I had 4 instructor friends in hot barre, so I felt like I had to up my game a little haha. When it was over, I was drenched in sweat and I only did like 2/3 of the workout because I was coaching.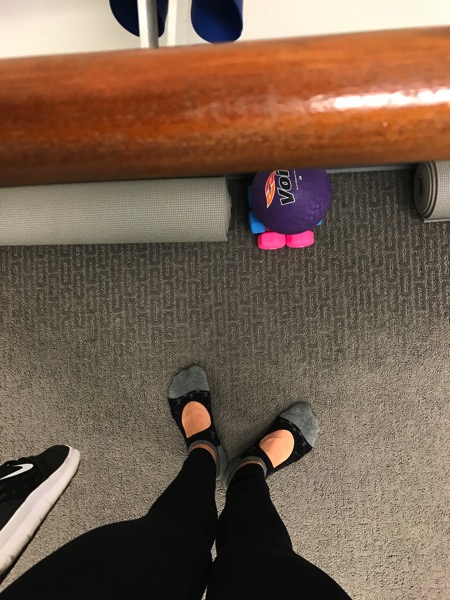 Barre, I love you.
Stuffed Butternut Squash Bowls
Since I was teaching late, I wanted to make sure that dinner was ready to go. I had some time to hit up Trader Joe's for the essentials, and planned a couple of easy dinners based on what was there. When I saw the butternut squash bowls, I knew they were destined for something delicious.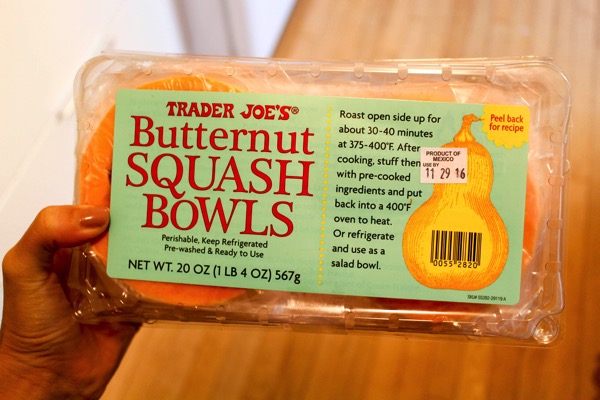 Now if only they could have these things all year…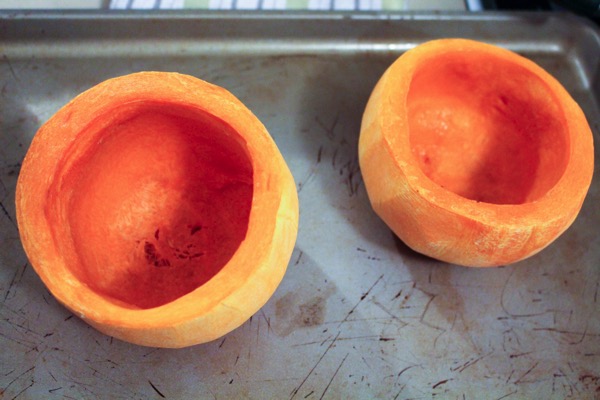 Here's a quick how-to for a super easy and delicious weeknight recipe: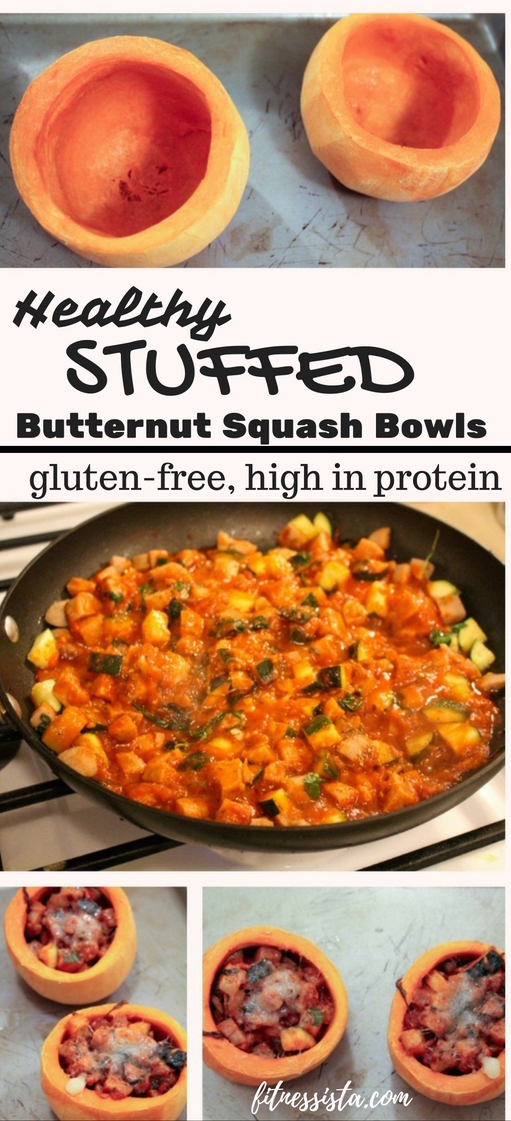 Butternut Squash Bowls with Chicken Sausage
Butternut squash bowls from Trader Joe's (or a whole butternut squash)

1

sweet onion, diced

1

packed of organic chicken sausage, diced

3

cloves of garlic, mixed

1

small can of diced tomatoes or marinara sauce

2

zucchini, diced

2

handfuls of arugula

1/2 teaspoon

each of basil, oregano and rosemary
Instructions
Preheat oven to 350.
If using a whole butternut squash, peel and cut in half, close to the round end.
Scoop out the seeds from the round end to make a bowl.
Cut the long end in half and steam slightly in the microwave (I just cover mine with a wet paper towel) to soften it up.
Scoop out some of the inner squash to make long squash bowls.
Heat oil in a pan and sauté onion until translucent.
Add garlic and cook another 30 seconds or until fragrant.
the rest of the ingredients and sauté until zucchini softens.
Scoop the filling into the squash bowls and top with manchego cheese.
Bake for 30 minutes.
Super easy and so delicious!! Even better with a little wine. 🙂
Holiday Decorating
Today has been a a fun and busy day.
We went to Target for trash bags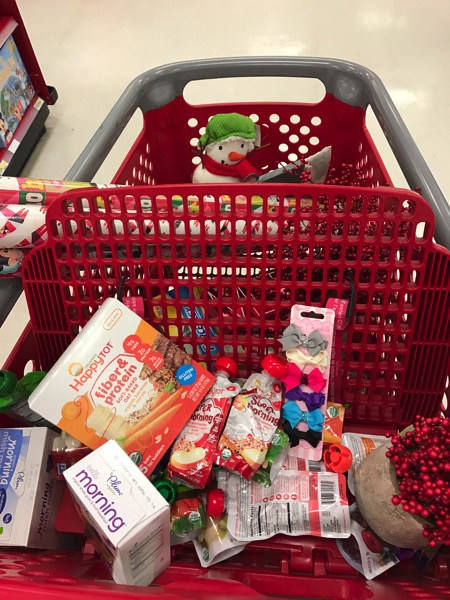 (you can see how that all worked out),
I had a periodontist appt (total picnic),
and I ended up decorating for Christmas. I didn't drag our tree out, but everything else is up. (All the usual decor is in this post! While I was looking through pics, I came across this post, which made me miss our Tucson house. (It also made me not miss my mom haircut.) The only new addition is this cute little table setting, all from this morning's Target blitz.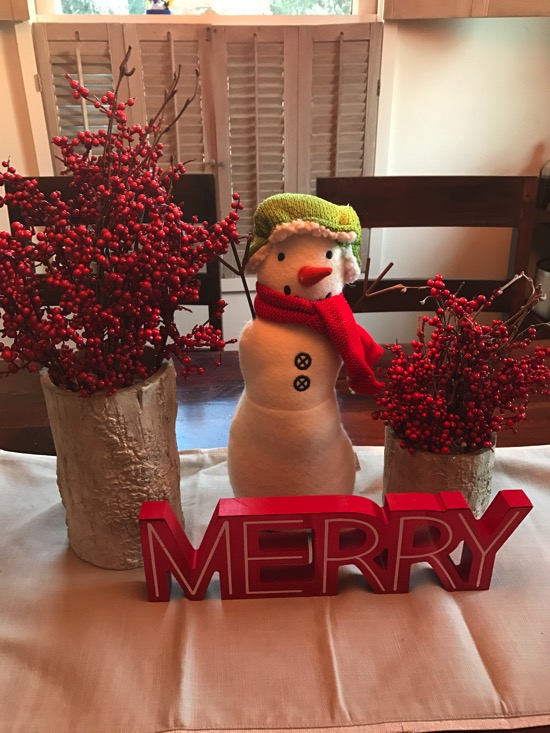 (The table runner needs a little ironing love, but it will have to wait until tonight.)
I wasn't planning on decorating at all, knowing that it will all be packed up soon, but when I told Liv we probably weren't decorating, I could tell she was a little bummed. She was so sweet about it ("It's ok mom, we can decorate next year") that I wanted to surprise her with some holiday cheer. When she came home from school, she literally gasped with delight and gave me the hugest hug. That alone was worth dragging a few boxes out of storage.
Well, it's time to freshen up the ol' playlist and teach spin. Hope you have a wonderful night!
Do you have an awesome stuffed squash or stuffed bell pepper recipe? What's your favorite holiday decoration?
Mine are these Santa and Mrs. Claus figurines that my nana gave me from the '50s. They still have the price tags on the bottom and were 5 cents each. They're treasures.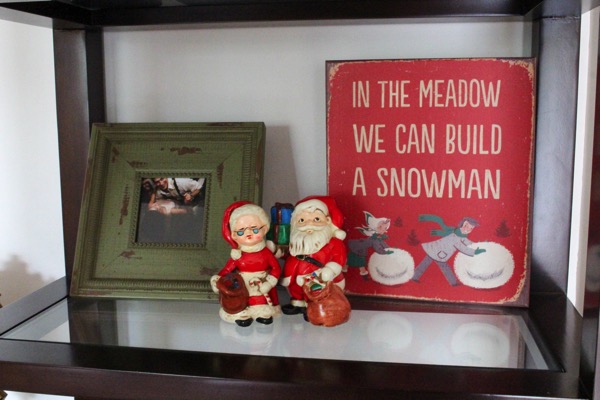 xoxo
Gina
Heads up: I'll be sending out the December workout plan in the am! If you want it, sign up for my newsletter at the bottom of this post (where it says, "I want in!")
Last chance: CRAZY awesome Beautycounter BOGO deal. Buy a charcoal bar, get one free! ($26 value.) The charcoal bar clarifies and detoxifies your skin by pulling out dirt, impurities and excess oil, without drying out your skin. It does all this, while avoiding many of the toxic ingredients commonly found in soaps such as sulfates, parabens, synthetic dyes, fragrances and other hormone-disrupting chemicals. It makes my skin feel super clean and smooth. Also, face oils are BOGO, too ($68!!). I use the hydrating face oil each night and morning; just mix a couple of drops with my moisturizer. Check it out here.