Fall 2018 Musical Cardio Workout and Playlist
This is a full cardio workout you can do on the treadmill, elliptical, or spin bike. Easily modify to suit how you're feeling. Just press "play" and go.
Hey hey! How's the morning going? I hope you're having a great day. It's a busy week over here: I'm teaching a couple of classes, have some meetings scheduled today + podcast interviews, and getting ready to celebrate P's 3rd birthday.
Today, I'm sharing one of my favorite types of workouts: musical cardio! While I love taking classes (or following a Fit Guide workout) for cardio, sometimes it's refreshing to just hop on the treadmill or spin bike, press "play" on my playlist, and let the music dictate what happens. I'll usually do heavy resistance climbs for slower driving tracks, steady state for upbeat top 40s music, and sprints for anything with a bumpin' chorus.
While I'm not teaching consistent classes right now – still trying to figure out my fitness life – I'm still frequently updating my playlists for the different classes I've been subbing. This month, I'm teaching TRX, Spin, and a HIIT/bootcamp class. I thought I'd share my favorite workout songs for fall 2018 + a musical cardio workout to go with them!
Here's what the Fall 2018 workout playlist looks like: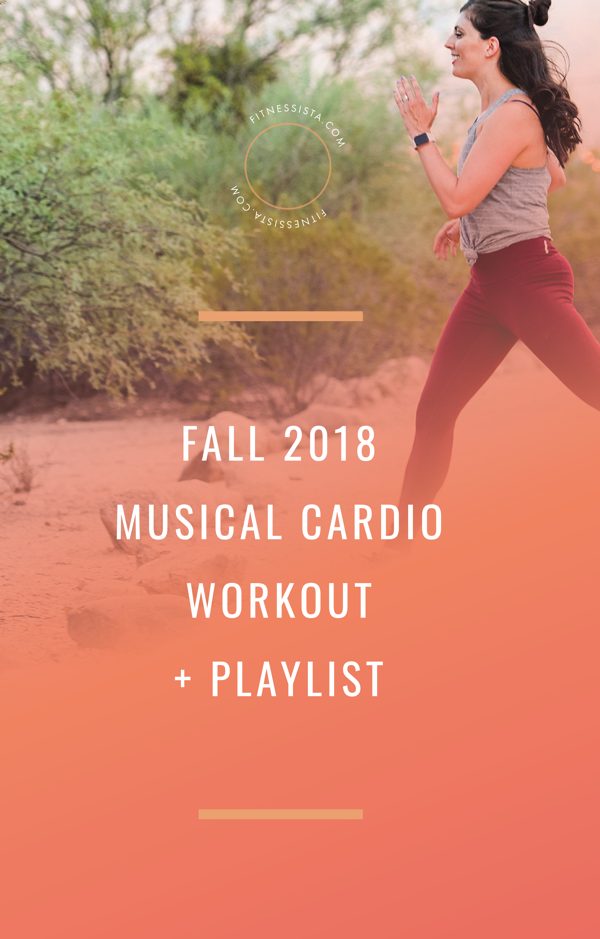 Cardio ideas for each track:
"Goodbye" (featuring Nicki Minaj and Willy William): Warmup. Start with a moderate pace and resistance and focus on taking deep breaths and getting focused for an awesome workout (RPE 5)
"DJ Play That Beat" Joachim Garraud: Steady climb. Find a challenging resistance and hold it here for the entire song, maintaining the same quick tempo. (RPE 6)
"MIC Drop (feat. Designer) [Steve Aoiki Mix] BTS, Designer, Steve Aoki: Tempo. Lower the resistance and find a speed that feels uncomfortable, but is not a sprint. Hold it here for the entire song.
"I Wanna Dance with Somebody" Fall Out Boy: Sprint. For this song, keep a slower pace with lower resistance for the verses. For the chorus, crank up the speed and SPRINT as fast as you can (RPE 8-9). Recover during each verse.
"I Like It" (Dillon Francis Remix) Cardi B, Bad Bunny, J Balvin, Dillon Francis: Rolling hills. For 1 minute, keep the pace and resistance moderate, for 1 minute increase the resistance (RPE 7-8) and keep the same pace. For the next minute, decrease the resistance and bring up the speed. Repeat until the song is over.
"Natural" Imagine Dragons: Heavy climb. Slow your pace to moderate. Every 30 seconds, add resistance until you hit your max (RPE 9). Hold it here for the rest of the song.
"This is America" – Workout Remix: Tempo. Start at a moderate resistance and pace (RPE 5). Every minute, INCREASE your speed and hold it here. By the end of the song, you should be close to a sprint.
"Thundeclouds" with Sia, Diplo and Labyrinth: Heavy climb. Start the song at a moderate resistance and speed. Hold it here, and during each chorus, crank up the resistance. Each chorus, make the resistance heavier than last time.
"Satisfied" (feat. MAX) Galantis, MAX: Steady state. Find a moderate-quick pace with lower resistance and hold it here for the entire song. Try to avoid slowing down if you can.
"Ocean" (feat. Khalid) Martin Garrix, Khalid: Last climb! Every 20 seconds, crank up the resistance until you hit your max. Hold it here for 30 seconds, lower back to your base point and repeat.
"Happier" Marshmello, Bastille: Recover. Use this song as a recovery song to slow your pace, catch your breath, and gather up some energy for the last track. Don't let yourself slip into cool down mode just yet; stay in the working zone (at least 70% of your max heart rate).
"Electricity" (with Dua Lipa): Sprint. Start at a moderate pace and resistance. Hold it here until 50 seconds and start your sprint, as fast as you can. At 1:12, take your recovery. Walk and breathe. Next sprint is with the chorus (you'll hear the beat start to drop at 2:00!) and try to beat your last sprint pace. For your last sprint, start to gradually pick up your pace at 2:45 and sprint for the remainder of the song.
"Shame" Elle King: Cool down and stretch!

Fall Workout Playlist on Spotify:
Do you do musical cardio for your workouts? What's your favorite song on your playlist right now?
xoxo
Gina
More workouts with playlists here, here, here, here and here.