Hey everyone 😀 How's your day been? It's almost Friday! Thank goodness, eh? This week has be dragging for me.
This morning, I made some macaroons to send to the blogiversary winners since the rest of their packages are ready to go 😀
Blonde 'roons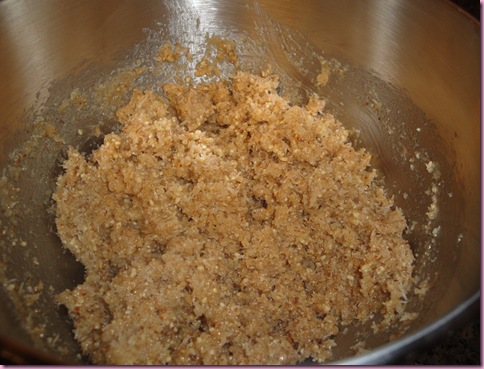 Super 'roons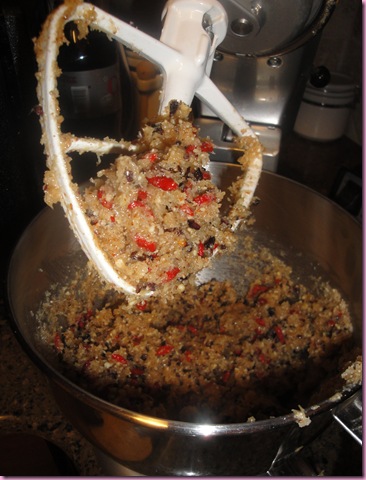 Cacao almond-butter 'roons,
I swoon 4 roons 😀
For lunch, I broke out this bad boy from the freezer.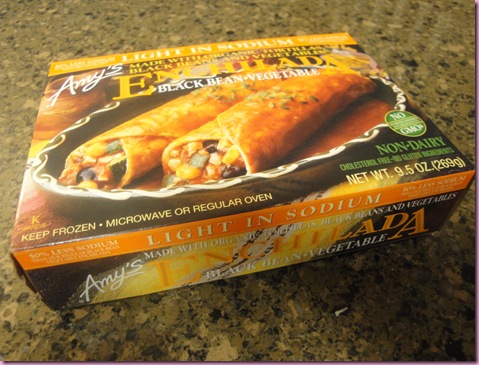 I plopped the enchiladas onto a salad with grape tomatoes, hot sauce and cilantro: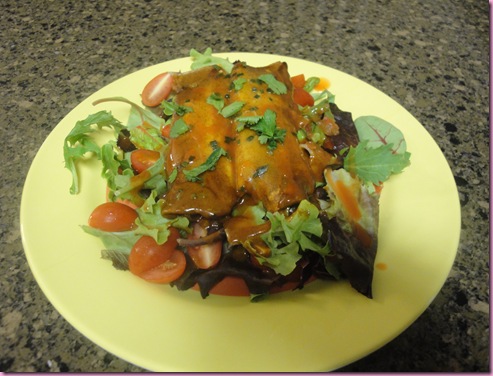 I started happily munching away when I noticed strange square-shaped smushy bites.
When it comes to Amy's food, I check for 4 things:
-Vegan
-Soy-free (I avoid soy for the most part)
-No potatoes (blech)
-Whole-grain
Apparently I didn't check the label that well, because tofu was in there. I ate it anyway, and my stomach didn't hurt at all. Winner, winner, enchilada dinner lunch.
This afternoon was spent running errands and work stuff, and then I went up to the yoga room,
lit my favorite aromatherapy candle (Lavender Vanilla from Bath and Body Works- we have one in our room and one in the yoga room)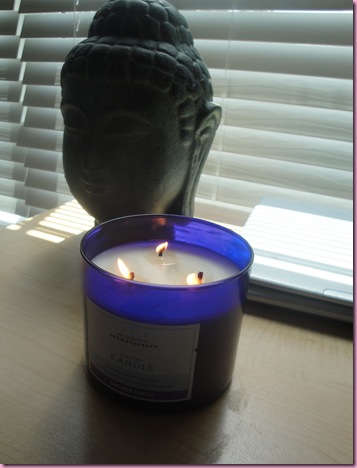 and practiced some yoga with my favorite downward-facing dog 🙂 (Viesa prefers running, but Bella loves yoga)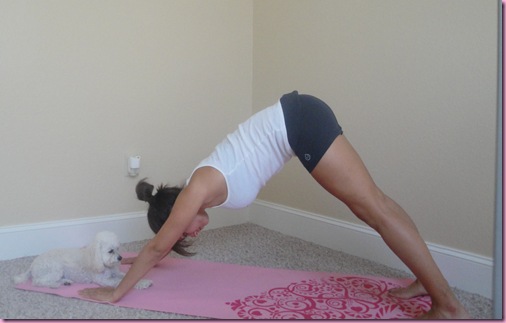 We free-styled to some Glee music and then I followed it with a 13-minute relaxation podcast from YogaDownload.com.
'Twas lovely.
So… I've decided to apply for a scholarship to Bikram's teacher training in September. I figured since I'm not teaching at the base gym right now, it would be an excellent step for me because I've fallen in love with Bikram yoga over the past year and a half and it's something that I could teach wherever the military sends us. They only give out two scholarships so my chances are slim (there's no way I'm paying 10 g's for yoga training), but if they pick me, I'm going 😉
Time to meet with a prospective client and teach boot camp.
See ya in the morning with that crepe recipe <3
xoxo,
Gina
Something to talk about: If you could go back to school for anything and time/money/family/work commitments weren't an issue, what would you choose?? I would absolutely love to finish my MBA –I will when we find out where we're moving!- and enroll in one of those yoga teacher training retreats in another country.