5 quick and healthy breakfast, lunch, and dinner ideas (+ macro counts)
Looking for macro-friendly recipes to add into your meal rotation? Check out these healthy and quick breakfast, lunch, and dinner ideas!
Hellooooo. How's the day going? I hope you're enjoying the morning! I'm off to an orangetheory class and looking forward to taking Liv to see Christopher Robin. We've been enjoying late summer nights playing and partying around here so I've spent this week trying to get the girls back on a normal schedule before school starts. It's definitely been hit or miss so far! This is where I throw back a cup of decaf and pretend it's caffeinated.
For today's post, I thought I'd share some of my latest meal staples since I've been on the macro counting train for a few months. While I definitely don't think macro counting is for everyone – I don't think it would have been a good idea for me when I was counting calories and obsessed with everythinghealthy back in the day – but I've been loving it. I'm eating way more food, feel energized (even when P falls asleep on the couch at 5pm and then doesn't go to bed until 11. HALP ME), and don't hit that afternoon slump.
I'm a huge fan of intuitive eating, but had found that my intuition was leading me to skip meals because I was busy with the girls/life and then try to make up for it later by eating a ton of random snacks or a huge dinner. I wasn't fueling myself as well as I could (I love to say "eat like a PRO" with PROtein and PROduce in every meal, but I wasn't following this regularly) and found that macro counting has encouraged me to eat more proteins, carbs, and produce, while still enjoying treats, donuts, and wine on a regular basis. Wins all around.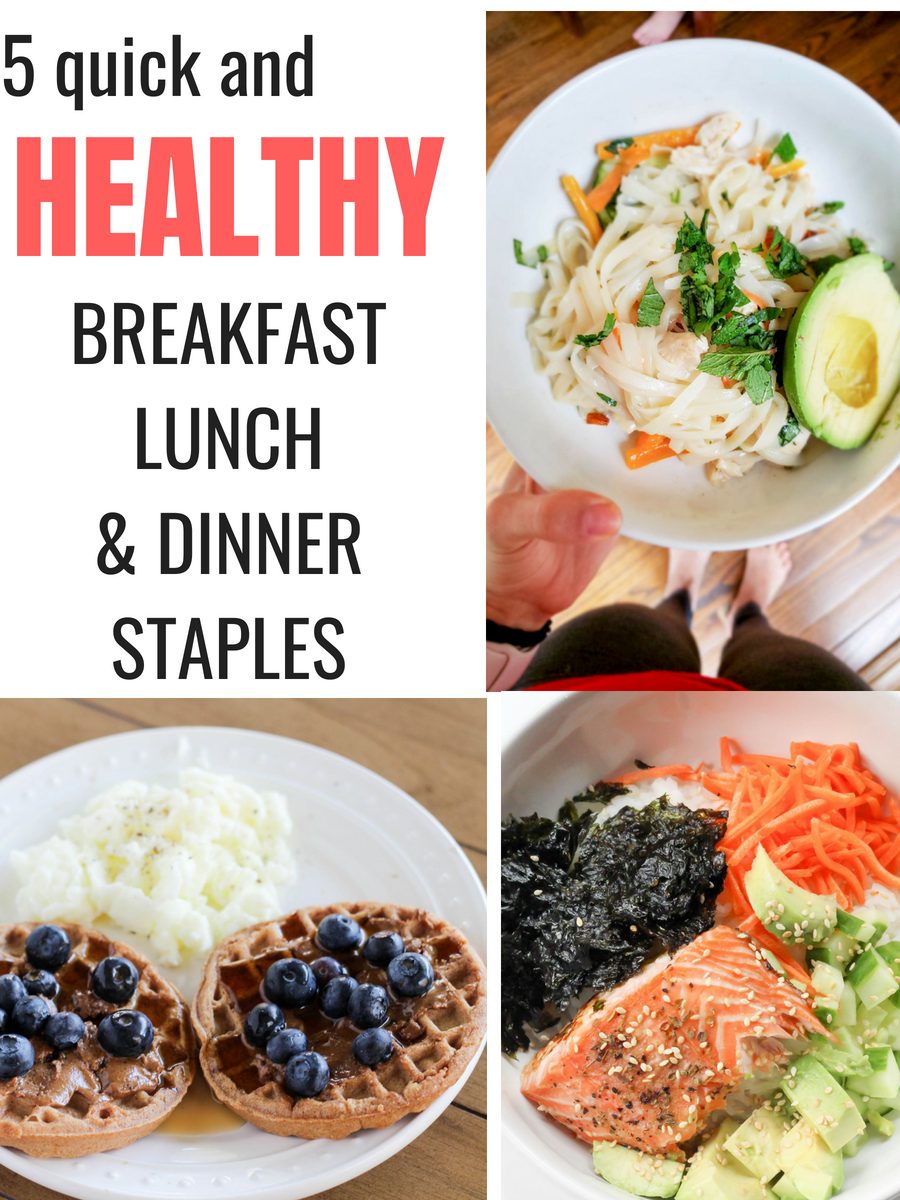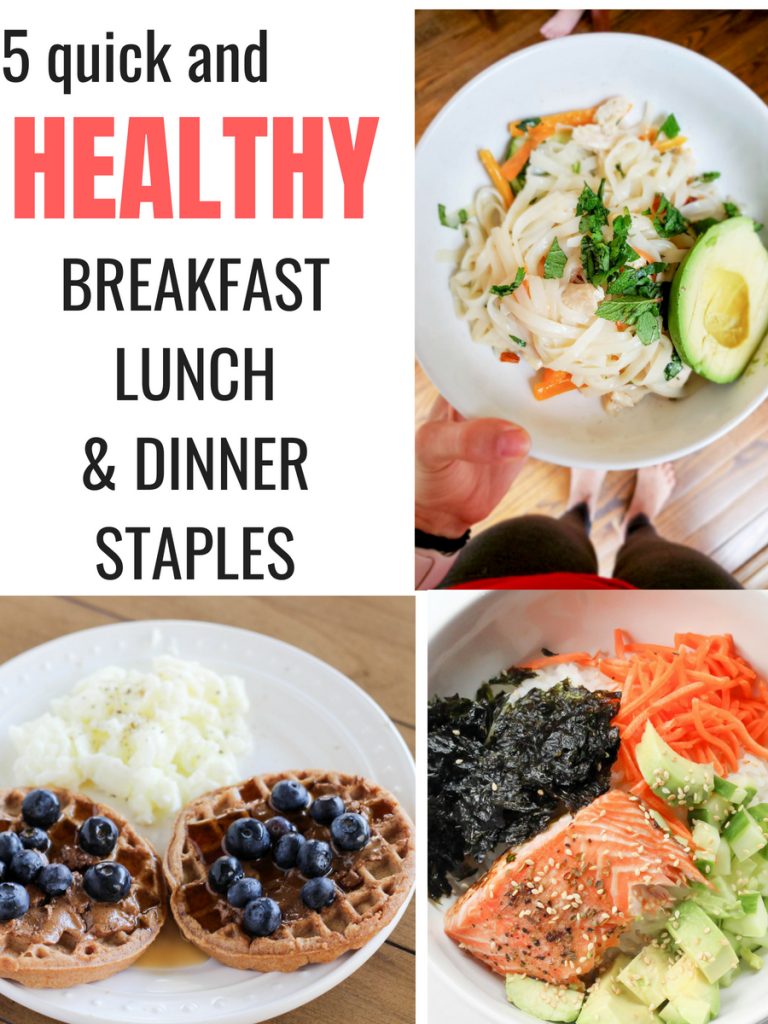 Here are some of my staple healthy meal ideas for breakfast, lunch, and dinner.
These are some of my fave quick things to make when I'm looking for something quick and healthy to make that is a great balance of carbs, fat, protein. It's also worth mentioning that I have snacks and usually a before-bed snack, too. 🙂
Please keep in mind that I'm not a Registered Dietitian, but LOVE my RD friends the support they provide others. If you need individual help, please seek out a local RD, or hit up Emily (check out our podcast episode here!), Kim, Anne, Whitney (our podcast episode is here), or Kath.
Breakfast:
1 egg, 2 egg whites, 1 piece of homemade sourdough bread with 1/4 cup mashed avocado, "everything but the bagel" seasoning and sriracha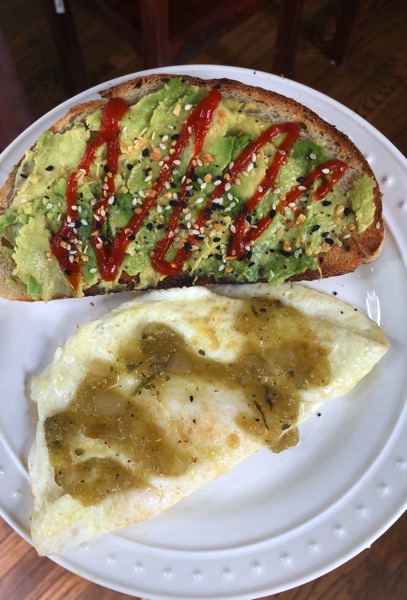 Stats: 316 kcal // 21g protein // 27g carbs // 11g fat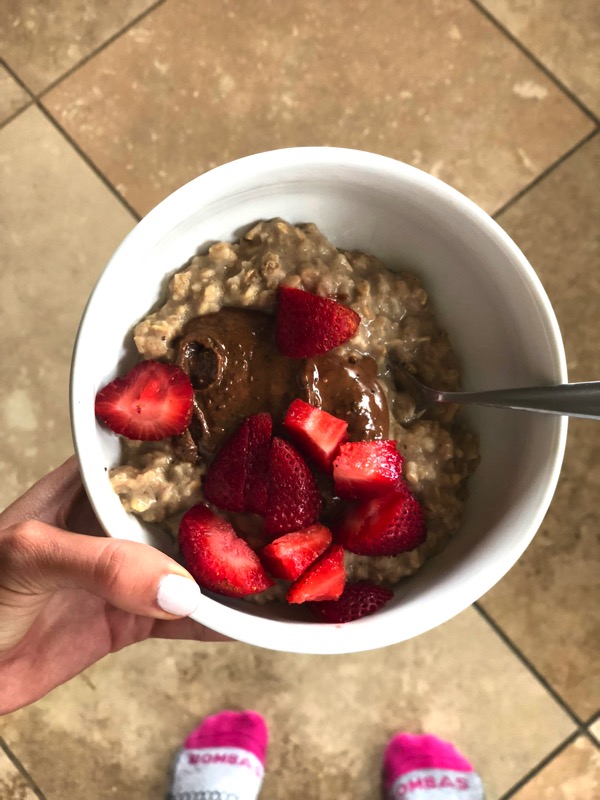 1/2 cup oatmeal with 1 scoop vanilla protein powder, 1/2 cup berries, and 1 tablespoon of almond butter with lots of cinnamon
Stats: 399 kcal // 28g protein // 49g carbs // 11g fat
1 serving chocolate protein oatmeal bake with 1 tablespoon almond butter on top + 2 scrambled eggs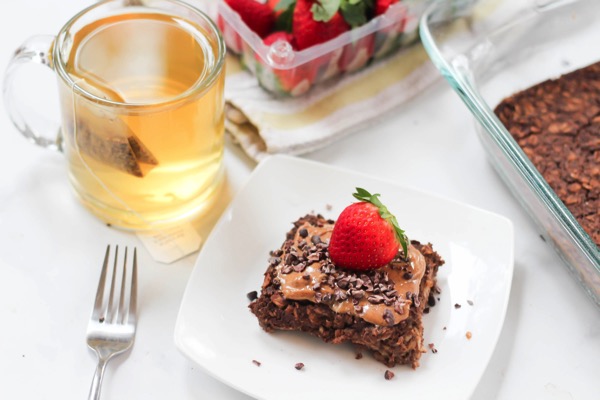 Stats: 487 kcal // 33g protein // 42g carbs // 27g fat
(In this pic, I added cacao nibs, too. Stats are minus the cacao nibs)
Egg scramble with 2 eggs, 1 egg white, 1 cup chopped sweet potato, 1/2 c sliced avocado, and a handful of greens
Stats: 405 kcal // 25g protein // 33g carbs // 23g fat
2 Van's waffles with 2 tablespoons of Nuttzo nut butter, 1/4 cup blueberries and 1 tablespoon syrup + 6 egg whites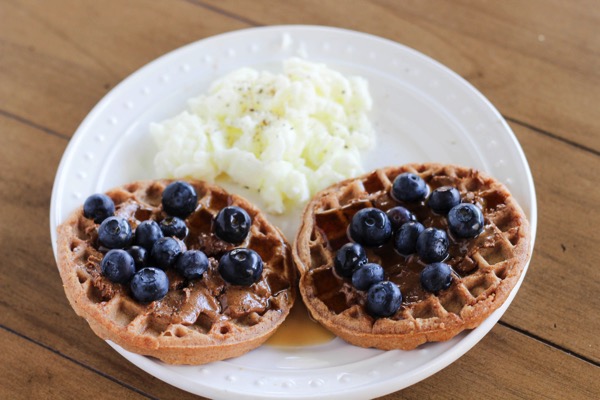 Stats: 521 kcal // 19g protein // 66g carbs // 24g fat
Lunch:
Smoothie: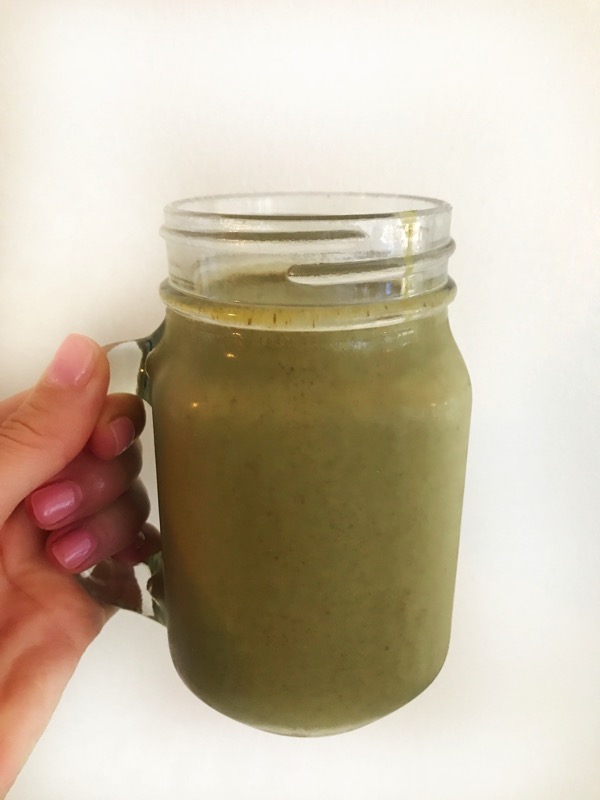 1 cup almond milk, 1/3 cup frozen cauliflower, 1 scoop vanilla Garden of Life grain-free protein, 1 tablespoon chia seeds, 1 tablespoon almond butter, 1 scoop collagen, handful of spinach, lots of cinnamon
Stats: 361 kcal // 35g protein // 30g carbs // 15g fat
Tuna salad wrap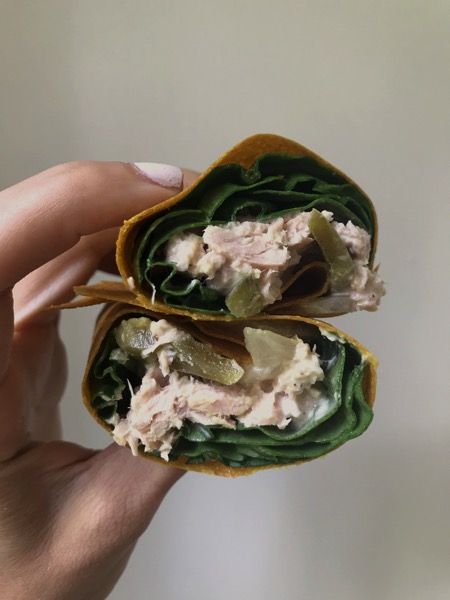 4oz tuna with 1 tablespoon Primal Kitchen mayo, chopped onion, chopped carrot, cornichons, seasoned with salt, pepper, 1 teaspoon mustard, and garlic powder. Wrap in a Siete tortilla or coconut wrap.
Stats (with Siete tortilla): 365 kcal 28g protein // 8g carbs // 26g fat
Siete pizza
1 Siete tortilla with 1/2 cup Rao's marinara, 4 oz chicken, 1 serving kalamata olives, fresh basil, 1 oz midnight moon goat cheese
Stats: 493 kcal // 35g protein // 16g carbs // 31g fat
Tempeh bacon wrap
1/2 block of tempeh, turned into bacon using this method, 1/4 avocado, 1 sliced tomato, lettuce, wrapped up in a Siete tortilla
Stats: 394 kcal // 23g protein // 28g carbs // 22g fat
Dinner:
Sushi roll bowl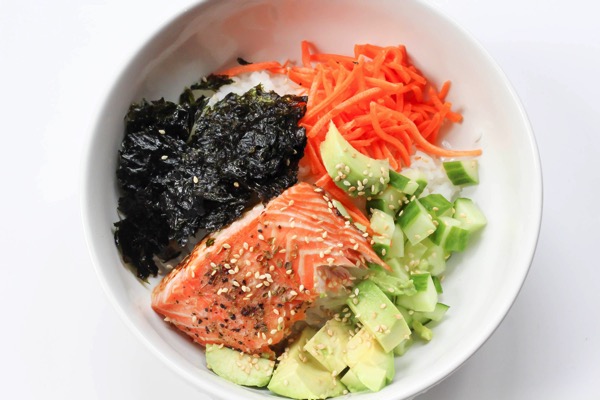 1 cup cooked white rice, 4 oz seared ahi tuna or salmon, 1/2 avocado, 1/2 chopped cucumber, 1/4 cup seaweed snacks, 1 teaspoon sesame seeds, coconut aminos to taste
Stats (with ahi): 467 kcal // 34g protein // 54g carbs // 13g fat
Spring roll bowl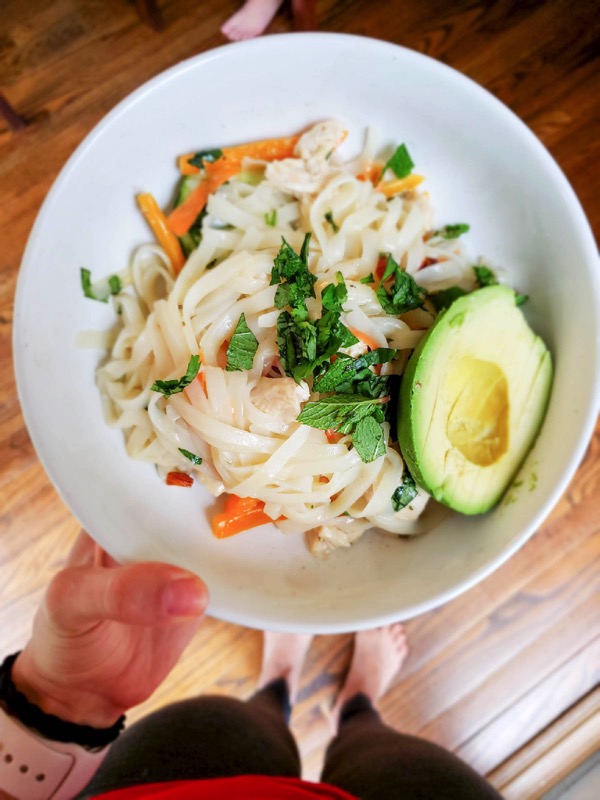 I eat 2/3 of a serving of the complete dish. I love serving it with sliced bell peppers, cucumber, 1/2 avocado, and carrots, with 4 oz grilled chicken
Stats (2/3 of a serving + chicken and avocado): 550 kcal // 28g protein // 50g carbs // 29g fat
Harney Cobb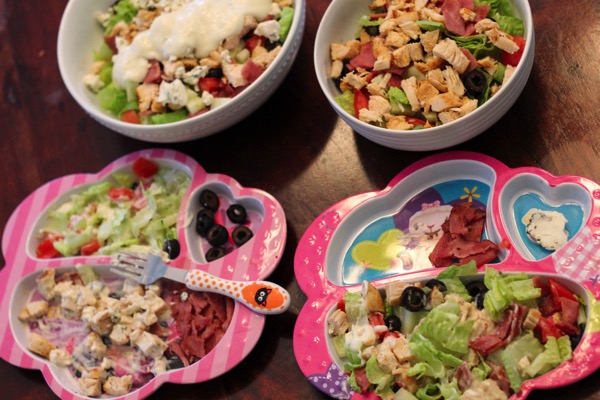 1 slice turkey bacon, 4 oz grilled chicken, 1 boiled egg, romaine, 1/4 cup olives, tomato, cucumber, 1/2 avocado, 2 tablespoons Primal Kitchen Ranch
Stats: 482 kcal // 36g protein // 10g carbs // 36g fat
Chicken Thighs with Roasted Butternut Squash and Salad
4 oz chicken thighs (cooked with salt, pepper, and garlic powder), 1 cup cubed butternut squash (with 1 tablespoon Kerrygold butter and cinnamon) + a salad with spinach, tomatoes, cucumber, carrots, bell pepper, and 2 tablespoons Primal Kitchen honey mustard
Stats: 599 kcal // 38g protein // 21g carbs // 40g fat
Sheet pan salmon dinner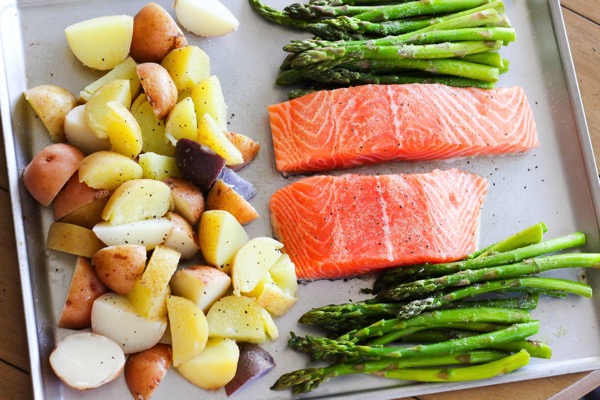 Recipe is here. I have about a cup of cooked potatoes, 4 oz salmon, 1 serving Trader Joe's vegan pesto, and tons of green beans (I don't track raw or cooked non-starchy veggies, and just allocate about a tablespoon of avocado oil or whatever I used for cooking)
Stats: 526 kcal // 26g protein // 34g carbs // 33g fat
I'd love to hear about your favorite meal staples! What's in your current rotation? I always love getting new ideas.
xoxo
Gina