Hi! Happy Friday! I can't believe that it's the last weekend before Christmas. I feel like December is coasting past me, and trying to make a conscious effort to enjoy all of it. We usually keep our decor up until New Year's, but it still seems like it's so close! I'd love to hear what's happening in your world this weekend. We're going to spend some time chilling at home, and maybe take a quick trip to Jacksonville for a Trader Joe's stop (<— I need baking/cooking ingredients!). Fitness-wise, I've taken a couple of days off from the gym for a head cold (wah) but am excited to catch a Peloton class later today. Thanks to some wellness shots, I'm on the ups.
It's time for the usual Friday Faves party! This is where I share some of the best reads/wears/finds of the week. It's always fun to hear what you're loving if you'd like to join in the fun! If you're in a sharing mood, please spread the joy by shouting out one of your faves in the comments below. 🙂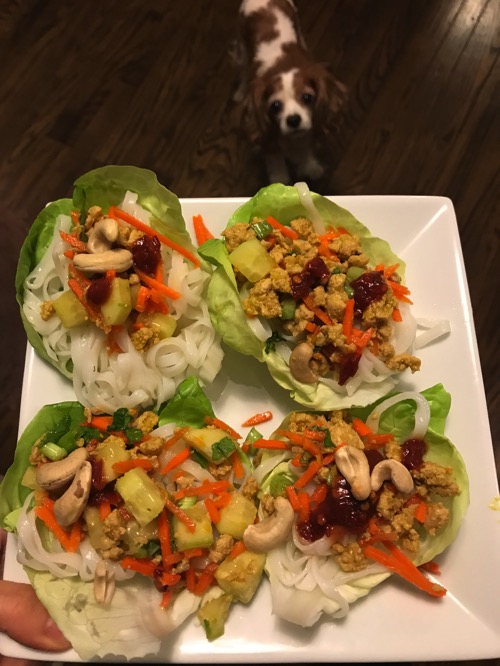 (Caro wishing for some Sunbasket)
Blog survey! Thank you SO MUCH to all of you who took the time to chime in on my yearly blog survey. Your feedback is invaluable to me, and I genuinely appreciate your thoughts and ideas on how I can make this little space even better. I've read through your thousands of comments, and have made a ton of notes in my planner with topics, goals, and action plans for the New Year. Thank you so, so much for your help!! (Stay tuned for a sneaky giveaway coming your way.)
Home and holiday:
Christmas Vacation. You guys. How have I not seen this movie?! I feel like my entire life has been a lie. One night when the Pilot and I were feeling particularly cold-y and terrible, we decided to put on a Christmas movie and just chill. When he scrolled to Christmas Vacation, I was like, "Ohhh I haven't seen that one. Is it good?"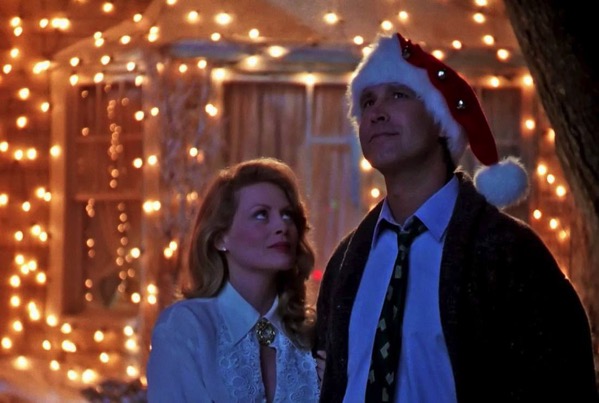 "Is it good?! It's a CLASSIC. You have to see it."
Needless to say, we decided on that one, and we all laughed so hard. I haven't laughed out loud at a movie in a while, but Chevy Chase's creepy smile gave me the church giggles every time. Liv watched the first half with us before she went to bed and got a kick out of it, too. I feel like I watched Home Alone for the first time! It's that good. If you live under a rock like yours truly, please watch it. Like tonight.
Livi's class Christmas party. At the beginning of the year, I signed up to lead the class Christmas party. It was so cute, and I loved being able to spend the afternoon with Liv and all of her little friends. We played this dress the snowman and dress the Christmas tree game (hilarious), and they each decorated their own mini gingerbread house. I picked up the houses at Target, assembled them one night, and some of the moms and I brought different types of frosting and toppings. The kiddos had a blast.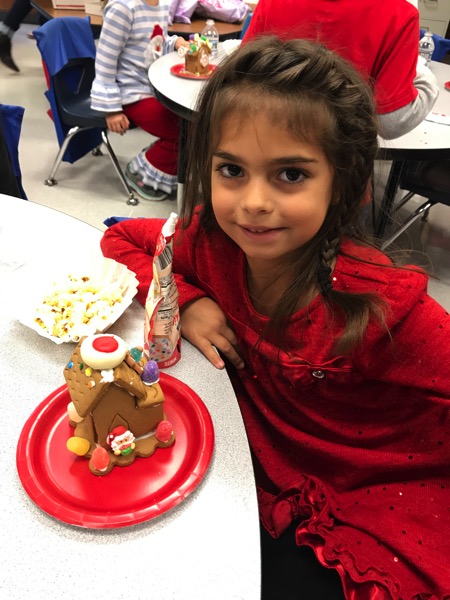 Beauty and fashion:
Tarte undereye savers. I've always joked about bags under my eyes (#motherhood), but was pretty shocked to wake up one morning and see REAL BAGS. Like, I had puffy appendages stuck to my skin. I thought I was going to have to go to the eye doctor because clearly, I had some kind of disease, but turns out after a quick Google search that's what legit bags look like. I've been there.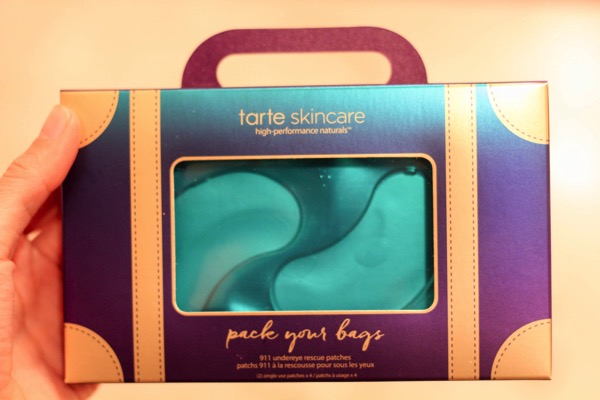 Thankfully, I'd picked up some of these at Sephora for the next time I'm on an airplane. (<— see the random thoughts that go through my brain?) I tried a set out on said bags and they disappeared. It was magical, so from now on, I'm going to keep some of these bad boys on hand.
Tarte contour kit. This clay-inspired palette is for eyes and face, and I love the terra cotta and earthy colors. I usually stay away from warmer tones for no particular reason, and found out that it was an easy way to change up my eyeshadow routine. The warmer brown color is just different enough without being extreme.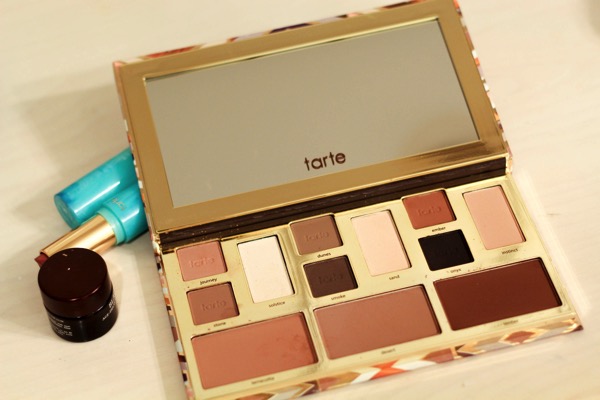 These Zella high-waist leggings. I wear them all the time, and I think they top the list for my very fave!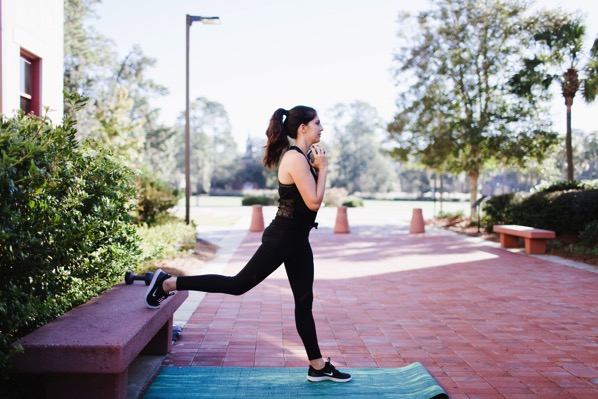 Fitness:
Workouts you can do anywhere if you're traveling this holiday season!
Good reads:
The 2017 Haters' Guide to the Williams-Sonoma Catalog. I look forward to this every year. It's lots of strong language, so please skip if that's not your cup of tea, but I laughed my face off.
This is a must-watch. It's inspiring, heartbreaking, and motivational.
Three easy breakfasts for guests.
Food and recipes:
The medicine ball from Starbucks. I read about this online and knew that I immediately wanted to try it! It used to be on a secret menu, but is now part of the regular menu. It's two types of tea (peach and mint), steamed lemonade and honey. Ask for it with a shot of peppermint! (Heads up: the first time I got it, it was with two honeys and was a bit too sweet. Now I ask for it with one honey and one shot of peppermint.) It's minty and soothing; perfect for sore throats and sniffles.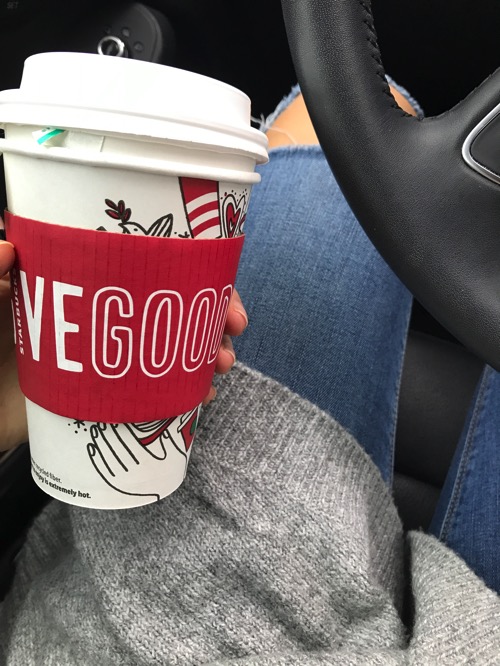 Holiday recipes:
These almond butter truffles (you need these in your life)
This pumpkin and chocolate chip loaf (I'm making some of this for girls' night!)
The best egg casserole (perfect for Christmas morning)
Have a beautiful Friday and wintery weekend.
See ya soon!
xo
Gina
Get in your Advent Workout here.
Don't forget to enter the $250 giveaway here!